For Goodness Shakes
Shakespeare's reach is far and wide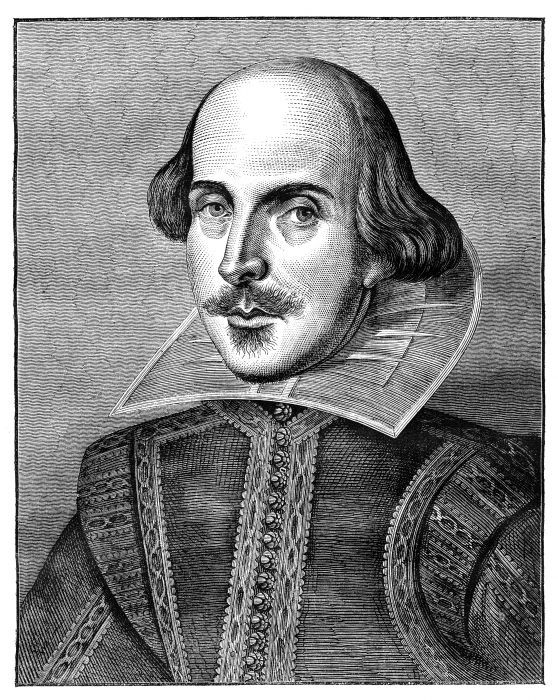 By Hilary Berg, OWP Editor
Some 398 years after his death, William Shakespeare continues to affect aspects of our everyday lives. Let me count the ways... Well, at least five.
No. 1. The Bard invented a generous number of common words — they say more than 1,700. Here is just a hint of his legendary lexicon: gloomy, laughable, lonely, frugal, courtship, luggage, gossip, bedroom, radiance, grovel...
No. 2. William the wordsmith coined many phrases, too. "Good riddance" ("Troilus and Cressida") is one I use quite often. "Knock knock! Who's there?" ("Macbeth") continues to inspire an endless number of bad jokes. "Laughing stock" ("The Merry Wives of Windsor") is something you might likely become if you don't stop with the knock-knock jokes. And "full circle" ("King Lear") brings us back to "good riddance." No one has time for bad jokes.
No. 3. Shakespeare invented a number of names, including Jessica, my twin sister's name; the original Jessica was Shylock's daughter in "The Merchant of Venice."
No. 4. He inspires and torments generations of students studying his works. Two decades after graduating from high school, I still have nightmares about writing essays on "Macbeth," "Hamlet" and others. Of course, having a crazy nun as your English teacher might have added to the drama.
No. 5. As the world's most famous playwright, Shakespeare continues his legacy by inspiring theater groups to perform his works on stages around the globe, including Oregon's famous Elizabethan Theatre in Ashland.
He also inspires directors like Daniel Somerfield to transport the famous comedies and dramas from inside velvet-lined venues to the beautiful outdoors, specifically Oregon's vineyards. Writer Mark Stock interviewed Somerfield about his popular theater experience, now in its seventh year.
People return for the performances year after year, and I can see why. The tranquil atmosphere of the vineyard lends itself to masterful acting, arousing even the most jaded student, seeing Shakespeare for the first time on stage.
No essay required after curtain call. I promise.