Mmmmmmarket
Dundee Hills wood-fired eatery offers bevy of bonuses
Red Hills Market may look old; its Victorian false-front features populate a hundred Western towns and movies. Even its concept is something of a throwback to the good old days of handmade food and wine chosen by a proprietor more likely to hug you than shake your hand.
Despite its historic looks, however, Red Hills Market is not your grandpa's business, starting with the cutting edge permeable pavers in the parking lot that help keep water run-off clean. On second thought, maybe gramps enjoys bocce ball, Pinot Noir and cheeses, a wood-fired oven pizza or sandwich.
"What's not to like?" co-owner Jody Kropf muses.
The bocce ball court, wraparound porch and covered patio just beg for sunny-day sippers. The chef's bar, wide wine selection — which can be uncorked and savored on the spot — even the under-the-stairs play area for children, all create a welcoming ambience the restaurant has fostered since 2011.
The market features Oregon wines, including Kropf's own, Tractor & Vine. He also carries a "well-edited" list of international wines, primarily small family wineries.
Red Hills Market was a natural for Kropf, a Brownsville, Oregon, native and the quintessential son of restaurant-owning parents. He dreamed of bringing the welcoming atmosphere of his parents' place to his new hometown, Dundee.
Kropf and his wife, Michelle, planted Kropf Family Vineyard seven years ago on 2.5 acres in Dundee's famous Red Hills, almost within walking distance from his market.
He has worked for Lange Winery in various capacities, and said he grew to admire the community spirits of Ponzi, Argyle and Dobbes winery owners, all active in Dundee activities.
Beneath huge Douglas fir beams running the length of the downstairs market area, the Kropfs have created a place appealing to foodies, wine industry workers, neighborhood residents and travelers in Yamhill County. Red Hills' impressive stock of good cheeses, coffee, craft beer and carefully procured pantry finds, such as olives, olive oil, sauces, salts, teas, etc., make the market the perfect place to shop for gourmet gifts.
For those wishing to take their wood-fired food with them on their wine country adventure, Red Hills Market can bundle up any order, making a palate-pleasing picnic easily paired with a glass of Pinot Noir.
---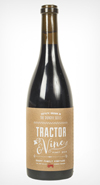 Tractor & Vine 2012 Pinot Noir
Sourced from Red Hills Market owners Jody and Michelle Kropf's namesake vineyard, Tractor & Vine 2012 Pinot Noir was made by the Kropfs with the guidance of close friend Jesse Lange. The two acres of vines, planted in 2008, are located in the Dundee Hills. The first vintage yet-to-be-released wine — you'll have to wait until September — adds up to a small batch of 49 cases. Look for it at the Market. $42 (750 ml)
---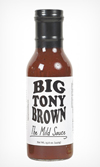 Big Tony Brown Sauce
The Newberg-based business was inspired by owner Tony Brown's childhood in St. Louis, where he learned his craft at family backyard barbecues. Sauces include: mild, spicy, super spicy. $7 (15.6 oz); www.bigtonybrownbbq.com
---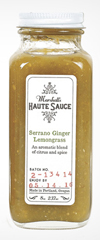 Marshall's Haute Sauce
For the love of canning and preserving, Sarah Marshall started Marshall's Haute Sauce in her home kitchen. But as business grew, she recruited help from her husband and moved to a commercial space in Southeast Portland. Imaginative hot sauces include: Habañero Carrot Curry, Serrano Ginger Lemongrass, Red Chili Lime and more. $9 (8 oz); www.marshallshautesauce.com
---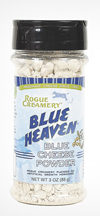 Rogue Creamery Blue Heaven
Rogue's proprietary blend of Oregon Blue, Oregonzola, Crater Lake Blue and special reserve blue cheeses is a seriously good sprinkle. It complements a variety of foods, such as butter, mayonnaise, crème frâiche, popcorn and much more. $9 (3 oz); www.roguecreamery.com
---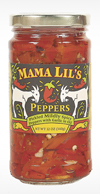 Mama Lil's Peppers
Established in 1992, Mama Lil's Peppers was started by Portlander Howard Lev, using his mom's pickled pepper recipe. Perfect for eggs, sandwiches, pastas and other dishes, these peppers are sourced from Washington's Yakima Valley. $8 (12 oz); www.mamalils.com
---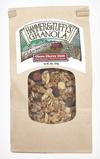 Hammer & Tuffy's Granola
Named after owner Bruce Sarvis' family friends — twin brothers who farmed acres of corn in his mother's home state of Iowa — Hammer & Tuffy Granola is a homegrown Portland business making great granola. Flavors include: Blueberry, Chocolate Cherry Chili, Oat & Raisin, Apple and Banana Bread. $12 (16 oz); www.hammerandtuffys.com