Duck Pond Purchased
Great Oregon Wine Company — which is actually owned by the Colorado-based Integrated Beverage Group — made moves this month to become even greater: The company bought Dundee-based Duck Pond Cellars in a deal that includes the winery, tasting room and 300 acres in both the Willamette and Umpqua valleys.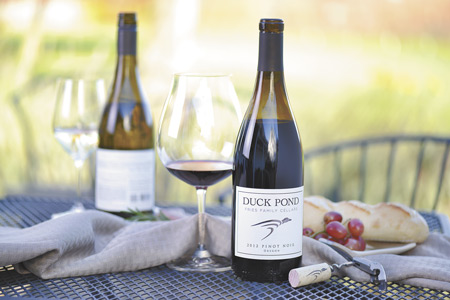 Duck Pond, founded in 1991 by Doug and Jo Ann Fries, specializes in Pinot Noir and Pinot Gris, and enjoys the status of one of Oregon's largest wineries. The company ranked ninth in the Portland Business Journal's largest wineries list in 2017.
Great Oregon operates inside McMinnville's city limits. Adding Duck Pond to its portfolio is expected to increase annual production more than 300,000 cases, according to a joint announcement. Although financial terms were not disclosed, Portland's Business Journal reported the deal places Great Oregon in the "same neighborhood" as leading Oregon producers A to Z Wineworks and Union Wine.
The deal is the latest major acquisition in the alcoholic beverage industry. California-based Jackson Family Wines, several years ago, started buying iconic Oregon wineries and built its own facility in McMinnville.
"We're excited to see this type of investment in Oregon wineries and vineyards," said Steve Thomson, chairman emeritus of the Oregon Wine Board.
The transaction closed Aug. 30 and was facilitated by Duck Pond financial advisor Zepponi & Company. The Fries family will help with the transition of the business until regulatory approvals are complete.
"We are thrilled to add Duck Pond Cellars to the Great Oregon Wine Company portfolio, giving us access to premier vineyards in the region as we grow our winery operations in Oregon," said Ari Walker, CEO of Integrated Beverage Group, which acquired Great Oregon in 2016. "With this acquisition, Great Oregon moves into the first rank of Oregon winegrowers."