Downtown Ralli
Winery boosts Sherwood with tasting room
While navigating Oregon's rapidly growing sea of wine labels, overlooking the newcomers happens occasionally. But when such a brand finds a historic building for selling their wares, consumers more likely take notice, especially in the revitalized downtown of Sherwood.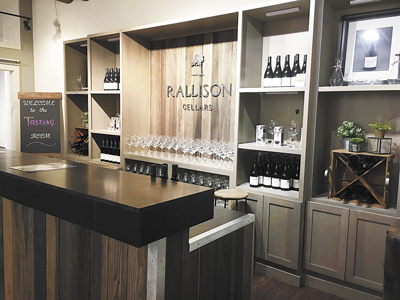 Rallison Cellars recently opened the doors to its new tasting room, an understated space sandwiched between Italian restaurant Mason and bottle shop 503 Uncorked. According to winery owner Jared Rallison, the location, now named the Pankhard Building, is more than a century old — the railroad stop, formerly known as the Smockville Hotel, witnessed murder, prostitution and other scandalous activities of the Wild West.
Today, the space houses Rallison's satellite retail spot, while production occurs down Highway 99W at Jared's Parrett Mountain residence, cellar and small estate vineyard.
The Rallison family moved from Salt Lake City to Oregon in 2007, a year before a brutal winter storm wreaked havoc on the property's beloved Madrone tree. His label, launched in 2011, depicts the surviving half of the native tree after freezing, blizzard-like conditions.
"I should have done this long ago," Jared says, of the label.
He works in pharmaceuticals, but his willingness to geek out about yeast strains and disgorgement reveals his not-so-secret true calling.
"My goal is to have wine be my full-time job by 2021," he says, fingers crossed.
Like many vintners, Rallison first dabbled in beer. He brewed from home before trading in malt and grain for grapes. Presently, he's producing about 2,000 cases per year and wears the many hats of an aspiring winemaker, from sourcing fruit to selling the finished product. Fortunately, he has the support of his wife and kids, plus a growing local following that seems ever-curious as to what's cooking at the Sherwood tasting room.
Rallison adds even more intrigue as its offerings differ from year to year, one of the many benefits of relatively small production levels. There are the perennial standards like Pinot Noir and Pinot Gris, but Jared also makes Riesling, Sauvignon Blanc and Viognier. His 2015 Pinot Blanc, made from Wheatland Vineyard fruit, is light and zippy, with big hits of peach and passion fruit. Rallison even produces an impressive Malbec from Alder Ridge Vineyard in the Columbia River Valley near Yakima.
Rallison crafts a limited run of sparkling wines occasionally, from a traditional blend of Chardonnay, Pinot Noir, or both. He last made a few batches in 2011, during one of the latest harvests in Oregon wine history.
"Not every year, in my opinion, is suited to make a vintage sparkling wine," Jared says. "[The growing season of] 2011 was awesome and, who knows, maybe 2017 will be another. It's a big investment, but when it turns out, it's worth it!"
In addition to cultivating grapes from a handful of vineyard rows at home, Jared sources fruit from estates like Horseleap Vineyard near the Tualatin River and Southern Oregon's Pearl Vineyard. This fall, Jared marks his 18th harvest, and he'll draw on past experience to continue the label's success and his second career trajectory.
Jared has made a broad spectrum of wines over the years — including an ice wine last year — but some tempt more than others.
"Sangiovese is one of my favorites, which I made in 2010 and will be making again in 2017," he said.
A famous Bordeaux varietal haunts him the most. Rallison took a stab at it in 2008 but admits it was no good.
"My winemaking bucket list is to have another shot at Cabernet Franc," he said.
Back at the Sherwood tasting room, Jared is multi-tasking. He's fielding vinification questions from a couple from the Midwest between pouring samples and answering the phone. A few locals pop in to see what the fuss is all about and promise to return later — when they're off the clock — for a tasting. Rallison is busy but visibly satisfied. He walks a sturdy line between excitement and humility, which just may get him to reach that career goal of his.
"A quote that resonates to me is from [Sonoma winemaker] August Sebastiani," Rallison said. "If the wine is good, it invites another."
Mark Stock is a freelance writer living in Portland. Read more of his work at www.markastock.com.