Doggone Good
Wineries welcome with paw-fect hospitality
Dogs. They're non-judgmental, furry beings of simple joys and the greatest loyalty, not to mention they help connect us: people.
Ever been to a dog park? It's hard not to have conversations with other owners as the pooches play. Introductions often skip names (of the humans) and launch straight into breeds, ages and then names (of the dogs). Only after those essentials have been mentioned do we introduce ourselves, followed by conversation of non-dog subjects (work, kids, movies, wine...).
On a recent media trip to the Umpqua Valley, dogs were in full force, performing their duties as unofficial ice-breakers. Starting with MarshAnne Landing (at 9:30 in the morning), the Cramers' little pooch woke us up as we piled out of the van and into the tasting room. Although missing an eye, the sweet dog was not lacking in personality and spunk.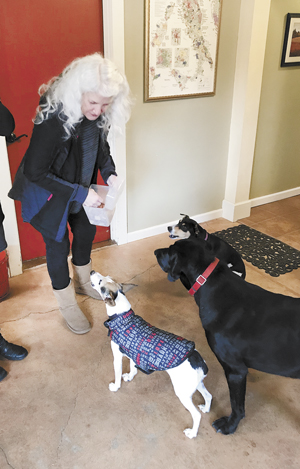 Our next stop: Melrose Vineyards. One of two BIG adult dogs greeted us with a wag of the tail while lying down in front of the main door. With plenty of room, we walked around and into the tasting room, where a BIG, fluffy white puppy in the arms of winemaker Cody Parker had the women oohing and aahing.
Delfino Vineyard's three dogs were also on duty at the winery's quaint tasting room. While one was quite reserved (a.k.a. older), the other two were extremely happy to see everyone there. Jumping up — eager to grab a pat and a pet — the middle-sized one had us all talking before we even hit the door. In fact, we all tasted in a circle, surrounding the furry trio. When owner Terri Delfino got out the treats, all three wagged and waited for their portion. We all drank ours.
Although Brandborg, HillCrest, Cooper's Ridge and Abacela were without a canine on site, the owners greeted us just as well, offering hospitality like no other — minus the fur and kisses.
If you've never been to the Umpqua, you must go. The scenery is breathtaking; the wines, distinct; and the people, genuine and friendly.
Bring the pooch along. Rivers for swimming, trees for marking and water bowls for drinking await. We humans get to sip, too, but from a glass filled with some incredibly well-made wine.
To dogs and wine! Cheers!