Prescription for Pinot
Doctors take up residency among Oregon's noble red
By Rusty Gaffney
The tradition of doctors entering the wine business first began with the Australians. A procession of British ships transported convicts from Northern Europe to Australian penal colonies from the late 1700s to mid-1800s. Dr. William Redfern, Sydney's leading doctor of the time, also an ex-convict, recommended that a quarter pint of wine, with added lime juice, be given to all convicts on board to prevent malnutrition and scurvy. He also urged the British to place a qualified doctor on each transport ship. As a result, Australia found itself a host to many naval doctors overseeing convict transport.
After spending six months in a leaky oak cask in the bilge of a transport ship, the wine on board was frequently oxidized and contaminated with seawater. Consequently, many doctors who had retired to Australia established vineyards to avoid problems associated with transporting wine to Australia as well as to provide wine as a medicine for their patients. Australia is now unique among wine-producing countries in that 60 percent of the fruit from any vintage is processed by wine companies established by Australia's more than 160 wine doctors.
In Oregon, several winemakers started out to become medical doctors, including Eric Hamacher of Hamacher Wines, Luisa Ponzi of Ponzi Vineyards and Melissa Burr of Stoller Family Estate. In addition, a surprisingly large number of Oregon medical doctors became well-known and successful winery owners, winegrowers and winemakers after their medical career was established. Most of these so-called "Pinot Noir Doctors" specialized in Oregon's leading grape varietal.
It's interesting to contemplate the reasons for the strong connection between medical doctors and wine, as there are many parallels. A physician is typically intelligent, inquisitive, dedicated, prestige-driven, and goal-oriented, all qualities lending to success in the wine business. The complexity of wine, like that of the human body, is fascinating to medical practitioners. Physicians in training learn the life sciences and biochemistry that are the backbone of winegrowing and winemaking, making the transition to vinifying wine a natural step. Also, the many principles employed in the treatment of human disease are applicable to managing grapevine disease.
Medicine is constantly changing, requiring doctors to keep up with new developments, similar to the demands required in the fields of viticulture and vinification. Since doctors spend so much time indoors in their office and visiting hospitals, the chance to work outdoors offers a peaceful way to balance their daily activities. In addition, grapevines, unlike patients, don't complain. Medical doctors often have the spendable income that allows them to indulge their interests as well.
When asked why they were drawn to wine, physicians often answer that both medicine and winemaking are fields uniquely combining art and science. Winemaking and practicing medicine is considered more of a craft than an art, but there is some artistic component in the winemaking process, and definitely some truth to the proverbial "art of practicing medicine." The best doctors and winemakers know when to act and when to do nothing. Both realize a long night spent at a crucial time can potentially avoid an undesirable result.
I asked a number of Oregon's "Pinot Noir Doctors" to share how they became interested in wine, what drove them to enter the wine business, and why they thought physicians were drawn to wine. Although it has been reported that second career vintners fail 60 percent of the time, none of the wineries profiled here have failed because of financial or other reasons. Curiously, a majority of doctors prefer to avoid the limelight and are quite humble about their accomplishments.
John O. Bergström, M.D.
Bergström Wines
Dr. John Bergström grew up in a small agricultural and logging village in northern Sweden and as a young teenager immigrated to Oregon. After attending Ponce School of Medicine in Puerto Rico, he served a residency at Oregon Health & Science University Hospital and became a board-certified obstetrician and gynecologist practicing in an office in Portland.
His desire to start a business that would become a legacy for his children and pay tribute to his Swedish agricultural upbringing led him to move his family from Portland to Dundee, where he planted the Bergström Vineyard on a 13-acre slope. In 1999, Dr. Bergström's son, Josh, returned to Oregon after a postgraduate program in viticulture and enology in Burgundy and founded the Bergström label with his father.
In 2011, Kendall Bergström and her husband, Paul de Lancellotti, joined the business. A new winery was built at the top of Calkins Lane in the Chehalem Mountains and the de Lancellotti Estate Vineyard was planted. Bergström Wines now farms five estate vineyards, totaling 84 acres, all of which are Biodynamically farmed. Production of Pinot Noir (nine bottlings) and Chardonnay averages 9,000 cases annually.
Madaiah Revana, M.D.
Alexana Winery
Dr. Madaiah Revana grew up in rural India near Bangalore, where his family had been farming for generations. This agricultural heritage led to his interest in winegrowing. He was first introduced to wine by friends and became fascinated with Bordeaux's first growths while practicing cardiology in Houston. After traveling extensively to the wine regions of the U.S. and Europe, he became determined to establish a world-class vineyard estate. In 1997, he found a small parcel of prime vineyard land in St. Helena in the Napa Valley and planted it to vines. Revana Family Vineyard released its first vintage in 2001. Noted winemaker Thomas Brown currently crafts the wines at Revana.
Over time, Dr. Revana also acquired a love for great Burgundy wines. After enlisting the assistance of winemaker Lynn Penner-Ash, he acquired 80 acres in the Dundee Hills in 2005 and started Alexana Winery, named after his daughter Alexandra. Today, the vineyard has grown to more than 55 acres of Pinot Noir, Riesling and Chardonnay. The first Pinot Noir and Pinot Gris were released from the 2006 vintage. Production is now 5,000 cases annually. The LEED-Certified Gold tasting room is located on N.E. Worden Hill Road in Newberg.
Dr. Revana, who is board certified in both cardiology and internal medicine, continues to practice medicine in Texas while overseeing production at his two vineyard properties.
Joe Campbell, M.D., D.C.
Elk Cove Vineyards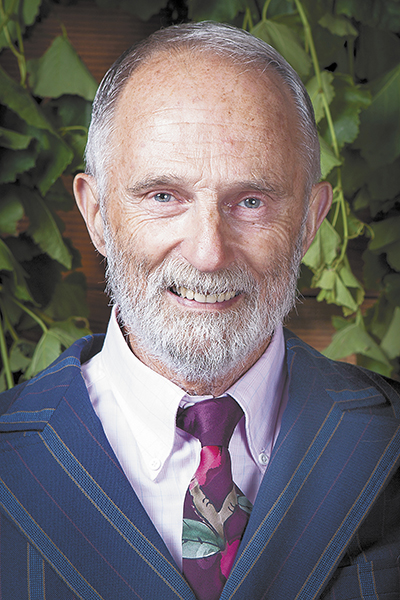 Dr. Joe Campbell and his wife, Pat, became interested in wine while he was in medical school at Stanford University; on weekends they visited tasting rooms nearby and in the Santa Cruz Mountains. In 1971, the couple traveled to Oregon. Pat had grown up on orchards in Hood River and was familiar with farm life. Dr. Campbell established an internal medicine office in Portland and also practiced emergency medicine on the Oregon coast, earning enough to buy property in the Willamette Valley.
He founded Elk Cove Vineyards in 1974 in Gaston, and today it is one of Oregon's oldest wine producers. He planted his first ten acres of Coury selection Pinot Noir and also Chardonnay — later grafted over to Pinot Gris — and began making wine in an old barn; they released inaugural wine in 1977, the first commercially produced in what is now the Yamhill-Carlton AVA.
A new winery was added in 1981, and vineyard properties were gradually developed over the years. Today, the winery farms more than 220 acres of vineyards on four separate sites in the Willamette Valley; another 150 acres of vines are scheduled for planting over the next several years. Focusing on Pinot Noir, Pinot Gris and Pinot Blanc, Elk Cove Vineyards was the 15th largest producer in Oregon in 2011, bottling 43,800 cases.
Dr. Campbell crafted wine at Elk Cove for more than 20 years while still practicing medicine. With no winemaker mentor, he learned the trade by spending a harvest in Burgundy and reading everything he could. He says, "I attribute my success to hard physical work growing up and a background in chemistry that made the chemistry of winemaking simple." He also notes it was the science in winemaking and complexity of wine that attracted him into the industry.
In 1999, Dr. Campbell's son, Adam Godlee Campbell, became the winemaker. Now 73 years old, Dr. Campbell still works as a family practitioner in Portland and an emergency room physician on the Oregon coast. He has volunteered with Medical Teams International following disasters in New Orleans, Sri Lanka and South Sudan and supports a small medical clinic in Peru.
Mauricio Collada Jr., M.D.
Cubanísimo Vineyards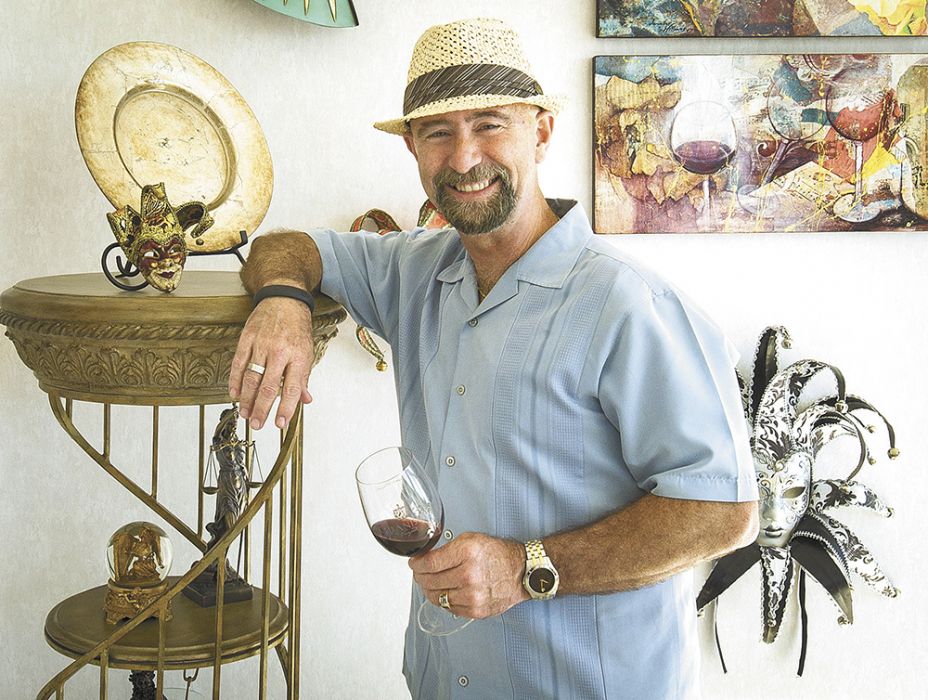 Born in Havana, Cuba, in the 1950s, Dr. Mauricio Collada immigrated to the U.S. with his family in 1962, a few years after Fidel Castro's communist revolution. He developed an interest in wine while an undergraduate attending the University of Miami and began making wine at home from mangoes and bananas. His passion for wine continued through medical school at the University of South Florida College of Medicine, from where he graduated in 1977. After a general surgery residency at University of South Carolina Medical Center and a neurosurgery residency at the LSU Medical Center in New Orleans, he moved to Salem, Oregon, in 1983 to begin his neurosurgical practice.
In 1986, Dr. Collada bought a 21-acre parcel in the Eola-Amity Hills and five years later planted eight acres of Pinot Noir. In 2001, he added two more acres of Pinot Noir and in 2007, two acres of Pinot Gris. Initially, he sold his grapes to King Estate, Evesham Wood and Erath. Through his dealings with Erath, he got to know the winemaker there, Rob Stuart, who became his mentor. In 2003, he started holding back 50 percent of his production to craft his own wines under the Cubanísimo Vineyards label. "Cubanísimo means "very Cuban." When his winery contracts expired in 2005, he kept all his production for his own label and built a wine tasting facility.
Cubanísimo wines are currently produced at R. Stuart in McMinnville, with future plans to move wine production to the Cubanísimo estate. Currently, Dr. Collada offers 800 cases of estate Pinot Noir and 1,000 cases of Pinot Noir composed of estate grapes combined with sourced grapes. Production also includes 150 cases of Rosado de Pinot Noir from estate fruit and a small amount of Pinot Gris. Dr. Collada's spouse, Debra, a nurse, participates in harvest, bottling, management of the tasting room and distribution, and the coordination of winery events.
Robert J. Gross, M.D.
Cooper Mountain Vineyards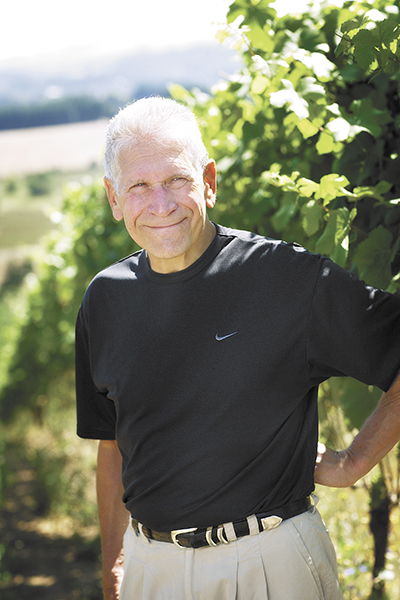 While doing his residency in obstetrics and gynecology at the University of Washington, Dr. Robert Gross joined several fellow residents in forming an amateur winemaking group. They rented space in Pike Place Market before it was renovated and while it was still economically feasible, and began "playing around." After residency, some of the group members went to Eastern Washington to found a now shuttered winery called French Creek.
Dr. Gross was not interested in warm-climate grape varieties and neither was his wife, who grew up in Portland. The decided to travel south to Oregon to locate a suitable site to grow Pinot Noir, and found a 100-acre horse farm in the Chehalem Mountains. In 1978, they bought the property and planted vineyards where Cooper Mountain Vineyards became established in 1987.
He still practices medicine in Portland and continues to oversee the winery operations and production. Cooper Mountain Vineyards has been a pioneer among Oregon wineries in practicing organic — certified by Oregon Tilth in 1995 — and Biodynamics— certified by Demeter in 1999. When asked why the emphasis on organics and Biodynamics, Dr. Gross answers, "It was for my health." He became interested in winemaking, he says, because he already had an organic chemistry background.
In 2002, Cooper Mountain was the first winery in the United States to gain label approval for a no-sulfite-added wine, and carry the USDA Organic seal. The winery's sulfite-free Pinot Noir has developed a cult following. In addition, there are reserve and single-vineyard Pinot Noir options, and Pinot Gris, Pinot Blanc and Chardonnay are also offered.
Donald R. Olson, M.D.
Torii Mor Winery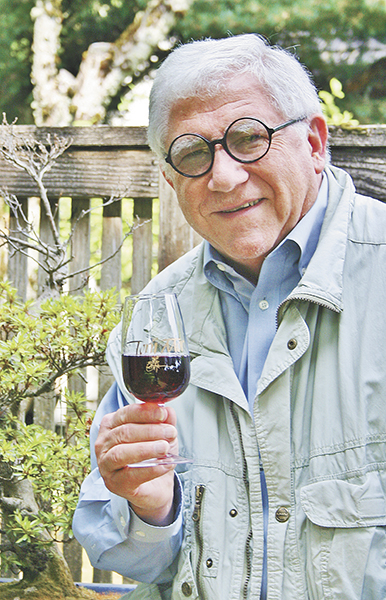 Dr. Donald Olson founded Torii Mor Winery in the Dundee Hills in 1993 as a tribute to his late son, Leif. Olson had been a lover of Burgundy since his time in Paris, where he completed a fellowship in neurosurgery at Hôpital Foch University. His passion for Pinot continued while he was a clinical professor of neurosurgery at the Oregon Health Sciences University in Portland.
The name Torii Mor comes from the Japanese, "Torii," referring to the beautiful gates often seen at the entrances of gardens, and "Mor," a Scandinavian word meaning earth and chosen as an homage to Dr. Olson's Scandinavian heritage. The estate has a quaint Japanese theme unique among Oregon wineries.
Initially, the winery was a small project intended to showcase fruit planted in 1972 from his vineyard, one of the oldest in the Willamette Valley. Dr. Olson released his first Pinot Noir from the 15-acre estate vineyard in 1993.
A LEED-certified solar-array gravity-flow winery opened on the property in 2007. Dr. Olson works closely with Burgundy-trained winemaker Jacques Tardy and continues to act as general manager and CEO. He is closely aligned with its daily activities while also volunteering with Medical Teams International, performing battlefield surgery on freedom fighters in Libya.
Current production at Torii Mor is 15,000 cases, predominantly Pinot Noir; the Olson Estate Vineyard is the cornerstone of production.
Dr. Olson combined his medical background and enjoyment of wine to become an advocate of wine as a part of a healthy lifestyle. At one point, federal regulators forced him to change the aphoristic "Make glad the heart with wine" on his label because they said it represented an apparent health statement.
Earl Van Volkinburg, M.D.
Vitae Springs Vineyard
Dr. Earl Van Volkinburg is a practicing internist in Salem, Oregon, who developed an interest in wine when serving in the U.S. Air Force in the Mosel Valley of Germany from 1971 to 1974. After finishing a residency in internal medicine at David Grant USAF Medical Center in Northern California in 1977, he and his spouse Pam looked for a town that needed an internist and had suitable land for growing wine grapes.
In 1977, the couple bought 18 acres south of Salem and planted 1 acre of mostly Riesling, since this was the only wine grape he knew much about. As one of the first families to plant a vineyard in the Willamette Valley, the Vitae Springs Vineyard has some of the oldest vines in the region.
Today, Dr. Van Volkinburg's son, Joel, manages the 31-acre Vitae Springs Vineyard and handles most of the winemaking duties as well. Small lots of Pinot Noir, Riesling and Grüner Veltliner are produced under the label, while some vineyard production goes to premium wine producers in the Willamette Valley, such as St. Innocent. The 2011 Grüner Veltliner is the nation's first and oldest (30 years) estate grown and produced bottling of the varietal. Fewer than 1,000 cases of wine are produced each year.
Dr. Van Volkinburg likes to quote Paul who wrote to Timothy in Timothy 5:23, "Stop drinking just water, but have a little wine for your stomach's sake and your infirmities."
John Zelko, M.D.
Z'IVO Wines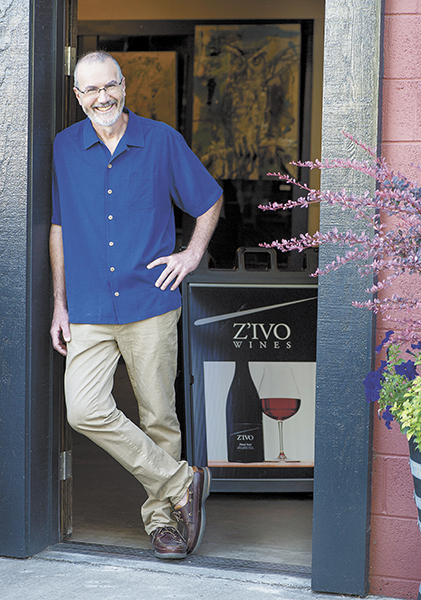 Dr. John Zelko comes from a family of doctors, so it was natural that he became a physician. After he finished his residency in 1983 in general surgery at the University of Colorado, Denver, he moved to Oregon. He became enamored with the local wines and participated frequently in wine tasting courses, but he brewed beer because there were no microbrews at the time, no one sold quality wine grapes to amateurs, and the F.H. Steinbart Co. Homebrew Supply Shop was close to him in Portland.
When friend Rachel Starr started Starr Winery, Dr. Zelko and his wife became nighttime and weekend cellar rats. Eventually, they bought a couple tons of Pinot Noir from lesser-known vineyards and made their first wine at Starr Winery in Linton. The small production of wine continued from 1992 to 1999 when Starr Winery moved to Newberg. This prompted the Zelkos to buy 40 acres in the Eola-Amity Hills from a radiologist in 1995. They began planting a vineyard the following year.
Dr. Zelko was intrigued with the Dijon clones and thought a blend of multiple Dijon clones would yield a more complex wine distinctly different from the wines based solely on Pommard and Wädenswil clones prevalent in the Willamette Valley at the time. He reasoned that a mixture of earlier ripening clones in a slightly warmer site would favor more years with adequate ripeness, which is what happened.
Dr. Zelko's winery was initially named Zelko, but later changed to Z'IVO after Zelko Vodka presented him with a trademark challenge. A month of Googling and research came up with a play on Dr. Zelko's name. In Slovak, "zivo" means vibrant or to be alive as well as the possessive Ivo's. So Z'IVO can be interpreted as Ivo's wines or wines that are vibrant and alive.
When asked why physicians are attracted to wine, Dr. Zelko replied, "We have a strong biochemistry background, some disposable income, and the desire to marry art, craft and science in a manner different from the practice of medicine. Grapegrowers, winemakers and all the farmers, chefs and people passionate about wine and the immediacy of a good life are great people to spend our free time with. Who knows better than us life's tragedies and sorrows and the need to share what is good?"
Z'IVO Pinot is produced entirely from the estate vineyard. Several aromatic white wines are also offered. The wines are crafted by Dr. Zelko at Walnut City WineWorks in McMinnville, a small consortium of winemakers who grow their own grapes.
Mark Wahle, M.D.
Wahle Vineyards and Cellars
Dr. Mark Wahle and his parents established a 10-acre vineyard in Yamhill in 1974. Most of the original material was from the nursery of Charles Coury. Dr. Wahle managed the vineyard as part of a school agricultural project, and although he attended viticulture meetings with local grapegrowers, there were no viticulture and enology programs available in Oregon for university-level study. He ultimately attended the University of California at Davis as a Regents Scholar, majoring in viticulture and enology.
Dr. Wahle gained practical winemaking experience at Chateau St. Jean in California, Chateau Benoit in Oregon, and through an exchange program in the Rheinhessen region of Germany. Upon returning to Oregon, he discovered that his family transition plan had stalled. Unsure of what to do next, he backpacked with a friend throughout Central America. Experiences on this trip led to an interest in medicine. Raised on a small farm in Oregon, he did not have previous exposure to a medical career path.
Dr. Wahle ultimately chose to return to Davis for the medicine program with the intention of becoming involved in both medical and winemaking professions. He is now a practicing emergency medicine physician in Portland part of the week, and works at his vineyards and winery for the rest of the week.
Current production at Wahle Vineyards is just over 1,000 cases of Pinot Noir produced at Carlton Winemakers Studio while a new winery is completed at a second estate vineyard site in the Eola-Amity Hills AVA known as Holmes Hill Vineyard. Dr. Wahle produces wine for James Moises, M.D., an emergency medicine colleague, and Drs. Nicolas and Haydee Bazan, both neuroscientists, all of whom live in New Orleans. He has collaborated with the Bazans on studies related to the antioxidant properties of Pinot Noir.
Dr. Wahle's perspective on the fields of winemaking and medicine is as follows. "While many see these two career paths as an unusual pairing, I simply remind them of the amazing content overlap that exists. Furthermore, I see the two fields as complementary in practice. After a stretch of chaotic emergency medicine shifts, it is a relief to shift gears and return to outdoor work in the vineyard. The reverse opportunity is true as well. After an exhausting harvest, it seems balancing to return to the hospital to resume work in the fascinating and ever-changing field of medicine."
Michael Dragutsky, M.D. and David Sloas, M.D.|
Cornerstone/Stepping Stone Cellars
Shortly after starting his practice of gastroenterology, several of Dr. Michael Dragutsky's medical colleagues who were active in local wine groups invited him to participate in their wine events. His wine epiphany was a bottle of 1982 Dom Perignon Champagne, which he tasted at a wine group's New Year's Eve celebration.
Dr. David Sloas was a fellow gastroenterologist sharing calls with Dr. Gragutsky in 1991, when Dr. Sloas had lunch with noted California vintner Randy Dunn in Napa. Dunn had extra grapes that year and offered them to Dr. Sloas. He called Dr. Dragutsky immediately, and they bought Dunn's overage of Howell Mountain Cabernet Sauvignon grapes.
Dr. Dragutsky was just learning the basics of wine at the time and had to make a quick study of both winemaking and the wine business. Joined by several partners, including winemaker Jeff Keene, Cornerstone/Stepping Stone Cellars was launched in Napa Valley. Today, the winery produces Cabernet Sauvignon, Cabernet Franc, Syrah and Sauvignon Blanc from the Napa Valley under the Stepping Stone and Cornerstone labels.
Managing partner Craig Camp enlisted noted Oregon winemaker Tony Rynders to produce Pinot Noir from the Willamette Valley beginning with the 2008 vintage under the Cornerstone Cellars label. Cornerstone now produces both Pinot Noir and Chardonnay from the Willamette Valley. Current production in Napa and Oregon totals more than 10,000 cases.
Dr. Gragutsky practices gastroenterology full time in Memphis, Tennessee, and is one of the founding members of Gastro One, currently the twelfth largest gastroenterology groups in the U.S. He spends several hours a week interacting with Craig Camp and the staff in Napa and Oregon and promoting Cornerstone and Stepping Stone wines.
Dr. Gragutsky told me the following when I asked why he thought physicians were attracted to the wine business. "Medicine is a very socially interactive profession where personal interactions between the physicians are of utmost importance. Likewise, wine is the epitome of a social experience. It is this commonality that I believe attracts physicians to wine. In addition, both fields require in-depth knowledge and are intellectually challenging. It also confirms the adage that physicians are drawn to bad investments!"
More Docs with the Wine Bug!
Dr. Douglas Ackerman is a urologist practicing in Clackamas. Along with his spouse, Michelle, he bought and planted a 16-acre vineyard in 2007 on the site of a former horse farm in the Ribbon Ridge AVA. The vineyard is just below Ayres and Brick House on Lewis Rogers Lane. The planted clones are Pommard, Wädenswil, and Dijon 114, 115, 667 and 777. The grapes are sold to Ayres, Seven of Hearts Winery and Vincent Wine Company.
Dr. Jack Bagdade founded Domaine Meriwether to produce sparkling wine and released the first wine from the 1998 vintage. In 2005, Dr. Bagdade returned to his medical calling and today the winery produces sparkling and still wines in a facility located in Veneta, just outside Eugene.
Dr. Kristian Ferry is the only Society of Surgical Oncology-trained physician in Oregon outside of Portland. While a practicing surgeon at the Oregon Medical Group in Eugene, he and his spouse, Angela, established the 5-acre Abbelone Vineyard in 2002.
Dr. Marvin Hausman, a board-certified urologist, established Quailhurst Vineyard Estate in Sherwood, Oregon in 1997. The first Dijon clones were planted in 1998 and the first Pinot Noir bottled from the 2001 vintage under the Quailhurst Vineyard Estate label.
Dr. H. Earl Jones is not a "Pinot Noir Doctor," but bears mentioning as a well-regarded "Wine Doctor." He and his wife, Hilda, are the founders of Abacela Vineyards & Winery in Roseburg in Southern Oregon where they were the first to plant Tempranillo and other vines rarely or never before planted in the Pacific Northwest.
Dr. Edward Koo is a pathologist and neurologist and currently a professor at the University of California at San Diego School of Medicine conducting research on Alzheimer's disease and neurodegeneration. Dr. Koo and his spouse Lin Shen established Temperance Hill Vineyard in 1980 and 1981. The vineyard consists of 100 acres consisting of 20 different blocks on a 200-acre site in the west Eola Hills near Salem.
Dr. Henry Pollak founded Noble Pig Winery in 2008 with his winemaker spouse, Cathy. The couple spent most of their life in Southern California where Henry had a successful obstetrics and gynecology practice until health problems cut short his career. The Pollacks later found a home in the McMinnville AVA where they bought 88 acres and planted their first 4 acres of Pinot Noir in 2010.
Rusty Gaffney, a retired ophthalmologist, has devoted his energy to writing the PinotFile, an online newsletter that was the first wine publication exclusively devoted to Pinot Noir.