Distill My Heart
Oregon's latest love story: SPIRITS
On a frosty night in the Pacific Northwest, you've ordered Sauvignon Blanc to accompany oven-roasted chicken at your favorite restaurant. Your partner has an eye for the pork tenderloin roasted with garlic and herbs paired with an Oregon Pinot Noir. But what to have while you wait for the meal?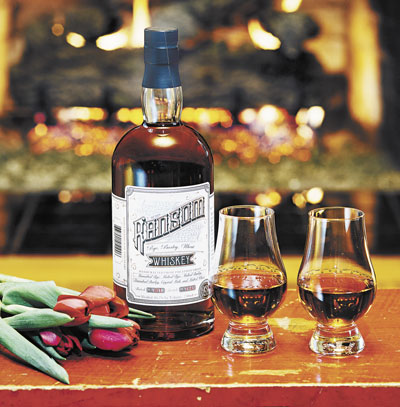 If you're looking for ways to warm up that special night out — or even Valentine's Day — why not try a bottle from behind the bar? Something to warm your body and soul while easing into a romantic evening? Not red. Not white. But amber.
Fueled by a dynamic cocktail scene, soaring national demand for whiskey and the relaxation of post-Prohibition regulations, Oregon craft spirits have been seriously heating up. Industry insiders call its popularity hardly accidental, given the prominence of wine and craft beer in the state.
Riding a national tide dominated by major players, Oregonians spent $90 million more on distilled spirits between 2013 and 2015 than they did the previous biennium, according to the Oregon Liquor Control Commission. Officials say this rise indicates both a growing interest in spirits and an improving economy in which customers are willing to indulge in more expensive brands.
Examining sales within Oregon, Jack Daniels No. 7 led the rest with more than $14 million, but Hood River Distillers took the highest spot in volume sales, with 852,000 liters of HRD Vodka, which also ranked eighth on the "dollar sales" list.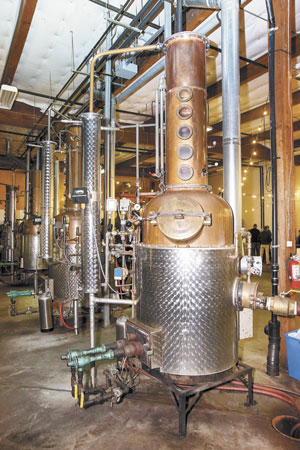 The national interest in spirits, particularly whiskey, is making it possible for the craft spirits movement to capture a region where tastes have become more sophisticated thanks to world-class wine and beer. The Eyrie Vineyards' Jason Lett notes that with a deep commitment to local raw materials, Oregon's distillers mesh well with winemakers.
"The focus on quality, especially at artisanal distillers like Clear Creek and Ransom Spirits, is what has elevated their work to the world stage," says Lett, son of legendary Oregon wine pioneer David Lett, who first planted Pinot grapes in the 1960s. "I see their bottles behind the bar almost everywhere I travel to sell wine, from New York to Tokyo to Paris."
Brad Irwin of Bend-based Oregon Spirit Distillers says the parallels are clear. "We meet a lot of wine lovers in our tasting room," he says. "Whiskey is similar to wine in that you sip it, not quaff it. The flavors are very complex, like wine. Sometimes, if a person prefers softer wines, we find a cocktail for them. There's a right cocktail out there for everyone."
"I think wineries set a very high bar. They're a really good example of that pinnacle of where you want to be" adds Ted Pappas, a Hillsboro distiller who leads the Oregon Distillers Guild (ODG), the first of its kind in the nation and celebrating its 10th anniversary this year.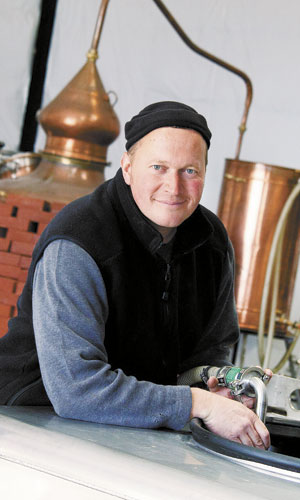 Oregon wine had a half-century to ground itself, but relatively speaking, spirits have, in only the last decade or so, started emerging from the dark ages of post-Prohibition. The current wave didn't invent the wheel, of course. Hood River began in the '30s after Prohibition ended, and that company only recently acquired another spirits trailblazer, Portland-based Clear Creek Distillery, started by Steve McCarthy in the 1980s.
Back in the 1990s, with Oregon's wine industry still a couple years from booming, winemaker Tad Seestedt was poking around the Salem library looking for books on distilleries — pre-Internet era research — during the early stages of planning the venture that would eventually become Sheridan-based Ransom Spirits.
"I was talking to the research librarian, who was older, like close to retirement," he recalls. "In the '70s and '80s, all those books were removed from circulation. They were actually pulled out of the libraries because the government didn't want to encourage home distilling."
Seestedt, who was acquainted with McCarthy, remembers four licensed distilleries operating in Oregon when he began the year-long paperwork process with the feds. Since then, federal and state laws have relaxed, and, as Clear Creek's national sales director Jeanine Racht notes, now it's possible to Google more information in a day than McCarthy was able to acquire during years traveling in Europe, where he learned his craft. Today, there are more than 60 licensed distillers in Oregon, many — as with the wine industry — with tasting rooms. And more are waiting for a license.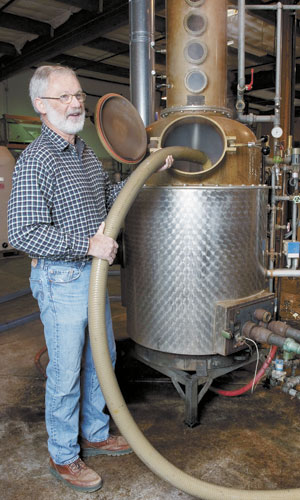 That's not to say it's a lucrative business, at least at the craft level, and certainly not starting out — much like the wine biz. Talking to distillers, you'll hear jokes about their "nonprofits."
Many owners, such as Steven Day, have separate careers. Dr. Day, a Portland neurobiologist whose background in chemistry helped spark his fascination with the myriad of flavors in whiskey, started in 2013 following the purchase of a few acres next door to Stoller Family Estate outside Dayton. After years of planning, building and securing permits, the 41-year-old began making whiskey with Willamette Valley grains, including a wheat-rye hybrid for triticale whiskey last fall. His Branch Point Whiskey will open a tasting room and start selling in 2018.
"I wouldn't call it a hobby, given how much time I spend in here," he says. "But it isn't how I make my living."
Jesse Gallagher of Medford-based Immortal Spirits explains that intense dedication has helped nudge society forward.
"Culturally, you're seeing an attitude change," he explains. "People realize that if someone is sinking their life savings and trying to do something with a very heartfelt artistic creation like distilling, it's not so you can take a fifth of whiskey, swill it and kick the dog," he says. "It's for nice occasions, to be imbibed responsibly."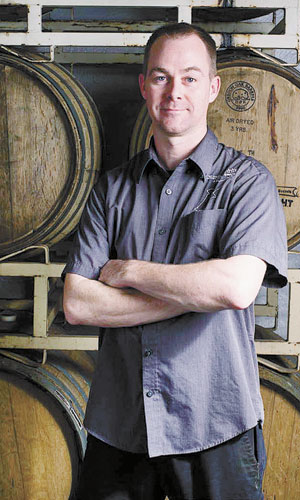 Gallagher's enterprise perfectly illustrates the synergy between craft brewing and distilling. He and a friend were making beer in 2009 when they literally stumbled into a Portland distillery while searching for a parking space at a brewery event. Put off by what appeared to be a crowded microbrew market, he started distilling.
Today, Gallagher has a restaurant and tasting room where customers sample whiskey aged in charcoaled Oregon oak barrels. He also makes and sells growler cocktails like Strawperry, a blend of pear brandy and ginger ale complemented with natural ingredients such as mint, cucumber and strawberries — all locally grown, when possible.
The Guild's Pappas calls local ingredients essential for Oregon distillers in the next few years as they establish a terroir-based identity.
"We're going to start to look even more in our own backyard," he says. "The Cascades go from Northern California all the way up to British Columbia, and that's our grain. We use it for beer. We use it for whiskey. That's what people should think when they think of Oregon."
"Many craft distillers are looking seriously at the terroir message," says Paul Hughes, a British chemist and whiskey expert hired by Oregon State University in 2015 to direct a new distilled spirits program. Although the easiest way to assert terroir is through sourcing local raw ingredients, he's not convinced that any Pacific Northwest spirits stand out in that regard … yet.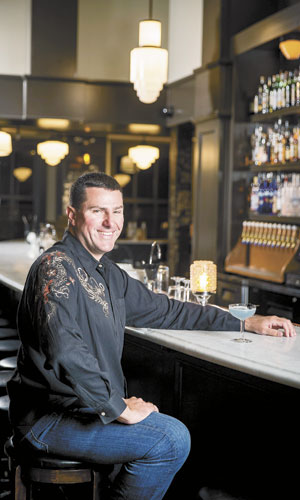 One exception, Hughes adds, is botanical-flavored spirits, such as gin or absinthe.
"Local botanicals may make a difference compared to those used by big producers or craft producers from other parts of the U.S." he adds.
Whiskey writer Clay Risen, author of "American Whiskey Bourbon & Rye: A Guide to the Nation's Favorite Spirit," supports Hughes' caution about a terroir identity this early, but, like Pappas, he doesn't rule out whiskey.
"Two of my favorite Northwest whiskeys, McCarthy's and Westland, are known for making single malts with a strong Scotch influence," Risen explains. "Generally, the West Coast makes some of the best single malts in the country. Westland (made in Seattle) has done some cool stuff with Oregon oak, instead of traditional white oak, which could foretell more regional specialization to come."
That kind of focus is key in generating the tide that raises all boats. Kelley McDonough of the Distilled Spirits Council of the United States says craft distillers help generate interest at a local level, which sends national numbers soaring.
"The West Coast has sort of been at the leading edge of microdistilleries for sure," she says. "The establishment of craft brewing definitely helped set the stage."
Ransom's Seestedt is one of the few whose products, particularly Old Tom Gin — based on a century-old recipe — have drawn attention from beyond Oregon's borders. He says big players and small operations go hand in hand, and aren't necessarily competing with one another.
"The effect of having more craft distilleries is that there's greater recognition among the consumers," he says. "It's kind of like 30 or 40 years ago, people were drinking Budweiser and Miller, you know, big brands. And now that's changed. But it took a lot of mass and inertia coming out of the craft brew industry to get to where things are now. And we're starting to see that with craft spirits, but I think we have a long way to go."
David Bates is a McMinnville-based freelance writer and lover of Scotch and American whiskey.
Taste for Yourself
When planning an Oregon distillery tour, online resources prove essential. Several websites offer detailed information and tools to help map out a tasting trip or find a particular type of preferred spirit.
The Oregon Distillers' Guild website, www.oregondistillerytrail.com, contains a comprehensive list, by city, pinpointing distilleries, complete with addresses, hours and phone numbers. Also, be sure to bookmark www.distilling.com, the site for the American Distilling Institute, "the voice of craft distilling." On this resource-rich site, discover maps, a database and more for free perusal
Regardless of destination, be sure to call first to confirm they even have a tasting room. Not all do, and some offer tours solely by appointment.
If you're a wine lover wary about elevated alcohol levels, relax. Spirits, like wine, are an acquired taste. No rule says you must try your first whiskey neat — or straight up.
"Find a trustworthy bartender," says Portland-based House Spirits Distillery's Christian Krogstad. "It's sometimes hard to drink spirits straight."