Denison Shines
Tim Wilson finds success in personal brand
Denison Cellars
Details: 541-517-3370 www.denisoncellars.com Call for appointment.


When the aromas of punch-downs waft from next door, blending with the lingering scent of fresh baked goods in Biggio Hamina Cellars' tasting room, I feel suddenly entranced. The inviting lighting from the above wine-inspired fixtures adds to my delightful daze, when my host, Tim Wilson of Denison Cellars, enters, ready to tell me his story.

Wearing every possible hat for his budding company, Wilson shows pride in his work. After stints with Edna Valley, Chateau Ste. Michelle and Benton-Lane, the self-driven winemaker admits bigger is not always better.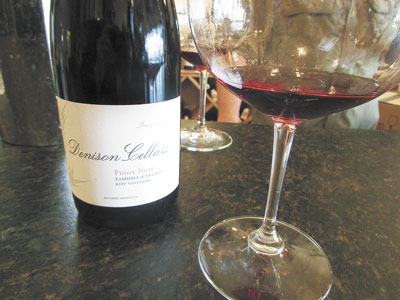 "Eventually, I found out what all my friends already seemed to know, that being my own boss would make me happiest," Wilson said.
He smiles while setting a 12-bottle lineup for our tasting. Founded in 2009 with the love, support and drive of his wife, Denise — Denise + Wilson = Denison — Denison Cellars has slowly grown from 110 cases to about 700. The steady increase reflects attention to detail and years of experience, including tricky harvests such as 2010.
From mid-level management in Florida to a career in finance and sales, Wilson eventually left it all behind to turn his passion for wine into a profession. He headed west to attend Fresno State and study in its enology program.
"The hands-on approach of the Fresno State program works really well with the Oregon type of winemaking," Wilson said. "Plus, the 20,000-case wine production facility had just opened, giving me the practical experience I was looking for."
Once billed as a "Homeless Winemaker"— a tongue-in-cheek term Anam Cara Cellars uses for its guest winemakers pouring at the Newberg tasting room — he found a home renting space at the Biggio Hamina Cellars production facility in McMinnville. It is here where I am tasting Denison's current releases displaying Wilson's uniquely honed style.
"I want elegance. I want nuance. I don't want big, brawny wines," Wilson stated.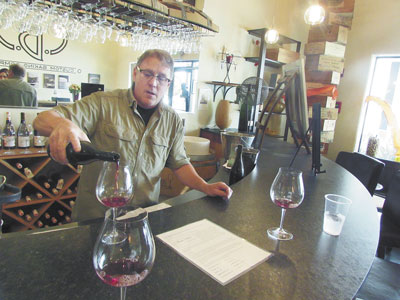 Mission accomplished. His Pinot Noirs are anything but burly. The wines' subtleties tempt with a great balance of fruit, acid and alcohol — steady around 14 percent. He sources fruit from select vineyards like Kiff and Johnson Ridge, and favors the 667 and Pommard clones.
"My focus is on identifying outstanding, small, sustainably-farmed vineyards that allow me to showcase their unique attributes in the wines that I create from them," Wilson explained.
This respect for finding "hidden gems" originated during his time at Chateau Ste. Michelle. With an abundance of experimentation and quality control fueling the award-winning winery, Wilson was front and center in the barrel room and lab. His time there taught him how to harness elements, roll with the punches of each vintage and find a confidence in his abilities in order to produce an expected consistency.
Following more cellar work at Benton-Lane, located in the southern end of the Willamette Valley, he decided to start his own brand and move his family to McMinnville.
Today, Denison Cellars is producing wines evoking what is great about Oregon wine. Each wine shows a distinctive personality without being the loud friend at the party — vying for the spotlight with brash attention-grabbing antics.
From the light floral accents in the Willamette Valley 2011, to the smoky sea-salt nuanced 2014 Johnson Ridge, Wilson's varied fingerprint changes with what the vintage offers.
"The most important step I've found is timing, when to pick the grapes," he said. "Harvest determines your fruit and acidity."
Although this statement might seem self-explanatory, he's referring to his lack of lab retouching. With a smile and slight twinkle in his eyes, he pours me a sample of the 2011 Eola-Amity Pinot Noir, plus a little for himself.
"You know, in Oregon we're allowed to add sugar, but that's not my thing," he added.
Wilson wants the vintage to tell its story and speak for itself without putting training wheels on it.
After tasting the dozen selections, I was most impressed with the 2014 Tête de Cuvée Pinot Noir. Bursting with a well-weighted palate of ripe red fruit and seasoned cedar, the bouquet fired on all cylinders. "Wow" was all I could muster.
This wine was the pinnacle of the tasting. It's not often you have the chance to taste the evolution of a winemaker in one sitting.
Judging from the aromas coming from the barrel room, there are more "wows" to come.
From his first sip of wine to the last Scotch tasting, Ryan Stevens has loved the craft and the journey behind the bottle. As a contributor for Busted Wallet and Ask Men, he has found his niche showcasing the nuances behind the vices that make life a celebration.