Dancing to a Different Tune
Passions on display at unique Newberg winery
You could invent a drinking game centered on reasons people give for joining the wine business. "We went to Burgundy and just fell in love with it." Drink. "We were visiting friends in Oregon and just fell in love with it." Drink. "We realized we were sitting on some Jory soil." Drink. "Well, the llamas couldn't keep up with the blackberries anymore, so we planted grapes." What?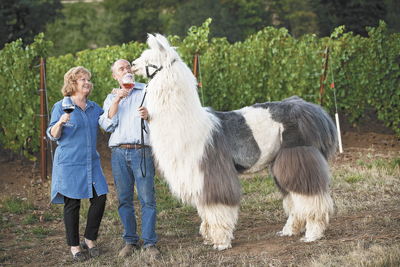 This is merely part of the story at Rain Dance Vineyards as told by owners Celia and Ken Austin III, a layered narrative full of practical choices with whimsical outcomes — whimsy guests get to experience at their Chehalem Mountains tasting room.
The Austins initially moved to their current property almost 40 years ago to find a quiet place to raise their family. A desire to protect the land urged the couple to expand the acreage to 120, 73 of which are now planted to vines on four estate sites.
But before grapes, there were animals, more than 125 championship llamas. Ken discovered on a wilderness trip how these creatures make excellent pack animals. "I guess we were lazy," he laughed. Llamas help protect livestock from coyotes and dogs. They also are great at eating blackberries, poison oak and Scotch broom back until the plants die — and, let's face it, they are way better behaved than goats. So, in 1991 Rain Dance Ranch was established.
A visit to the tasting room includes an introduction to Oscar and Bonzi, the ranch's PR llamas. They're particularly taken with guests who feed them — and, of course, you will feed them. What a childlike delight to feel their soft little chins against your palm. From the patio, the females appear in the field, sometimes frolicking with their babies. After shearing, they boast a funny hairdo described as a "poodle cut" — it looks more like a crew-cut/dreadlock combo, but llamas don't mind.
You may already own a Rain Dance llama souvenir if you have a Pendleton blanket. If not, you can buy one at the tasting room along with other llama-inspired and wine country gifts, including examples of Ken's beautiful woodwork.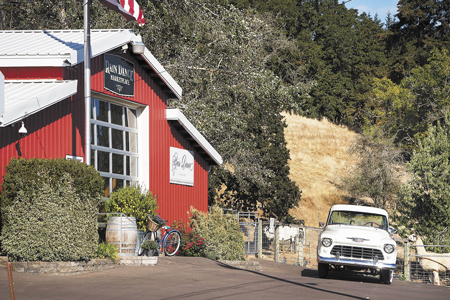 Bill Stoller of Stoller Family Estate snagged one of Ken's first large pieces, a black walnut table on display at the winery. Ken also made the chef's table and private dining table at Jory inside The Allison Inn & Spa. His work often comes with a story or a small surprise. "The chef's table at Jory has one bullet and two bullet holes," Ken explained with a mischievous smile.
The Austins' Oregon roots run deep through five generations. A-dec, a longtime employer in Newberg, was started by Ken's parents.
The Allison started as a dream of Ken's mother, Joan Austin, and the family still owns and operates the local treasure. The small vineyard established at the hotel in 2008 was a precursor to Rain Dance Vineyard, planted just a year later. The family's stewardship of the land and an evaluation of one of their parcels for a vineyard site made grapegrowing an obvious enterprise — with or without llamas stuffed with blackberry shoots. The initial plan was to sell the fruit through closely nurtured grower-producer relationships with quality wineries such as Adelsheim, Alexana, Anam Cara, King Estate and Edgefield.
After the first year of selling fruit, one client declined to purchase a block, a fortuitous event.
"We then approached Alexana about producing wine for us [under] our own label because we felt the fruit was too good to go to waste," Ken explained.
In 2015, Rain Dance transformed into more than just a ranch, with the release of their first wine, Rain Dance Estate 2013 Pinot Noir.
Production started and remains small, with 700 to 800 cases a year. At Celia's request, they also offer a Gewürztraminer, plus a Riesling, Chardonnay and rosé of Pinot Noir. All see some level of wood and are highly extracted for structure and texture.
They could probably grow more fruit but have opted to nurture native oaks and Madrones, not to mention plant white oak seedlings, black walnuts and maples, with plans for western Ponderosa pines, as well. A wildlife corridor will also be added to their new vineyard, Foothills.
A visit to Rain Dance offers a real treat, with the Austins' passions on full display. Feed their llamas. Drink their wine. Enjoy Celia's gardens. Relax by the fireplace in Ken's handcrafted rocking chair. And check out one of Ken's classic cars on site.
So much to see, do, sip and shop, Rain Dance is a must-stop.
Jade Helm is the author of Tasting Pour, www.tastingpour.com, a freelance contributor to print and online wine publications, a consultant and wine educator.