A Culinary Courtship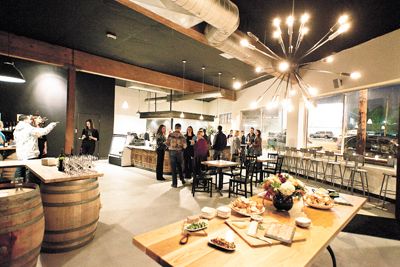 By Mark Stock
Just a few blocks from Burnside, Portland's ever-blinking spine, is Cyril's. The new urban wine bar and cheese-centric restaurant took over the space, formerly a poker house, on S.E. Seventh & Ash. Situated across the street from the city's finest cocktails at Beaker & Flask, a short stroll to the Buckman Farmers Market, and a brisk bike ride away from fellow urban eno-pubs ENSO and Sauvage, Cyril's rests comfortably in the belly of the beast.
Officially opened last fall, Cyril's is the vision-turned-reality of Sasha Davies and Michael Claypool. The former has a commanding knowledge of dairy cultures, having worked at Beecher's New York and Cheese Bar in Portland, among others. She's written several books on the subject and is currently serving on the board of the American Cheese Society.
Claypool also worked in the Empire State, assisting the wine director for Blue Hill at Stone Barns before heading west to work harvest in California. Last year, Claypool started his own label, Clay Pigeon, in a space shareing a wall with Cyril's. Diners can gaze through one of the refurbished farmhouse windows at his work, presently maturing in the barrel and soon to be part of the restaurant's wine list.
If there's such a thing as "new business smell," Cyril's still has it. Tidiness rules, as does ample space. Davies and Claypool occasionally shuffle things around to conduct culinary seminars on everything from honey to sherry. The bar sits centrally, adorned with countless barrel staves and flanked by a cheese cooler. There is a rack for "to-go" wines and an artfully frazzled chandelier hovering above a lengthy wooden community table. Passers-by are encouraged to drop in for a wedge or stay for a glass of wine and a bite of salad, soup or charcuterie.
"We are wildly enthusiastic about cheese and wine, and yet that's not our entire universe," Davies wrote in an e-mail. She explains the purpose of the business, veering into the existential, offering Cyril's as a place to slow down around a table with friends and family. "The backbone of the project has always been creating a wonderful space for people to gather," Davies continued.
The name Cyril is from Davies' grandfather, a Welshman who relocated to England and whom Davies credits for her ability to tolerate so much dairy. She fondly recollects childhood meals at her grandparents' place, built around British staples like butter, cake and Yorkshire pudding. She says it's Cyril's warm personality that the eponymous restaurant hopes to replicate. "He was a dapper, awesome fellow," Davies added.
By summer, the wine side of the business will begin to take shape. Claypool plans to bottle his 2011 Pinot Noir in a few months and release his rosé shortly thereafter. He has a Syrah in the making as well. "We are totally committed to keeping our wine list manageable so as to not overwhelm our guests," Claypool said. Currently, Cyril's list checks in at a very reasonable 14, predominantly imports from $7 to $23 a glass and available by the bottle as well. A handful of West Coast beers and draft kombucha, a fermented sweetened tea, complete the beverage department.
The food is fresh and fairly simple, ranging from spritely salads to salami from nearby Olympic Provisions. Heartier dishes like sausage apple stew and kale soup make for filling winter fare. Davies curates the cheese selection, ever-changing and enticing. And while most of the ingredients are from the general vicinity, Davies' cheese list racks up the frequent flyer miles, bouncing around from Vermont to France to Ireland and beyond.
Clay Pigeon Winery is a member of PDX Urban Wineries, a player in what is now a fairly large team. The association has sparked a renaissance of sorts, reconnecting city dwellers with the old, longhand art form that is wine. Wine country is just far enough from Portland that many thirsty urbanites opt for the endless list of inner-city breweries and distilleries over the rolling vineyards an hour's drive away. But as of a few years ago, the wineries really started to catch on, aligning with the incredible food culture that was already firmly in place.
"One key difference is that we don't think of Cyril's as strictly a tasting room," Davies said. Her cheese background alone injects a bit of individuality to the business. Sure, wine and cheese are as old as the stars, but Davies has a critical expertise. She helped create the Certified Cheese Professional Certification
Exam and served as the co-chair for the American Cheese Society's 2010 conference in Seattle.
She's also obsessed with flavor. "My memories don't hold for long as I'm too interested in too many flavors and honestly too curious to get tied down to one pairing," Davies said. I can't help but ask about which pairings are most memorable, to which she replies "a Swiss mountain cheese called Hoch Ybrig and a 14-year-old Scotch from the Scapa distillery. It was a total surprise and delight."
Cyril's and Clay Pigeon present a symbiosis in architecture and intent. A "his-and-hers" model — his wine label, her eatery — the place splits by specialization but meshes two elements that have always longed for each other in cheese and wine. A collective background of palate-sculpting work suggests that Claypool and Davies have a few new tricks for this age-old gastronomical duo.
Mark Stock, a Gonzaga grad, is a Portland-based freelance writer and photographer with a knack for all things Oregon. He currently works at Vista Hills Winery.
CYRIL'S AT CLAY PIGEON WINERY
Address: 815 S.E. Oak Street, Portland
Hours: Tues.- Sun., 4 to 10 p.m.; Fri.–Sat., open until 11 p.m.
Phone: 503-206-7862
Web: www.cyrilspdx.com