Curious Case of Chelois
Obscure varietal finds home in Oregon City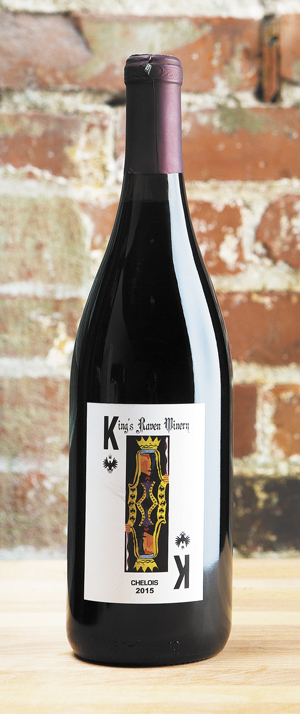 I was gobsmacked to stumble across Chelois at King's Raven Winery near Oregon City because you are about as likely to find a bottle of this obscure varietal as you are to see a plesiosaur swimming in Carlton Lake. Winemaker Darin Ingram's Chelois, all 144 bottles of it, is one of the rarest commercial wines in America. It's also as delightful as it is elusive.
Chelois (shell-WAH) is one of the thousands of French-American hybrid grapes created by scientists to fight powdery mildew and phylloxera, which infiltrated France in the mid-18th century. Scientists hoped combining the natural resistance of American Vitis labrusca with Europe's Vitis vinifera vines would stop the fungus and pests from wiping out Europe's vineyards. The scientists also hoped their hybrid grapes would produce wines people wanted to drink.
French-American hybrids can also tolerate temperatures as low as -20°F., a feature that led Philip Wagner, H.L Mencken's replacement as editor of the Baltimore Sun, to bring them to America. Wagner wanted to make wine at his Maryland farm, but he knew the winters were too harsh to grow his preferred Zinfandel grapes. He also refused to grow American grapes like Concord because he hated their "foxy" flavor. Wagner instead turned to the French-American hybrids, which he knew from his travels in France could make excellent wines. By the mid-1930s Wagner was selling cuttings from hybrids such as Léon Millot and Marechal Foch to farmers and nurseries across America. Those sales lead us to the curious case of Chelois in Oregon City.
Darin Ingram's family has farmed their 40-acre property for 77 years, but in the mid-1990s, the family began considering other options for their land. Inspired by a college professor who had recently planted a vineyard, Darin Ingram was able to convince his family to plant an acre of Pinot Noir in 2000. By 2003, King's Raven Winery was born.
Ingram quickly learned why Pinot Noir is called finicky. "It's a difficult grape to work with," Ingram exclaims. "In drought years I could lose up to 40 percent of my crop, and in cool, wet years, I spend a lot of time and money spraying for powdery mildew." Thanks to fellow vineyard owners, Ingram soon discovered an alternative path.
Lars and Cynthia Nordström of Epyllion Vineyard told Ingram they pretty much stopped spraying when they tore out their Pinot Noir vines and replaced them with Chelois, Marechal Foch and Léon Millot. Ingram was also impressed by the hybrids' ability to thrive in drought and deluge without much work. According to Ingram, "low-input viticulture like this is perfectly suited to a small family farm like ours."
Ingram didn't give up on Pinot Noir, but over the years he added 6.5 acres of Marechal Foch, Léon Millot, and Phoenix to his estate vineyard. Unfortunately, there's one grape Ingram has never been able to get his hands on: Lars' Chelois.
"For 10 years, Lars would tease me with bottles of Chelois he made; he would sell the rest of the grapes to a home winemaker," Ingram laughs. "I enjoyed his wines, which made it all the more frustrating."
In 2015, Ingram got his chance to make Chelois with Lars' grapes, but he had to agree to split the lone barrel's worth of bottles with the Nordström family; that's why there are only 144 bottles. Scarcity can be alluring, but I was excited to try the wine because I've heard Chelois can be like Burgundy when it's young and Bordeaux when it matures. What's not to love about that combination?
Chelois is now my favorite French-American collaboration since Washington and Rochambeau defeated the British at Yorkville. I was disappointed, however, to learn that because of its homeopathic production total, Ingram released the 2015 vintage for $52 as a "wine club members only" offering. Luckily for the rest of the world, that may change shortly.
A few years ago Ingram discovered a patch of mature Chelois vines growing on a nearby farm. The farm's owner, Tim Hammond-Williams, was told by the son of the previous owner the vines were there when they purchased the farm in 1946. He also told Hammond-Williams the vines looked like they were already several years old at the time. Given Chelois wasn't officially registered in the U.S. until 1948, this is quite a mystery.
Lars purchased his Chelois cuttings in the 1990s from local viticulture expert Lon Rombough, whose original plant material likely came from the University of California- Davis. Rombough also inspected the vines on Hammond-Williams' property and confirmed they were Chelois. If Hammond-Williams' information is accurate, the vines on his farm could be 70 to 80 years old and might have come directly from Philip Wagner's original Maryland nursery. Ingram and Hammond-Williams plan to keep working on the mystery.
Wine mysteries are always fun, but the important news is Ingram received enough cuttings from Hammond-Williams to plant a full acre of Chelois at his estate vineyard. He plans to harvest grapes from the vines later this year, which hopefully means even the folks who aren't in Kings Raven's wine club will be able to enjoy the charms of Chelois.
Tasting Notes:
Ingram's 2015 Chelois has a dark magenta color befitting the raven on the label. As I poured the wine, I could easily smell bright red cherries, black pepper, a note of salinity that reminded me of a fresh-shucked oyster shell and a trace of damp earth. I was beginning to understand the Burgundy references. On the palate, the wine has modest tannins and tangy acidity, along with tart blackcap raspberry and cranberry fruit flavors that complement wee bits of spice, leather and caramel. Will this wine evolve into something akin to Claret? Ingram thinks you could put this bottle away for another 20 years if you'd like to find out. After a few glasses and a glance at the 12.5 percent alcohol listed on the label, I wouldn't bet against him. —Michael Alberty
The changeup is a baseball pitch designed to disorient and confuse. It's the perfect representation of the unknown and its mastery over those who think they know what to expect. This column is devoted to those unorthodox Oregon wines you never saw coming.