Crowther in the Kitchen
Toluca Lane owner turns page from Bon Appétit to Oregon wine country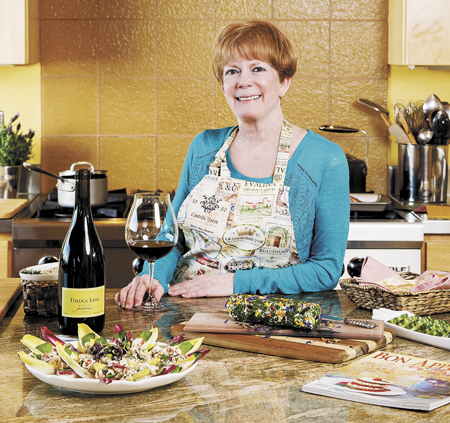 When I attended culinary school in 2007, nearly half the class consisted of women pursuing dreams of becoming chefs. Rewind 30 years, there was no such balance between genders in restaurant kitchens. That's the era when Lane Crowther bravely embarked on her culinary career.
"Women just weren't tolerated in the kitchen back then," Lane recalled. "I was told I had three strikes against me: I was (1) American; (2) a woman; and (3) too short!"
Lane looks every bit a pixie as she mans a massive eight-burner stove and flits about the kitchen, using a step stool to reach the upper cabinets — she's barely five feet tall and probably weighs in the double digits. But she never allowed her petite size stop her from tackling the macho profession.
Steeling her gaze, she remembers how she once put her male cooking cohorts in their rightful place: "I told them, 'I bet you guys grew up on your mother's cooking!' That shut them up."
From LA to Le Cordon Bleu
Lane got her start in cooking in the mid-1970s taking classes with then up-and-coming chef by the name of Wolfgang Puck.
Next, she enrolled at Le Cordon Bleu culinary school in Paris, France, where she studied classical French cuisine and pastry under the discerning eye of Madame Brassart, the stern proprietress who governed the school — you might recall Brassart from the movie "Julie & Julia," which portrayed a tempestuous relationship between Julia Child and the directrice.
"She hated women, especially Americans, in her kitchen," Lane said, echoing Julia Child's experience. "She made my life more difficult than it had to be."
The experience in France toughened her skin and honed her culinary chops, paying off when she returned to California. Lane became the first female apprentice at the Century Plaza Hotel in Los Angeles, where she logged long hours to master every food preparation station in the kitchen.
"I pulled my own weight," she said, flexing her muscles. "But when I got to the roast station, I was confronted with a prime rib roast weighing 25 pounds, sizzling in fat, cooking in an oven that was taller than me! I had to lift it up over my head and out of the oven — I got really good at leverage and could lift more than my weight."
In 1983, Lane traded in her chef whites for a staff position with Bon Appétit magazine. She spent the next 20 years with the gourmet food publication as a contributing editor, food stylist, recipe developer and tester.
The job took full advantage of her culinary training and experience working in commercial kitchens, including designing Bon Appétit's first truly professional test kitchen. "It was a big upgrade from the hotplates they made do with before," Lane said, raising her eyebrows.
She was also extremely adept at "fixing" recipes submitted by chefs, who often omitted crucial steps and ingredients from their directions. Her editorial insight resulted in recipes that would prove successful when undertaken by amateur home cooks — search online for recipes she's penned, and you'll find page after page of five-star-rated dishes.
Lane also excelled at meticulously styling food during photo shoots. Her handiwork appeared on countless covers and feature spreads in Bon Appétit. Several of her favorite food photographs she styled adorn the walls of her home in Amity.
Oregon beckons
Lane first visited Oregon in the late-1980s. The occasion was a press trip to judge a beef competition. At that point, she had no plans of moving from California. But a culinary tour of Portland and the Willamette Valley planted the seed to relocate.
"I visited hazelnut farms, Salishan Lodge, Kettle Chips, craft beer joints…When I returned home to California, I told [my husband] Geoffrey, 'You've got to see Oregon. It's beautiful!'"
In 1997, the couple purchased five acres in Amity, planting their first vineyard shortly thereafter. They added additional vines in 2000.
No newbies to winemaking, Lane and Geoffrey have been making Pinot Noir since 1988. Back then, they sourced fruit from a "crazy" neighbor of theirs who hauled grapes from Oregon to L.A., supplying a local winemaking group of which they belonged.
The Crowthers, who have been married for 42 years, named their Oregon winery after a California lake, where they spent time with friends, with her first name added to it. "It just has a nice ring to it; the name rolls right off the tongue," she said.
Toluca Lane's first commercial vintage was 2002. Over the years, their production has topped out at 350 cases of Pinot Noir. Today, they produce just two barrels for themselves and sell the remainder of their fruit to consulting winemaker Drew Voit of Harper Voit Wines.
Lane is as hands-on in winemaking as she is in the kitchen. "Lane is involved in all the trials," Geoffrey said. "She is the master blender."
Since leaving Bon Appétit in 2003 and moving to Oregon full-time in 2004, Lane has served as a feature writer and recipe developer for Cooking.com. She's also catered occasionally for friends in the wine community.
"Geoffrey and I came to Pinot Noir via Burgundy and my time in France," Lane said. "Oregon is the best expression. The great big gnarly Cabernets from California are fantastic — we're not afraid of a big style. But Pinot Noir is elegant and should go with food."
For more about Toluca Lane Winery, visit www.tolucalane.com.
Peter Szymczak writes about food, wine and culinary tourism. He lives in the Red Hills of Dundee, Oregon.
Spring Hors d'oeuvres paired with 2011 Toluca Lane Pinot Noir
Goat Cheese Enrobed with Garden Flowers and Herbs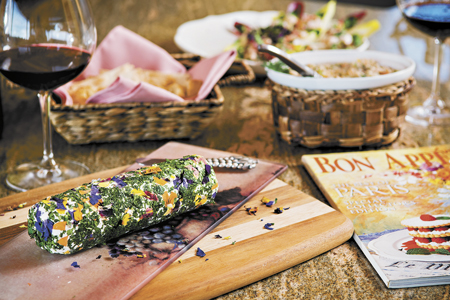 This is Lane's signature hors d'oeuvre served with Toluca Lane Pinot Noir. "It always gets the party going, plus it is beautiful and very simple to make," she said. Any combination of herbs and flowers can be used to enhance the parsley base. Do not use sprayed flowers or herbs. "It's amazing how much the flowers will aromatize the cheese," Lane added.
Makes 1 11-ounce cheese log
INGREDIENTS
1 11-ounce fresh goat cheese log, room temperature
* finely chopped Italian parsley (about ½ cup)
* thinly sliced chives
* chive blossoms, petals separated
* parsley petals, coarsely chopped
* lavender blossoms, flowers separated
* rose petals, coarsely chopped
* nasturtium petals, coarsely chopped
* assorted crackers and crostini
DIRECTIONS
Spread parsley on work surface into 11- by 5-inch rectangle (won't be a solid mass). Sprinkle remaining herbs and flowers over parsley. Gently lift cheese log onto herb rectangle, one side down first; then roll top and remaining log in herbs and flowers. Pat mixture onto ends of log.
Using large pieces of plastic wrap on a working surface (enough to roll the log about 2½ times), gently lift enrobed log and place about 5 to 6 inches from long side of plastic. Lift plastic over log and roll up. Twist each end to seal. Refrigerate overnight to set.
Unroll cheese. Place on small platter or cutting board. Garnish with additional herbs and flowers. Serve with breads and/or crackers.
Smoked Salmon Rillettes with Rye Toasts and Cucumber Rounds
Makes about 3 cups
RILLETTES
1 tablespoon canola oil
8 ounces skinned salmon fillet (preferably not tail piece)
4 ounces cold-smoked salmon, chopped
4 tablespoons (½ stick) unsalted butter, room temperature
¼ cup sour cream
1 medium shallot, minced
1 tablespoon Cognac or brandy
1 tablespoon lemon juice
1 green onion, minced (including green top)
4 tablespoons minced Italian parsley
1½ teaspoons minced lemon zest
1½ teaspoons chopped fresh dill
* generous pinch of cayenne
* fresh dill for garnish, if desired
TOASTS
* rye bread, cut out (optional)
2 tablespoons unsalted butter, room temperature
1 tablespoon olive oil
* cucumber, sliced
DIRECTIONS
Rillettes: Salt and pepper salmon. Heat oil in skillet over high heat. Sear about 1 minute per side. Remove from pan. Cool. Flake into large bowl. Add remaining 11 ingredients. Stir to thoroughly combine. Season with salt and white pepper to taste. Transfer to 3-cup mold and smooth top. Cover and refrigerate.
Toasts: Blend butter and olive oil in small bowl. Spread on bread. Broil, buttered side up, until browned.
Assembly: Let rillettes come to room temperature before serving. Serve with toasts and cucumber rounds.
Endive Spears Stuffed with Smoked Chicken and Gorgonzola Salad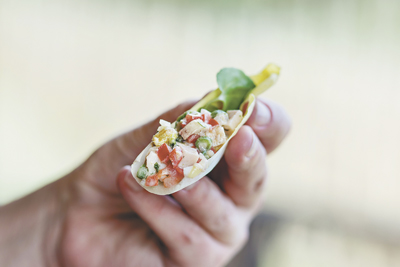 Makes 50 servings
INGREDIENTS
2 ounces green beans (haricots verts)
8 ounces smoked chicken or smoked turkey, cut into ¼-inch dice
½ red bell pepper, cut into ¼-inch dice
1/3 cup (packed) watercress leaves, coarsely chopped
1 large shallot, minced
1 tablespoon chopped fresh tarragon
¼ cup olive oil
2 tablespoons white wine vinegar
¾ cup crumbled gorgonzola (3 ounces)
3 tablespoons toasted walnuts, chopped
4 Belgian endive, separated into spears
* watercress leaves
DIRECTIONS
Bring small saucepan of salted water to boil. Add green beans. Cook until just tender, about 3 minutes. Drain. Refresh in cold water and drain again. Thinly slice crosswise. Combine with chicken, red bell pepper, chopped watercress, shallot and tarragon in medium bowl.
Place oil and vinegar in heavy small saucepan. Bring mixture to just simmer. Remove from heat. Add cheese and stir until partially melted. Pour over salad and toss to combine. Stir in walnuts. Season to taste with salt and pepper. Cover and refrigerate at least 1 hour or overnight.
Press 1 to 2 teaspoons salad into ball. Press onto bottom portion of endive spear. Repeat with remaining salad and endive. Garnish each spear with a watercress leaf.
Spring Supper paired with 2011 Toluca Lane Pinot Noir
Pork Tenderloin with Pinot Noir-Cherry Reduction Sauce and Gremolata
Makes 4 servings
MEAT
1½ pound pork tenderloin, trimmed
1½ teaspoons herbes de Provence
* salt and black pepper
1 tablespoon olive oil
SAUCE
1½ tablespoons wildflower or blackberry honey
1½ tablespoons balsamic vinegar
2 cups Pinot Noir
1/3 cup chopped shallot
2¼ cups unsweetened black cherry juice (such as Just Cherry by Knudsen)
1 cup dark, sweet, pitted frozen cherries, thawed
½ stick (¼ cup) unsalted butter
* salt and pepper, to taste
GREMOLATA
2 tablespoons minced orange zest
1 large shallot, minced
2 tablespoons finely chopped Italian parsley
DIRECTIONS
Sauce (Part 1): Place honey in cold saucepan on medium heat. Swirl pan to coat bottom. Cook until honey turns light amber, about 8–10 minutes. Whisk in vinegar; then add wine and shallots. Increase heat to high and boil for 10 minutes until reduced by 2/3 (about ¾ cup). Add cherry juice and boil until large bubbles form, about 12 minutes (scant 1 cup). Remove from heat. Can be prepared 1 day ahead; if so, cover and refrigerate.
Pork: Preheat oven to 350°F. Season pork with herbes de Provence, salt and pepper. Heat large, heavy skillet over high heat. Add oil. Brown pork on all sides, about 3 minutes per side. Remove to sheet pan and roast until still somewhat soft to the touch, about 20–25 minutes. Transfer to cutting board and let rest 15 minutes.
Gremolata: Combine all ingredients in small bowl.
Sauce (Part 2): Re-heat or finish sauce by gradually whisking in butter. Bring back to a boil for 2 minutes. Season with salt and pepper. Stir in cherries and simmer to heat through.
Assembly: Slice pork and portion on plates. Spoon sauce over and sprinkle with gremolata.
Asparagus Risotto Cakes
Makes 8–10 cakes
INGREDIENTS
3 tablespoons unsalted butter
2/3 cup chopped onion
1 cup Arborio rice
2–2½ cups chicken broth
½ cup peeled, finely chopped carrot
½ cup freshly grated Parmesan cheese
4–5 asparagus, blanched, thinly sliced (tips reserved)
4 teaspoons chopped fresh chives
1 large egg, beaten to blend
1¼ cup panko crumbs
DIRECTIONS
Melt 2 tablespoons butter in medium saucepan over medium heat. Add onion; sauté until almost tender, about 3 minutes. Add rice and stir to coat, about 1 minute. Mix in 2 cups broth and carrot. Simmer until risotto is very thick (wooden spoon drawn across pan leaves wide path) and rice is tender, stirring frequently. Add more broth, ¼ cup at a time as needed, about 16 minutes. Mix in cheese. Season to taste with salt and pepper. Transfer to bowl and stir in asparagus and chives. Cover and refrigerate overnight.
Mix egg and ½ cup panko into cold rice. Form mixture into patties, using 1/3 cup risotto for each. Place remaining ¾ cup panko crumbs in bowl and dredge each patty in crumbs. Pat to coat. Heat remaining 1 tablespoon butter in large nonstick skillet over medium heat. Add risotto patties and cook until brown, about 4 minutes per side. Divide among plates. Garnish with chives and asparagus tips.
Lavender-Scented Crème Brûlée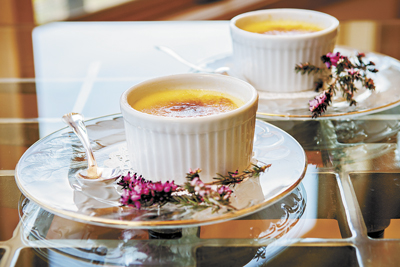 A hint of floral from the lavender lends a depth of flavor and complexity that pairs amazing well with Pinot Noir.
Makes 4 servings
INGREDIENTS
2¼ cups heavy cream
½ cup sugar
1½ teaspoons fresh lavender blossoms (or ½ teaspoon dried)
½ vanilla bean, split lengthwise
5 large egg yolks
* superfine sugar
DIRECTIONS
Preheat oven to 325°F. Place cream, ½ cup sugar, lavender and vanilla bean in medium saucepan. Bring to simmer, stirring to dissolve sugar. Turn off heat. Cover and let steep for 30 minutes. Strain. Pour cream back into saucepan. Scrape vanilla bean seeds into cream and whisk. Return cream mixture to simmer.
Beat egg yolks in medium bowl until blended. Gradually whisk in hot cream mixture. Divide custard among four 6-ounce soufflé cups. Place cups in large baking pan. Pour in enough hot water to come halfway up sides of cups.
Bake until edges are set and 80 percent of the custard jiggles but is not too fluid, about 35 minutes. Remove cups from water bath and let cool at room temperature. Cover and refrigerate overnight.
Sprinkle 1½ teaspoons sugar over each custard. Using a torch, melt sugar and caramelize. A broiler may be used, but watch carefully and rotate as needed. Let stand until sugar hardens, or chill 15 minutes. Garnish with fresh lavender sprigs or pink heather blossoms.