Cooking Up the Past
Sokol Blosser adds recipes to latest book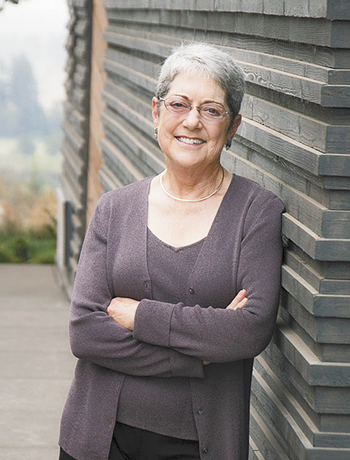 Readers will be intrigued by Susan Sokol Blosser's new comprehensive memoir about starting and running one of the first vineyards and wineries in the Willamette Valley. "The Vineyard Years: A Memoir with Recipes" (2017, WestWinds Press) is ripe with names and places with roots in the Oregon wine industry.
And don't forget the recipes. From the homey, one-pan Mac & Cheese she served to her three children, to the famous minestrone from Nick Peirano of Nick's Café in McMinnville, to the hearty root vegetable soup created by her second husband, winemaker Russ Rosner.
The recipes help distinguish this densely packed memoir from Sokol Blosser's three previous books: "Gracious & Ruthless: Surprising Strategies for Business Success," "At Home in the Vineyard: Cultivating a Winery, an Industry, and a Life" and "Letting Go." She admits some of the material in her latest was included in those earlier works, but much is new, or expanded, especially the emphasis on food. I only wish there was more: additional dishes, tips on how to pair wine and food, or how to cook with wine. Maybe that's the next book.
In this one, Sokol Blosser writes in a clear, highly readable manner as she deals with subjects ranging from financial struggles to organic farming, to Oregon's land-use laws, all from her unique perspective. For instance, she links the growing popularity of the wine industry to increasing traffic on Highway 99W, claiming it created the need for the Newberg-Dundee Bypass.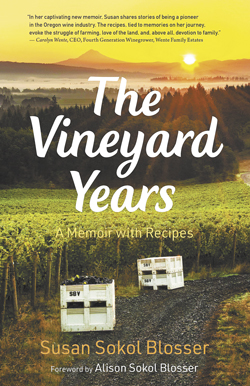 In other segments, she describes how wineries have faced opposition from anti-alcohol factions, such as the time her family wanted to build a production facility adjacent to its vineyard. Religious groups appeared at planning commission hearings, demanding permission be denied. Planners sided with the winery, paving the way for the many that have flourished since.
Later, she writes about scientists promoting red wine's health attributes, which improved the reputation of Pinot Noir and silenced non-drinking critics.
It's a deeply personal memoir, too. Sokol Blosser recounts the relationship with her mother, Phyllis Sokol of McMinnville, and her struggles to step back and allow her own children to take over the business — Alison and Alex now are co-presidents; Nik is chairman of the board. The chapters about watching the second generation blossom are among the most interesting in the book.
She details how being a woman in those early years of the Oregon wine industry, when it was still a "boys' club" with wives merely expected to play a supportive role, presented some challenges. Even after she became president of her family winery, she noticed people defer to her then-husband, Bill Blosser, when they had questions or compliments.
Later, after they divorced, her dedication to the business, the industry and sustainable, ecologically sound farming practices helped her advance and find fulfillment in all areas of her life, including her relationship with Rosner and their marriage
Susan and Bill hadn't been married long when they moved to Oregon, where he was to teach urban planning at Portland State University. As they drove west, they discussed, for the first time, the idea of planting a vineyard. Few grapes were growing in the Willamette Valley at the time. Neighboring farms assumed the young couple was crazy to be planting vines rather than more traditional, proven crops, such as prunes, grains or hazelnuts. Banks would have welcomed them had they wanted a loan to build a turkey farm, but in 1970, loan officers were bewildered with the concept of a vineyard or winery.
They were encouraged and supported by other young dreamers: the Eraths, Letts, Ponzis, Adelsheims, Fuqua, Redford, among others. The Blossers planted and nurtured and harvested, learning as they went. As a result, Sokol Blosser wines — and Pinot Noir, in general — met with great success near and far.
In "The Vineyard Years," Sokol Blosser admits she didn't always feel passionate about their endeavor. It wasn't until she took over the vineyard and spent each day with the plants, the weather and the wildlife that her passion blossomed.
Now, the retired president is called the founder. Still ardent, she's still the family business' best spokesperson, as well as its biggest fan.
More books!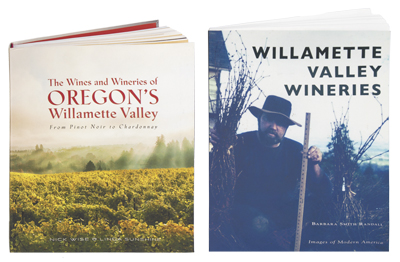 "Willamette Valley Wineries" by Barbara Smith Randall
The 96-page paperback offers an overview of Willamette Valley wine country's 50-year-old history through color photographs and stories from winemakers and their families, as well as from resources at Linfield College's Oregon Wine History Archives in McMinnville.
From publisher Arcadia: "This book presents a history of the challenges, hardships and ultimate success of Willamette Valley wineries."
Part of the Images of Modern America series, it was released July 2017 and is available at www.arcadiapublishing.com.
"The Wines and Wineries of Oregon's Willamette Valley" by Nick Wise and Linda Sunshine
Through photographs and stories, select wineries and personalities are highlighted throughout the coffee-table quality book.
"Following the success of their books "Celebrity Vineyards" (2013) and "California Celebrity Vineyards" (2016), authors Nick Wise and Linda Sunshine have turned their attention to the Willamette Valley," states publisher Omnibus Press, "telling the tale of how this region went from farming nuts and Christmas trees to a billion-dollar wine industry in less than 50 years."
Find a copy at your local bookseller or online.