Connecting Flight
A round-trip tale to remember
The Paris Air Show, Pan Am Airlines, Evergreen Water Park and countless Oregon wineries all have a place in this story. But I am getting ahead of myself.
Truth is stranger than fiction, and so the following "Intertwined" story begins...
A Boeing 747 — tail number N481EV — is perched incongruously on top of the Evergreen Water Park. The airplane was flown globally by Pan America, Delta and China Airlines before Evergreen Aviation purchased it in the 1990s.
Renowned winemaker Laurent Montalieu once made wine for Del Smith, founder of Evergreen Aviation — Smith also created the McMinnville waterpark, the adjacent vineyard, aviation museum complex and now defunct international cargo airline.
In 2013, Laurent Montalieu and business partners, including his wife, Danielle Andrus Montalieu, made Oregon wine history when they sold their Soléna Estate winemaking facility plus 35 acres of vines — located in the Yamhill-Carlton AVA — to California behemoth Jackson Family Wines. The company named the new 15,000-case venture Gran Moraine; the Montalieus retained the original brand named for their daughter, Soléna.
The Montalieus built a new space for Soléna Estate next door to its former facility on Woodland Loop and moved their custom-crush company, NW Wine Co., from McMinnville to Dundee, where they also created a tasting room for Hyland Vineyards, another label in their business portfolio.
In April 2016, Lynn and Ron Penner-Ash announced the sale of their 12,000-case winery, Penner-Ash Wine Cellars, to Jackson Family as well — the site is also located in Yamhill-Carlton. Having worked in the tasting room and first meeting Lynn when she worked at Rex Hill Winery — 1988 to 2002 — I've always admired her outstanding reputation as one of the first women winemakers in Oregon, crafting spectacular vintages with grapes from Maresh, Medici and Archibald — vineyards in the neighborhood of my youth.
Jackson Family Wines' acquisitions reach well beyond Yamhill-Carlton with Zena Crown Vineyard in the Eola-Amity Hills AVA and Maple Grove Vineyard near Monmouth in the greater Willamette Valley AVA. The Napa-based company is adding Oregon bottlings to its La Crema brand, and, in 2014, Jackson acquired Siduri Wines, which produces both Oregon and California wines. In addition, Jackson owns wineries in Chile, France, Italy, South Africa and Australia.
In 2015, the California conglomerate also purchased the Evergreen Airlines corporate headquarters buildings on Three Mile Lane, across the highway from the Evergreen Aviation & Space Museum complex and vineyard.
Here's where the vines start to intertwine.
Smith built his aviation cargo fleet with airplanes purchased from defunct Pan Am Airlines and ran a local aviation cargo empire for more than 50 years. Using his legendary work ethic, he forged his way from a small fleet of helicopters to an international, albeit controversial, business dynasty.
Smith fearlessly flew the Shah of Iran to amnesty for cancer treatment in the United States. Evergreen was the first commercial airline to land in Kuwait at the end of the Kuwait Gulf War in 1991 and the first private cargo airline to fly for the U.S. mail service.
He was perhaps the only Oregon businessman to simultaneously own an airline, a golf course, waterpark, aviation museum, hundreds of local agricultural acres along with an Oregon winery.
I went to preschool with Del Smith's son, Mike Smith, who would eventually bring Howard Hughes Spruce Goose to McMinnville and mastermind the air museum itself.
As a young man, Mike enjoyed wine at our family winery in the Red Hills of Dundee, McDaniel Vineyards — now Torii Mor Winery. He was an early ambassador in the Oregon wine industry. On many weekends, his expensive sports cars — an impressive fleet including a Mustang Mach 1 and a red Porsche Targa — could be spotted at local tasting rooms. He became so enamored with Oregon wine that he planted his own vineyard in front of his rural Dundee farmhouse on the banks of the Willamette River.
Mike was larger than life. When he died tragically in a 1995 car accident, his father immortalized his memory with a life-size bronze statue in front of the museum. He was beloved for his legendary hospitable manner, easygoing personality and business acumen.
I worked for Del Smith at the turn of the millennium and helped him establish his fledging international wine marketing program in conjunction with selling cargo flights in China. I am grateful he gave me the opportunity of a lifetime to sell wine globally. In one whirlwind tour, an Oregon wine export mission, we sold wine to restaurants, hotels and stores in Hong Kong, Taipei and Shanghai — the wineries included Panther Creek, Hinman Cellars, Amity Vineyards, Henry Estate and others.
Perhaps, the high point — no pun intended — of the experience was selling wine at the 2004 Paris Air Show. "It cost me $8,000 just to turn the airplane engine on," Smith had been known to say as he flew employees on his G3 to a number of aerospace conventions.
"Yes we can" was a slogan and an actual song Smith created and loved to use in employee training videos, where he would espouse the works of personal development author Napoleon Hill. In our Paris Air Show trade booth, we had the video running on a TV screen beside my bar, playing scenes of helicopters extinguishing fires and planes landing in remote tropical jungles. The "Yes We Can" song was broadcasting loudly in a repetitive loop, which was probably a perfect motivational incentive for me, since selling Pinot Noir to the French is no small feat.
Enticing these native oenophiles to even try Oregon wine was a challenge. I incorporated Laurent Montalieu's French heritage and winemaking expertise as a sales tactic; I also mentioned the storied 1979 Gault-Millau Wine Olympiad in Paris, when David Lett's 1975 Eyrie Vineyards South Block Reserve placed in the top ten and was rated the top Pinot Noir.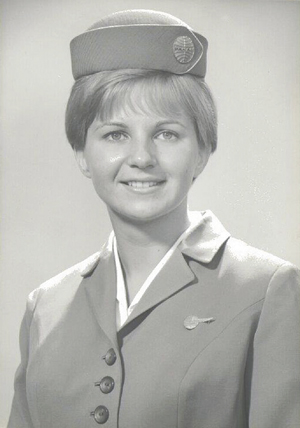 So I stood in our tradeshow booth on the Paris tarmac, pouring Pinot Noir with the Spruce Goose label, which intrigued the crowd, filled with international business people, aviation enthusiasts and flight attendants.
Gradually, the flight attendants started tasting, commenting and, ultimately, offering me advice on how to pour wines — I gladly accepted. No one knows how to deliver world-class hospitality more than flight attendants — translating hospitality tips from flight attendants to use as wine sales acumen was a natural, although unusual, segue in my wine sales skills repertoire.
Flash forward to 2016.
Keeler Estate's tasting room and winery located near Amity in the Eola-Amity Hills AVA is surrounded by a lush garden and sweeping valley views on its 200-acre parcel. Craig and Gabriele Keeler have been crafting wines since 2011 from 38 acres of producing vines, although there are plans for more future vineyard plantings.
Craig is the vineyard manager and groundskeeper. He proudly explained his Scott Henry Trellis system and showed me a chart of his vineyards' diverse soils. For the upcoming vintage, the Keelers will produce 1,000 cases of estate-grown Pinot Noir, Chardonnay and Pinot Gris crafted by experienced regional winemaker consultant Kelly Kidneigh, who is also a co-owner and vintner of Mad Violet Winery with her husband, Stirling Fox.
During a Mother's Day event in the Keeler tasting room, Gabriele poured me a glass of wine as I asked about her days as a flight attendant for Pan Am on, perhaps, some of the same Boeing 747s Evergreen purchased years ago. Although the winery owner is fluent in German, French and English, in 1966, Pan Am stationed the Northern German native in New York City, where for two years, she flew a route between New York and South America.
"I learned how to deliver exceptional customer service as a Pan Am flight attendant and that translates to delivering exceptional service in the world of wine," she said as she effortlessly seated four customers with a gracious gesture of one hand while pouring wine tastes with the other.
It was during a Winter's Hill industry event where I discovered Gabriele Keeler's affiliation with Pan Am from Silvia Kraft, also a former flight attendant for Pan Am; she now works at St. Innocent Winery.
Kraft was born and raised in Buenos Aires, Argentina. Her mother is German and her father was Argentine. At the age of 19, she left her home country to work for the Argentine Consulate in Berlin. She worked for Pan Am from 1979 to 1991 and flew the IGS Berlin route to German cities, including Frankfurt, Hamburg and Stuttgart. She currently works for St. Innocent and Anne Amie Wineries, and has also worked for Maysara.
"Being a flight attendant is similar to working in a tasting room," Kraft said. "During my flying career, I learned to anticipate people's needs, ask them questions and make them feel important so they would have a good experience. That's very similar to the customer service experience people expect in a winery."
So let's weave the vines together to trellis a full circle.
David Rath, former president of the Evergreen Helicopter Division and current managing director at Precision Helicopters, also operates his personal helicopter wine tour company, Tour DeVine.
He flies tours to wineries throughout the Willamette Valley. As an Evergreen employee, he also attended Paris Air Shows, hired Laurent Montalieu to make wine for Evergreen, and now he flies helicopters to Gran Moraine Winery, which was, of course, once owned by Montalieu.
He described a helicopter that he currently owns in a recent conversation. "This aircraft was the first one that I financed at Evergreen in 2001," Rath said. "Now I get to own it here at Precision. It's great. I intentionally left the tail number the same (N352EV) with the EV showing my love for Evergreen."
An intertwined story, indeed.
Postscript:
As I was researching this article, I discovered World Wings International, a philanthropic organization for former Pan Am flight attendants — who knew?
On Dec. 4, 1991, the last historic Pan Am flight landed at Miami International Airport. One final emotional salute was made by the ground crew as it taxied down the runway.
"Pan Am has not been just a part of history, it had made history for all of its 64 years," noted Mark S. Pyle, captain of the last Pan Am flight to operate worldwide.
Silvia Kraft was on the last Pan Am Berlin flight.
"It was very sad to see the end of the Pan Am era after all the historic contributions the company made in the aviation industry" said Kraft.