Connected to the Land
Steve Hendricks honors ancestors with wine and vines
You have died of dysentery." A common fate on the Oregon Trail, the game version remains a morbidly entertaining way to teach state history to schoolchildren. For some, historical accounts of those who faced the treacherous journey west are enriched with family connections. This is such a tale; one starting in 1843 with a brave young couple, ending with a bottle of wine and, throughout, is connected by the land.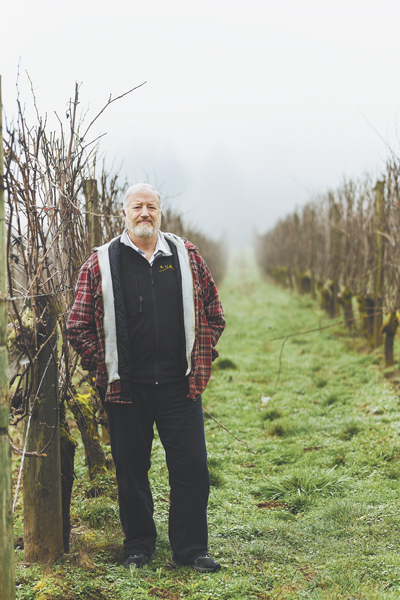 Abijah Hendricks trekked from McMinnville, Tennessee — yes, there is a connection — arriving in Oregon in 1843. He was part of the Oregon Trail's first successful group, the Applegate Wagon Train — the slower part of this legion was known as the legendary Cow Column. Hendricks laid the groundwork for his family in his newly adopted state while establishing the foundation for a special bottle of wine. But, let's not get ahead.
Not long after arrival, he married Mary Jane Dickerson, who walked most of the Oregon Trail due to motion sickness on the wagon. Under the Donation Land Claim, they were each awarded 320 acres, establishing the Hendricks Farm, a 640-acre (one square mile) property outside Carlton. The family grew orchard fruit and raised livestock.
Abijah joined the Territorial Legislature in 1845, before Oregon was a state. One of the laws forbid "the sale and manufacture of alcoholic liquors" — we will forgive them that. Mary Jane became the first school teacher in Yamhill County, where she got paid small potatoes — no, really, occasionally they paid her in potatoes.
They were known to throw raging dance parties in the barn, where ladies changed dresses at midnight to twirl until dawn. Most of this courage is documented in a 1958 article printed in the News-Register. In fact, at one point, Yamhill County named the road that runs through the farmstead "Hendricks Road" because of the family's community involvement.
Together, Abijah and Mary Jane raised six sons, including Edward Hendricks, who helped found the Oregon branch of U.S. Bank (then named United States National Bank of Portland); and with 11 other investors, he constructed the Union Block Building at Third and Davis streets in McMinnville. The building remained under family ownership until recently.
From this lineage came great-great-grandson and owner of Ruby Vineyard, Steve Hendricks.
"My family has taken pride in its pioneer heritage," Steve said. "Growing up, [the fact] that I was a fifth-generation Oregonian meant a lot."
Even though the original property is no longer under family ownership, Steve knows its exact location. "When I was 12, my grandfather took me and my brother out and showed us where the house and barn stood." On Memorial Day, the family visited the Masonic Cemetery to clean and preserve the pioneer graves. As an adult, Steve gifted his father a pictorial of the boundary lines.
For years, Steve dreamed of owning a vineyard and joining the Oregon wine industry. Finally, in 2012, he and his wife, Flora Habibi, purchased an existing winery and vines — established by Bill and Sharon Beran — and named it Ruby Vineyard. He envisioned the venture a bridge to connect with his ancestors by sourcing fruit from the actual soil his forefathers farmed.
"In the wine industry, soil is a key component in the grapes and, ultimately, the wine one makes," Steve explained. "Since my roots come from a particular plot of Oregon, I thought it would be cool to make a wine from that same soil."
Enter Earl and Peggy Lumpkin, who now own part of the original farm on the south side of Hendricks Road. In 2011, the couple established Timbale and Thyme Vineyard, planting 11.5 acres to Pinot Noir. Steve has a three-year contract to source fruit for his Ruby Vineyard Hendricks Legacy Pinot Noir.
During the special wine's May 22 release tasting at the Oregon Historical Society in Portland, he will bring the family legacy to life with personal storytelling. "I am excited to share my love of this place, by making a wine of this place," he said.
On display will be Abijah's rifle he carried on the journey, along with articles and photographs chronicling this family's special place in Oregon pioneering history. The bottle label features a copy of the original land grant deed.
Steve describes the Legacy Pinot Noir as "bold, brash and energetic — similar to the Hendricks' personality traits." Only 200 cases were produced, and bottles can be purchased at the Ruby Vineyard tasting room or the May event. History and/or wine buffs who wish to attend this complimentary event should contact Ruby Vineyard to request an invitation. E-mail jessica@rubyvineyard.com or 503-628-7829.
Ruby Vineyard is located in the Chehalem Mountain AVA and uses estate and carefully sourced fruit to produce Pinot Noir, Pinot Gris and Chardonnay. The estate vineyard is free from phylloxera and boasts self-rooted vines planted as early as 1973 from cuttings from The Eyrie Vineyards' famous South Block.