Vintage Speak
Dundee Hills tasting fine-tunes 2014's focus
As if to reinforce the fact that the northern Willamette Valley will continue to experience record-breaking heat early in the growing season, the temperature on June 6 soared into the 90s for the third day in a row.
On that sweltering day, about 50 sales and marketing professionals and a handful of media representatives gathered to taste 24 Dundee Hills AVA (American Viticultural Area) 2014 Pinot Noirs from as many wineries. In the coolness of its fermentation hall, Stoller Family Estate hosted this final segment of a two-day educational event sponsored by the Dundee Hills Winegrowers Association (DHWA).
The first part, a technical tasting for member winemakers only, was held June 2 at Red Ridge Farms. Prior to the event, winemakers completed a questionnaire summarizing their observations about the vintage. While the cleanliness of the fruit was noted, managing heat-related issues and high yields, and maintaining balance between ripeness and acidity were cited among the biggest challenges.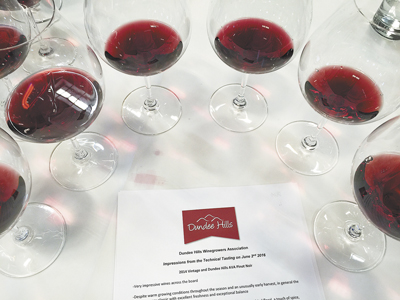 The information package we were given included the following impressions from the winemakers' tasting:
"Despite warm growing conditions throughout the season and an unusually early harvest, in general the wines are very classic with excellent freshness and exceptional balance."
"While there is plenty of fruit on most wines, there are a lot of non-fruit (savory) notes to add complexity."
"Age-worthy wines due to surprisingly abundant tannins and great balance. While many wines seemed very approachable and generous now, many were still very youthful."
In addition to tasting the wines blind for ourselves and developing our own impressions, the main objective of the industry tasting centered on brainstorming language for marketing vintage 2014. After each of the four flights of six wines, a spokesperson from every table summarized the impressions of the tasters. At the end, descriptors solicited from the attendees were listed on a whiteboard.
I admit I approached this tasting as a skeptic. My preference is for the cooler vintages of Willamette Valley Pinot Noir, such as 2007, 2010 and 2011. These naturally exhibit restrained fruit allowing for greater complexity and elegance, and ample acidity and tannins to ensure longevity. Though likely testing the patience of my colleagues in the tasting room where I pour, I regularly share this jingle with our guests: "Date the '12s; marry the '11s; befriend the '13s; '14s are one-night stands." These characterizations are intended to reflect my general assessment of the potential longevity, but are clearly glib simplifications for which counterexamples certainly exist. Discovering one that might last longer than I expect is always a pleasant surprise.
So, what did I find out? Many, though not all, exhibited good balance with reasonable acidity. A few were over-oaked; others, disjointed. Several were unquestionably tannic, young and underdeveloped — these might evolve into counterexamples and last more than a few years. Most winemakers succeeded in restraining the fruit and bringing out floral and spicy — particularly cinnamon — notes. A few of the samples did show big juicy fruit, but, happily, none were jammy.
I returned to my car, which had baked in the mid-afternoon sun to a temperature registering 103°F, wishing for but not expecting a cool vintage sometime soon. I also reflected on how skillfully most Dundee Hill winegrowers elicit the best from such disparate vintages as 2011 and 2014 to the never-ending delight of us, the consumers.
Neal Hulkower is a mathematician and an oenophile living in McMinnville. His wine writing has appeared in a wide range of academic and popular publications, and he can occasionally be found pouring quintessential Pinot Noir at the top of the Dundee Hills.