Mondays with Myron
Winery colleagues gather for football, fine wine
I've been friends with Myron Redford for about 35 years, but until recently, we hadn't spent much time socializing. Since we moved into the Eola-Amity Hills neighborhood in late 2013, my wife, Carla, and I have spent quite a bit of time with Myron and his wife, Vikki Wetle. We like to tell the tale of one of our visits to Amity Vineyards in the early '80s. At the time, Carla was in a partial body cast from a car accident, but she still wanted to go wine tasting with friends, so we all carried her into the winery and had a grand time. This past summer, Myron asked if we enjoyed watching football, which we do. His notion was to get together and watch Monday Night Football while enjoying a potluck and some wines.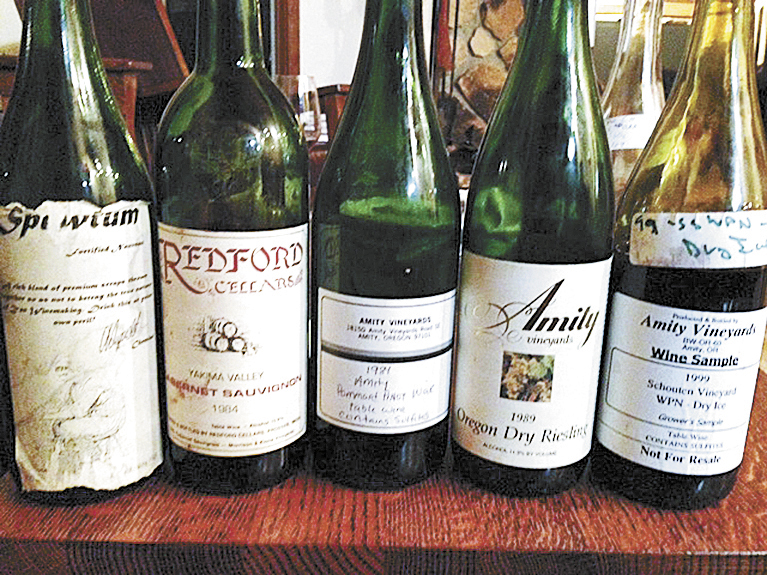 He gathered together several wine industry folks to join in the festivities: John Grochau of Grochau Cellars, Vincent Fritzsche of Vincent Wine Company, Charlie Bayliss of Bayliss Vineyard, Jared Pierce, who works for John and Vincent, Carl Muska of Muska Vineyard, and Alana Fontaine who works at St. Innocent Winery. No one made every Monday night game except Myron, but we did develop quite the revelry. Despite the fact that there were many very close and exciting games this past fall, no one was overly focused on football, because Myron turned every evening into an intriguing wine tasting.
Many of you know Myron sold Amity Vineyard a couple years ago, but he kept a rather voluminous wine cellar. Not only had Myron made many wines since 1976, he was quite the disciplined collector of other people's wines. Thus, Myron finds himself with lots of old wines and in need of drinking help. After our first evening of football and fine, old wine, I told my son, Nate Chambers, and my nephew, Cameron Smith, what we had tasted with Myron, and they both exclaimed, "You've got to chronicle this; not many people have had the opportunity to taste old Oregon wines." Thus the notion of this article was born.
I've lived my life with a spirit that could best be summed up by "subvert the dominant paradigm" and "ignore the pundits." In grade school, my friends were choosing to play the trumpet or drums, but I chose the bassoon. In my early drinking days, everyone was drinking beer, but I wanted to drink wine. And I planted Resonance Vineyard where it was "too cold and wet." Myron has been that kind of winemaker. He made dry Riesling and dry Gewürztraminer regardless of limited popularity. He eschewed new barrels despite the pundits rating wine from new barrels with higher scores. He made Pinot Noir Nouveau every year, and he made the first "no-added sulfite" wine in Oregon.
Carrying this same torch, Myron started our Monday tastings — always blind — by serving us wines from "weak" vintages. He delighted in teasing us with questions. What's the varietal? What's the appellation? What's the vintage? Who's the producer? Despite decades of wine experience among us, we rarely every got the answers right, yet, we were universally impressed that these old wines, from even the weakest vintages, were still alive and interesting.
He served us many wines from 1984, which most folks consider the worst Oregon vintage of all time. All the 1984s he offered were vivid, interesting and fun wines to drink at 30 years old. We enjoyed a 1984 Amity Pinot Noir Nouveau — most believe these 100-percent carbonic macerated wines last a few months or, at most, a couple years, but it's not true; they can be long-lived, fruit-focused wines.
Of particular note was a 1984 Adelsheim Gamay Noir — it was never commercially released. We think this was the first true Gamay Noir — the grape of Beaujolais — made in America because David Adelsheim had brought back the first Gamay Noir vines from Burgundy in 1980. The wine was deeply colored, with a sweet cranberry-like fruit throughout; frankly, it was stunning.
Myron also poured a 1984 Cameron Pinot Noir — we suspect this was the first Pinot Noir released by Cameron — that showed layers of complex flavors and an alluring, cola-like core. We loved a 1983 — a much more touted vintage — Ste. Michelle Columbia Valley Pinot Noir — an eastern Washington Pinot Noir!? This wine was lovely, with a bright color, noted acidity and tannin, yet beautiful, fleshy black cherry fruit with forest undertones.
We had fun with football, friends and fine wine. We learned that weak vintages can yield long-lived, intriguing and entertaining wines. Lesser-known grapes make fine wines, too. Growing regions need not be pigeon-holed into simply one or two varieties, and exploring the edges makes life and wine more interesting.
Cheers to another season of festivities, friends and fine wine!
Kevin Chambers has been farming winegrapes in the Willamette Valley for 33 years. In 2013, he sold Resonance Vineyard to Maison Louis Jadot of Beaune, France. Now, he's developing a new permaculture vineyard and cider apple orchard called Koosah Farm at his high-elevation site in the Eola-Amity Hills.