Comice to Cabernet
New vineyard rooted in Rogue pear history
The Southern Oregon Research and Extension Center (SOREC) has planted a new trial vineyard, the fourth such site established by the agricultural experiment station since the 1950s and the third in its present West Medford location.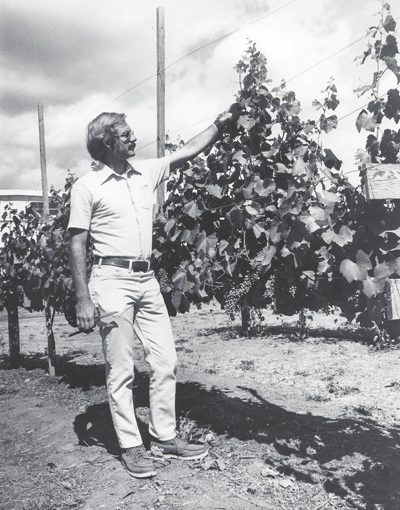 SOREC has renewed focus on area wine grapes, and viticulturist Dr. Alex Levin and plant pathologist Dr. Achala Nepal KC are dedicating research toward it. Stationed in Southern Oregon, both Levin and KC are new full-time faculty of the Oregon State University's College of Agricultural Sciences.
For nearly a century, the pear was Rogue Valley's money crop, with fortunes made and lost buying and selling land, and growing, packing and selling pears. Yet, even then there were plenty of grapes, as evidenced by Cliff Cordy, a county extension agent, in his 1952 inventory of vineyards in Jackson and Josephine counties. He recorded fall harvest brix and noted weekly berry ripening for 59 varietals in a chart identifying specific growers.
Many varietals were table grapes — Concord, Ribier, Tokay — but Cordy also detailed Muscat, Malvoisie, Riesling and Zinfandel. In all, 26 varietals grew in the first documented Southern Oregon agricultural experiment station's vineyard, likely located west of Talent. That site was abandoned in 1958 when the station moved to Hanley Road in Medford.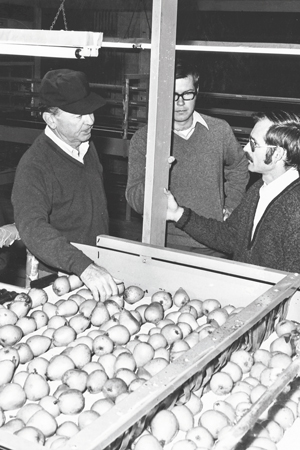 By the 1960s, some of the old Rogue Valley pear orchards were damaged by disease, contracting the industry. Porter Lombard, the Hanley Station superintendent in the '60s, realized a need to diversify agricultural production. He researched new crops capable of flourishing in the high, narrow stretches of Southern Oregon.
He planted a vineyard at Hanley Station in 1969 to test varietals common to Italy as well as the Alsace, Burgundy, Bordeaux and Loire Valley regions of France. After the third leaf, Lombard described the vines in just a line or two in the annual horticultural report, a brief mention after a hundred pages of pear research.
With the success of the harvest, Lombard's work became more public. He shared budwood from the strongest varietals. Acreage planted to grapes increased around the Rogue Valley and the Applegate. Lombard had ignited the Rogue Valley's post-Prohibition wine industry.
The emergence of a new agricultural product threatened Rogue Valley pear growers objecting to the station's expanded focus on wine grapes; they successfully lobbied the OSU School of Agriculture, and in 1981, Lombard was reassigned to Corvallis as a senior scientist in tree fruit horticulture. The announcement of his pomologist appointment fails to mention wine grapes, documenting only his work with pears.
Some recall how Phil Vanbuskirk, who joined SOREC in 1984, could consult with winegrowers only on nights and weekends; the 1969 vineyard was abandoned. Vanbuskirk's work with wine grapes, during this period and later, was key to the next stage of growth in Southern Oregon's wine industry.
SOREC established a third experimental vineyard in 1990, with funding from the Oregon Wine Advisory Board, this time testing 17 warm-climate varietals. Entomologist Rick Hilton and plant pathologist David Sugar were principal investigators. A research summary published in 1997 documented the phenology, vine management and wine characteristics of Chardonnay, Tempranillo, Pinot Gris, Pinot Blanc, Viognier, Lemberger, Gamay Noir, Dolcetto, Cabernet Franc, Fresia, Nebbiolo, Petit Verdot, Syrah, Graciano, Sangiovese, Refosco and Cabernet Sauvignon. Sugar authored the report with Lombard, expressing the experimental vines were removed not long after, the acreage was planted to other crops.
Each experimental vineyard planted by SOREC has progressively addressed more specific needs and interests of the wine industry in Jackson and Josephine counties. Studies have improved the region's vineyard management, irrigation practices, selection of varietals, pest and disease controls and wine grape quality. Perhaps most importantly, SOREC has provided a consistent channel of communication and a forum for collaboration and cooperation among winegrowers.
By 2015, the Southern Oregon wine industry represented a significant portion of the region's economy, and research needs shifted yet again. Vanbuskirk, then SOREC superintendent, gained a full-time viticulturist in Levin, a UC Davis graduate.
"Before the questions were, 'Can we grow grapes here?' and 'What kind of grapes can we grow here?'" Levin explained. "We've already figured that out, and the Experiment Station helped guide the way."
The 2017 SOREC experimental vineyard is about an acre planted to Pinot Noir and Chardonnay with 6- by 9-foot spacing and vertical shoot positioning (VSP). The vineyard, immediately available to the researchers, is easy to monitor and efficient for data collection.
Levin and KC use new technologies and state-of-the-art laboratories to examine water stress, test new fungicides, investigate viruses and counter disease. Hilton now has a controlled environment to monitor and document grapevine red blotch vectors. The vineyard allows the managed introduction of variables into the research protocol. "I can't do the trials in a grower's vineyard because it could compromise the grower's yield," KC said. "I do all the disease work here."
Today, the two industries intersect as Rogue Valley's heritage pear growers Hillcrest, Naumes, Eden Valley, Del Rio and Harry & David have planted grapes and produce wine. The evolution of Southern Oregon agriculture continues thanks in good part to the leadership of SOREC and the talented OSU faculty working in the fields, forests and vineyards of the region.
Maureen Flanagan Battistella is affiliate faculty in Southern Oregon University's Sociology/Anthropology Program. She is an architect of the SOU Wine of Southern Oregon digital archive at soda.sou.edu.