Cole Danehower (1954–2015)
Industry mourns loss of one of Oregon wine's greatest advocates
After battling late-stage pancreatic cancer — since diagnosis in May — Cole Danehower died Aug. 21 at the age of 60.
Born on Sept. 28, 1954, in Louisville, Kentucky, Danehower lived most of his early life in the San Francisco Bay Area. He graduated from Claremont McKenna College in 1976 — he also completed all coursework for a master's in history from San Jose State between 1993 and 1995.
From 1988 to 1994, he worked for Tandem Computers in Cupertino, California, managing company communications. He then went on to work at Adaptec in Milpitas until 1998, when he moved north to Scottsburg, Oregon. From the banks of the Umpqua River, he started his own marketing firm, Communicaide Consulting Group, focusing on technology and wine industries.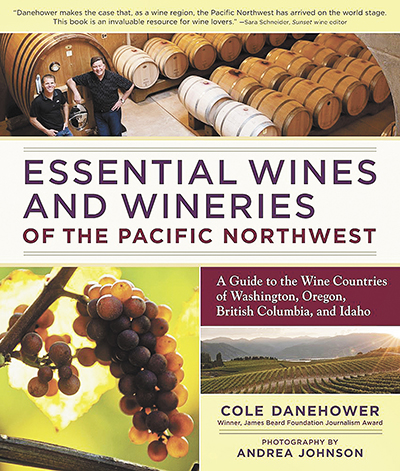 Danehower had cultivated a passion for wine having lived so close to Napa Valley for so many years. It was this interest for the age-old beverage that kick-started a second career: wine writing. In 1998, he launched the Oregon Wine Report in which he wrote about — and rated — wines from his adopted state. In 2004, the quarterly newsletter earned Danehower a James Beard Foundation Journalism Award for the most outstanding food and wine newsletter in the nation.
In 2004, he moved to Portland with his wife, Andrea, whom he married in 2000 after meeting in a wine shop in the coastal town of Coos Bay. A year later, Danehower became co-owner of Northwest Palate, a bi-monthly glossy magazine focused on restaurants, travel and wine in the Pacific Northwest — covering Oregon, Washington, Idaho and British Columbia — which was started by Cameron Nagel in 1982. From Portland, Danehower led the publication as publisher and editor-in-chief.
In 2013, the print edition of Northwest Palate ceased publication, and Danehower's energies moved to expanding content on his new site, EssentialNorthwestWines.com, named after his 2010 book, "Essential Wines and Wineries of the Pacific Northwest." A collaboration with photographer Andrea Johnson, it is still considered the region's most comprehensive book as it explores the true character of Oregon, Washington and British Columbia wine countries with 160 prominent profiles and information on how the climate, geology and people created the wines in this part of the wine world.
In addition to contributing to publications such as The Oregonian, San Francisco Chronicle, Eugene Register-Guard — as well as Oregon Wine Press — Danehower was also highly regarded as a judge for local and national wine competitions, including the prestigious Dallas Morning News Wine Competition and Sunset Magazine International Wine Competition.
Danehower never lost his knack for communications know-how as he was also an in-demand wine business marketing consultant working with organizations such as Oregon Wine Board, LIVE and many others.
Danehower is survived by his wife, Andrea, and his sister, Sandy Miller. He was preceded in death by his first wife, Mary.
NOTE: OWP will be publishing a much larger memorial at the end of this year.