Clone Survivors
Chardonnay thrives as wineries experiment
Ask three different winemakers about which Chardonnay clones produce the best wines from Oregon, and you'll hear three different opinions. From clones Dijon to Davis, from Mendoza to Draper, the roots of Oregon Chardonnay grow deep, and conversations about those clones runs deeper.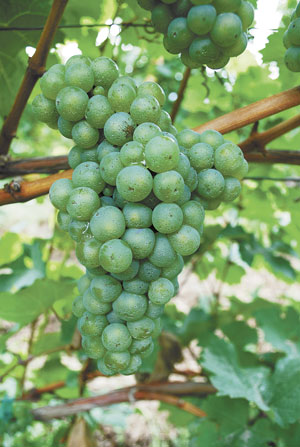 Some say Oregon's early attempts at Chardonnay production were somewhat disappointing; while Pinot Noir hit on a clone that worked well in the cool climate, the early Chardonnay clones from California were less compatible in this region.
Yet, few will argue the introduction of Dijon clones in the late 1980s and early 1990s started a quiet revolution.
In the mid-1970s, David Adelsheim, founder of Adelsheim Vineyard, sparked a movement to plant earlier ripening Chardonnay clones hybridized at the University of Dijon that seemed better suited to Oregon's climate. During Adelsheim's visit to Burgundy in 1974, he noted how Chardonnay was ripening at the same time as Pinot Noir, yet in Oregon, it didn't ripen until two or three weeks after Pinot. He surmised Oregon needed to test the French clones.
Dijon clone Chardonnay typically matures and is ready for picking before the onslaught of autumn rain, and it fully ripens in colder vintages — like 2010 and 2011.
"Everything changed with the advent of the Dijon clone Chardonnay," Luisa Ponzi of Ponzi Vineyard explained. "From that point forward, it has been a matter of perfecting the winemaking and viticulture to express our region and define our style of Chardonnay."
While there is certainly evidence to support this theory, there's also the counter-argument that clonal selection may not be the most important factor in Oregon Chardonnay. She hits the nail on the head when she speaks to defining the Oregon style.
Marcus Goodfellow of Goodfellow Family Wines offered with a smile, "I think, in a region where Mother Nature is as fickle as she is here, making claims to the superior quality of any particular clone versus another is a bit like peeing into a breeze. Sooner or later it will seem foolish. If I were planting a vineyard to Chardonnay now, I would be mixing in as many clones as possible and choosing equally between the earlier selections and the Dijon selections. I like the flavor development in both — the textural components of the Dijon, and the acidity of the earlier selections."
The consensus seems to be that while the Dijon clone is better suited to Oregon's climate, the other clones have value in adding complexity to a finished wine and are becoming increasingly viable, especially as we consider the effects of global warming.
Ponzi said, "Since the '80s, our climate has been changing and, similar to Pinot Noir, many people, including myself, are looking at the older clones again as a tool to delay ripeness and retain acidity."
For Walter Scott Wines, there is no real battle; for them, it comes down to blending and winemaking style.
"We are seeing some of the most exciting new vineyards planted to mixed clone blocks, with 3, 4, 10 or even 15 different clones planted together," said co-founder Erica Landon. "Clones ripen at different paces and have different personalities. When you have multiple clones in a block, you have them all translating that site with different voices. When picked together, you have some riper and some less-ripe, and they come together to balance each other out and create a more complex wine. For us, it expresses what the site has to say more completely."
Ultimately, it's probably sensible not to draw a line in the sand, as there really is no right or wrong answer. While some clearly prefer the Dijon clone, others are embracing a variety of clones. Though the importance of clones cannot be ignored, in the end, they might matter less than microclimate, vintage, style and winemaker experience.
Goodfellow said, "Most important is the winemaker's ability to move his or her process to match the rhythm and expression of the clones they are working with, whether it's Dijon or earlier."
While the Chardonnay clonal selection tête-à-tête continues, winemakers and vineyard managers remain united in focusing on how best to express the qualities the land and the vines give them in order to craft elegant and balanced wines with rich and textured palates.
Most important in this debate is that Oregon is showing it's serious about growing and crafting sophisticated, captivating Chardonnays that are sweeping the wine world by storm.