Cider, Cheese? Please!
Classic pairing featured at 2016 CiderCon
Combining the most intriguing elements of wine and beer – the fruit forward, sweet notes, tannins and acidity of wine and the complex, sometimes funky hop flavor and effervescence of craft beer — cider is a natural to pair with the rich, salty, savory qualities of cheese.
At CiderCON 2016, hosted at the Portland Hilton in early February, guests were treated to the magical pairing of local ciders and Northwest cheese. Cheese expert Steve Jones, founder of Cheese Bar and Chizu, presented some of his preferred matches to a rapt audience.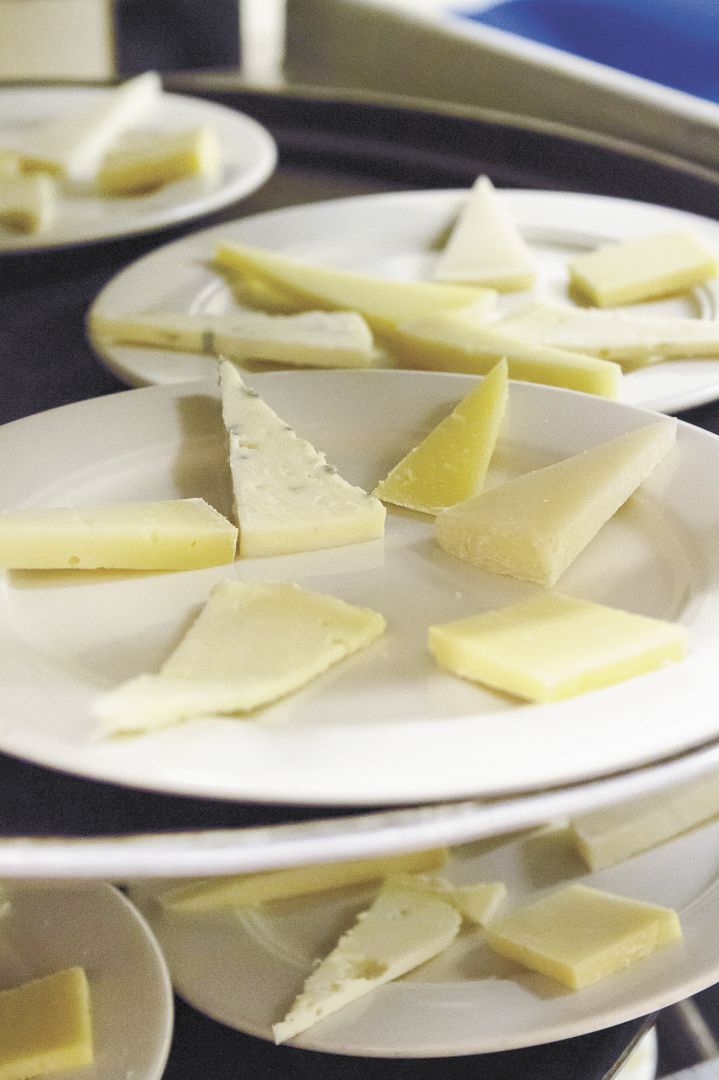 Organized by the U.S. Association of Cider Makers, a growing group established only three years ago, CiderCON was a huge success. Attendees from 375 cideries from across the country — and as far away as New Zealand, Argentina and Switzerland — made the trip to one of the most robust cider regions in the country to experience the local flavor.
The rapid growth of conference participation — from several hundred just a few years ago to more than a thousand this year — reflects the potential of this quickly growing industry, which accounted for $400 million in sales in 2014. It is no surprise; cider interest has been primed with the already thriving production of fine wines and craft beers.
With only a small number of producers and a growing audience, the cider revolution has only just begun. And orchards are trying to keep up with heirloom varietals more appropriate for cider. These apples are tarter and more acidic than the common eating varietals and, because trees take about five years to mature, demand for quality fruit will outpace supply for some time.
Jones has been an avid proponent of pairing cider and cheese since the beginning of his career. Sitting at a table with wine, beer, cider and a plate of cheeses, he says, "Cider wins 90 percent of the time." The beverage's fruitiness, acidity and effervescence make it a real companion of cheese.
The adage "What grows together, goes together" is certainly present here. Many of the world's great cheese regions also have deep roots in cider production. Normandy's Camembert, Somerset's cheddar and the Basque region's sheep cheeses, all have a local cider to match.
The marriage of cider and cheese makes sense, as eating cheese and fresh apples together has been a classic pairing for ages. The combination encompasses all the sweet, salty and savory notes. Jones advises approaching from different directions to achieve a good pairing: comparative (sweet with sweet, fruity with fruity, funky with funky) or contrasting (sweet with salty, creamy with tannic).
Either way, it's all about balance. Neither cider nor cheese should be overshadowed by the other, and, ideally, both should be elevated. Because both products result from hands-on farming, seasonal variations come into play, and even mismatches can be illuminating.
Try these combos from Steve Jones' CiderCON pairing:
2 Towns Cider Made Marion (Corvallis) + Cascadia Creamery Cloud Cap (Trout Lake, Washington) Produced with fresh-pressed Northwest apples and Oregon-grown Marionberries, the cider's sweetness is subdued by the aged cheese made with raw cow's milk. The end result tastes rather like a creamsicle.
E.Z. Orchards Cidre (Salem) + Rogue Creamery Smokey Blue (Central Point) Clearly the crowd favorite, this pairing's complementary big, bold, funky flavors in the beverage and the blue elevate each other for a satisfying culinary experience.