Culinary Street Cred
Multi-media mogul dishes on food, wine, new venture
Christopher Kimball
Christopher Kimball is founder of Christopher Kimball's Milk Street, a food media company dedicated to learning and sharing bold, easy cooking from around the world; the name is derived from the Boston street on which its headquarters is located.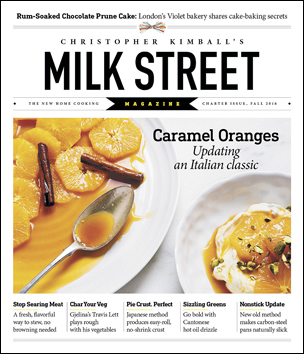 His new venture produces the bi-monthly Christopher Kimball's Milk Street Magazine, as well as "Christopher Kimball's Milk Street Radio," a weekly public radio show and podcast heard on more than 300 stations nationwide. He is also host of "Christopher Kimball's Milk Street Television," which will air on public television starting September 2017.
Kimball founded Cook's Magazine in 1980, serving as publisher and editorial director through 1989. He re-launched the publication as Cook's Illustrated in 1993 and founded Cook's Country magazine in 2004. Through 2016, Kimball was host and executive producer of "America's Test Kitchen" and "Cook's Country," the two highest-rated cooking shows on television. He is the author of several books, including his most recent, "Fannie's Last Supper."
OWP: Which red wine do you believe to be most food-friendly? White wine?
CK: Big, high-tannin, high-alcohol red wines are very hard to pair with almost any food unless we are talking cassoulet, etc. I really do not enjoy them at this point in my career. I prefer either light- or medium-bodied red wines. Sicily has some terrific reds. A simple Beaujolais or Côtes-du-Rhône is good as well. However, bigger white wines, such as white Burgundy, are good with food; it would be my go-to wine for a serious entrée. For drinking without food, I love Sancerre, Grüner Veltliner, etc.
OWP: Any rules for cooking with wine?
CK: Yes, I would reduce the wine at a sub-simmer and then use the concentrate in cooking.
OWP: Name one dish you have yet to master. What makes it so difficult?
CK: Puff pastry, croissants, baguettes: things that should be made by professionals in bakeries, not in my kitchen! Even the French are smart enough to leave this to the professionals!
OWP: What's the most painstaking dish you have ever made? Was it worth it?
CK: I have been through a "painstaking" recipe back in the 1970s. If you think about that term, it includes the word "pain," which tells you all you need to know. Cooking should not be about pain! It should be fun.
OWP: Which aspect of cooking instruction do you love the most?
CK: It is the teamwork that is most fun and rewarding. I love it when one of our cooks solves a recipe problem on their own. To paraphrase, "it takes a kitchen." No one person can do it alone.
OWP: What makes Milk Street unique?
CK: Look, there are tons of very smart, very talented cookbook writers and others who do a fabulous job. Think Fuchsia Dunlop and "Every Grain of Rice." Milk Street has a niche, which is not to be the best in any one type of cooking but to be the most reliable across a wide range of cultures and recipes. We want to sit at the feet of cooks from around the world, learn from them and then synthesize what we have learned in a way that works for the home cook; this takes a lot of experience and effort as any recipe developer will tell you. However, Milk Street is not going to make better Thai food or Moroccan food than someone who has grown up in that culture. We are just trying to provide a single source for the "new home cooking," which is an exciting mashup of cooking from around the world.