Choc-o-late to Be Desired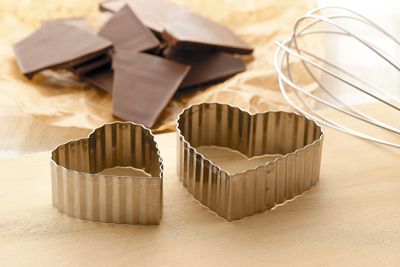 CHOCOLATE FONDUE
Recipe by Jo Spencer - Mia Sonatina Cellars, Amity
"This recipe is a huge hit when served at our events," - Jo Spencer, Mia Sonatina Cellars owner
WINE PAIRING: Mia Sonatina Crescendo (Cab Sauvignon, Cab Franc and Merlot blend)
INGREDIENTS
1 package dark chocolate chips
1 ounce white chocolate chips
2 ounces Cabernet blend red wine
½ ounce heavy whipping cream
½ ounce caramel syrup (optional)
* vanilla cookies, gingersnap cookies (author's favorite), marshmallows, fruit
DIRECTIONS
1. In a small dip heater (like a slow cooker for dips) or fondue pot, melt the dark chocolate chips, half the package at a time (or all at once if the pot is large enough). Stir frequently. Reduce heat so chocolate does not burn. Add the white chocolate chips. Stir. Once melted, add wine, heavy cream and syrup (if using); stir well.
2. Keep dip heater/fondue pot on low, dip cookies and other items.
BETTY RAWKER VEGAN CHOCOLATE TRUFFLES
Recipe by Andrea Wyckoff - Cana's Feast Winery, Carlton
"You can spice this recipe up however you like by finishing it in a blend of cinnamon, cayenne and cardamom, or you can mix it up by rolling these melt-in-your-mouth truffles in dried coconut, chopped hazelnuts or ground espresso." - Andrea Wyckoff "Betty Rawker," - Cana's Feast bookkeeper
WINE PAIRING: Cana's Feast Chinato d'Erbetti (Nebbiolo-based vermouth) "Chocolate and Chinato are a perfect pairing, and once you experience it, you will understand how this came to be such a tradition in Italy."
INGREDIENTS
1 cup raw virgin coconut oil, warmed and softened
1 cup raw cacao powder (or regular cocoa powder)
½ cup maple syrup (can substitute honey or coconut nectar)
* pinch sea salt
DIRECTIONS
1. Mix first four ingredients together in a bowl. Using a melon baller, scoop chocolate onto a sheet pan lined with parchment paper. Return to refrigerator for 30 minutes.
2. Remove truffles from refrigerator and shape into balls by rolling between the palms of your hands. Roll each ball in the remaining cacao powder, coconut, chopped nuts or spices. Place in freezer until ready to serve.
Note: Raw foods are not heated above 118°F, which leaves the natural enzymes still "alive" in the foods. If you are able to get your hands on some raw cacao powder (pressed from the cacao bean, fermented and dried, not heated), you will experience the ultimate pleasure, as raw cacao is super-charged with antioxidants and magnesium. It truly is a feel-good food.
DARK CHOCOLATE PUDDING CAKE
Recipe by Melissa Burr - Stoller Family Estate, Dayton
"We don't have a lot of down time in the Burr household. My husband, Simon, owns a vineyard management company, and we are parents to two young boys. This dish is one of our favorite indulgences to steal a little time for a treat when the boys are finally tucked away in bed. It's a great way to unwind together and pairs deliciously with a glass of Pinot Noir." - Melissa Burr, Stoller winemaker
WINE PAIRING: Stoller Family Estate 2009 SV Pinot Noir
INGREDIENTS
6 tablespoons cold unsalted butter, cubed (plus more at room temperature for ramekins)
1/3 cup sugar (plus more for ramekins)
6 ounces bittersweet chocolate, chopped
2 large eggs
2 large egg yolks
¼ cup all-purpose flour
½ teaspoon coarse salt
½ teaspoon sea salt for sprinkling
DIRECTIONS
1. Preheat oven to 350°F. Butter four 6-ounce ramekins or small round dishes; coat lightly with sugar, tapping out excess.
2. In a microwave-safe bowl, combine butter and chocolate; microwave until melted, about 1 minute. Stir mixture until smooth.
3. In a large bowl, whisk together sugar, eggs, yolks, flour and salt; add chocolate mixture and whisk to combine. Fill each ramekin three-quarters full with batter; place on a rimmed baking sheet and refrigerate 15 minutes.
4. Bake 27 to 30 minutes. Let ramekins cool 5 minutes; then sprinkle a little sea salt over the top. Serve warm and enjoy!
RASPBERRY WHITE CHOCOLATE BARK
Recipe by Michele Bloomquist - Heisen House Vineyards, Battle Ground, WA
"When I couldn't find exactly the right flavor of chocolate to pair with our sparkling white wine we call "Happy," I decided to try my hand at making my own. The result was this ridiculously easy recipe that tastes anything but. It was a hit." -Michele Bloomquist, Heisen House winemaker
WINE PAIRING: Heisen House "Happy" (sparkling blend of Sauvignon Blanc and Muscat)
INGREDIENTS
* High quality white chocolate bar
¼ cup freeze-dried raspberries (or freeze-dried strawberries, blueberries, etc.)
DIRECTIONS
1. Roughly crush the freeze dried raspberries into smaller pieces. Break up the chocolate bar and melt in microwave for about 30 seconds. Stir chocolate, melt a few seconds more if needed (not too long or it will scorch).
2. Stir crushed raspberries into melted chocolate, spread on waxed paper to cool, break into bite-sized chunks.
SPICED DARK CHOCOLATE POTS DE CRÈME WITH ANISE WHIPPED CREAM
Recipe by Paul Losch - Winderlea Vineyard, Dundee
"Pots du crème are a classic French dessert and extremely easy to prepare. The fancy name, great taste, ease of preparation and ability to scale to larger batches make them a great dinner party option that is sure to impress guests. This particular recipe uses just a touch of cayenne to add a little heat to the rich base. Any chocolate lover will find these little desserts satisfying." - Paul Losch, Winderlea Vineyard guest chef (former chef at DOC in Portland)
WINE PAIRING: Winderlea 2010 Meredith Mitchell Vineyard Pinot Noir
INGREDIENTS
1 quart heavy cream (plus 1 cup for whipped cream)
8 egg yolks
8 ounces dark chocolate chips
½ cup sugar (plus 2 tablespoons for whipped cream)
½ teaspoon cayenne pepper (plus a dash for finishing)
½ teaspoon anise seed, toasted and ground
10 wide-mouth 1/2-pint jars or 4 to 6 ounce ceramic ramekins
* roasting pan (to hold 10 jars)
DIRECTIONS
1. Place egg yolks, ½ teaspoon cayenne and ½ cup sugar in small bowl, and reserve. Place chocolate in medium bowl and set aside. Preheat oven to 350°F.
2. In saucepot, heat 1 quart cream to a simmer and remove from heat. Ladle about 1/3 of the cream into the bowl with the sugar and egg yolks and mix together. Whisk mixture back in to cream. Pour hot cream mixture over chocolate chips and cover with plastic wrap. Leave to melt chocolate for 15 minutes.
3. While chocolate is melting, use a clean saucepan to heat 2 quarts water to a boil.
4. Whisk chocolate and cream together until evenly incorporated. Pass mixture through strainer into a clean container. Ladle mixture into jars, leaving ½-inch space at the top.
5. Pour half the hot water into roasting pan and place jars into pan. If water does not reach half way up jars, add more water until jars are halfway submerged. Cover pan with aluminum foil and place in oven. Bake 40 minutes. Remove jars from pan and place uncovered in refrigerator to cool.
6. For anise whipped cream, place remaining sugar, cream and anise seed in a clean bowl, and whip with a whisk until thick.
7. To serve, remove pots du crème from refrigerator, spoon whipped cream on top and sprinkle with a small amount of cayenne.
BLACKBERRY ZINFANDEL CHOCOLATE CAKE
Recipe by Julie Skov - Cathedral Ridge Winery, Hood River
"This recipe is one I have tested to make for my sister's wedding in May. I have more than once described our 2010 Hillside Zinfandel as "blackberry jam in a glass" as it is almost Ruby Port-like, and this recipe solidifies that. Instead of making my own chocolate glaze for the cake, I use Arbor Hill's Cabernet Chocolate Wine Sauce that comes in a bottle that we sell here at the winery. I like to serve this with a little bit of vanilla ice cream and a glass of the Zinfandel. I mean, the bottle's already open, isn't it?" - Julie Skov, Cathedral Ridge wine club coordinator
WINE PAIRING: Cathedral Ridge 2010 Hillside Zinfandel
CAKE INGREDIENTS
2 cups sugar
1¾ cups all-purpose flour
¾ cup dark cocoa powder
2 teaspoons baking soda
1 teaspoon baking powder
1 teaspoon kosher salt
2 eggs
1 cup buttermilk
1 cup Zinfandel
1½ cups light olive or vegetable oil
2 teaspoons vanilla extract
FROSTING INGREDIENTS
2 cups unsalted butter, softened
3¾ cups powdered sugar
¼ cup heavy cream
2 teaspoons vanilla extract
½ cup blackberry jam
DIRECTIONS
1. Preheat oven to 350°F. Butter and line the bottom of three 8-inch round baking pans with parchment paper.
2. In a large mixing bowl, combine sugar, flour, cocoa, baking soda, baking powder and salt. Add eggs, buttermilk, wine, oil and vanilla and beat with an electric mixer on medium speed until combined. Divide evenly among prepared pans.
3. Bake 30 to 50 minutes, or until a toothpick inserted in the center comes out clean. Remove from oven and place on a wire rack until cool enough to handle. Run a small knife around the edges of each pan, then gently invert onto wire racks. Allow to cool completely.
4. To prepare frosting, in the bowl of a stand mixer, beat butter on medium speed until very pale and creamy, about 8 minutes. Add powdered sugar, a little at a time, mixing well after each addition. Add cream and vanilla and beat until light and fluffy. Add more cream or powdered sugar as needed to achieve desired consistency.
5. To assemble, place one layer on cakestand and using a spatula, spread half of blackberry preserves on top. Place the second layer on top of the first and spread other half of preserves on this layer. Place third and final layer on top and cover entire cake with buttercream. Place in refrigerator to chill.
6. To serve, drizzle each slice with Arbor Hill Cabernet Chocolate Wine Sauce or your favorite chocolate sauce that has been warmed slightly in the microwave.
BLACKFOREST WINE CHOCOLAE MILKSHAKE
Recipe by Lesley Gallick - Honeywood Winery, Salem
"Blackforest Wine has been made into so many different dessert recipes because of its romantic flavor and rich texture. The combination of Pinot, chocolate and cherry adds flair to any dessert that can't be beat. It's fabulous for couples to share or for impressing your dinner guests. This recipe, however simple, is a decadent gourmet dessert that holds true to the reputation of quality that its name carries. The legends are true … journey into the Blackforest." - Lesley Gallick, Honeywood tasting room manager
WINE PAIRING: Honeywood Blackforest Wine
INGREDIENTS
1 cup vanilla ice cream
4 ounces Blackforest wine (chocolate cherry Pinot Noir)
* whipped cream, for garnish
* chocolate shavings, for garnish
* cherry, for garnish
DIRECTIONS
1. Blend 1 cup of your favorite vanilla ice cream with 4 ounces of Honeywood Blackforest Wine. You can either hand mix or use a blender.
2. Serve in your favorite wine glass, and top with whipped cream, chocolate shavings and finish with a cherry on top.