Chef John Gorham
John Gorham is co-owner and executive chef of iconic Portland restaurants Toro Bravo, Tasty n Sons, Tasty n Alder, PLAZA DEL TORO and the upcoming Third n Tasty, which will be located in The Atticus Hotel in downtown McMinnville — the hotel and restaurant are slated to open spring 2018. He is also co-owner of Mediterranean Exploration Company, BYH Burgers and Shalom Y'all, and founder of the La Ruta PDX, a gastronomic festival.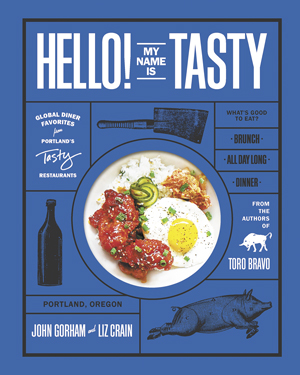 Gorham's first cookbook, "The Toro Bravo Cookbook: Stories. Recipes. No Bull." was published by McSweeney's in 2013. His second, "Hello! My Name Is Tasty: Global Diner Favorites from Portland's Tasty Restaurants," was released Aug. 15, 2017 by Sasquatch.
Gorham spends his free time with his two daughters, Ruby and Royal, Captain, their Goldendoodle, and the love of his life, his wife and business partner, Renee.
Had you ever considered opening a restaurant in wine country before The Atticus Hotel opportunity in McMinnville?
It had been a thought, but nothing we were pursuing at the time we connected with the folks from Atticus.
What do you look forward to most in regard to cooking in wine country?
A stronger connection with the farms and winemakers. We also are looking forward to spending time in the area with our family.
"Hello! My Name Is Tasty" hit shelves Aug. 15. How did the process of creating this cookbook differ from "Toro Bravo," your first cookbook?
Liz and I had to really work on our voice for the first book. The Toro book was also the story of becoming a chef, so we really tried to let the voice of the book sound like me. For the Tasty book, we actually tried to tone that down a little. Way less curse words. I think it's a much more professional book. Working with a group like Sasquatch has been a night-and-day difference from our previous publisher.
Both of your cookbooks contain wonderful narratives alongside the recipes. Why is this important to you and co-author Liz Crain?
We both feel that food should tell a story. It's incredible to work with Liz for that reason. She has a gift for pulling those stories out.
What's that one cuisine you have yet to master but want to explore more?
South America is really hot right now. I'd love to travel to Peru and Brazil and see what tricks they have up their sleeves.
What's your drink of choice? Wine, beer, cocktails? Specifically, what have you been enjoying this summer?
Funny you should ask this. This summer, I decided to really focus on my health. I've taken a break from drinking for the past few months. I've been really enjoying Vichy Catalan mineral water, now that it's in the States.