Cheeseorizo
Pholia Farm creates meat substitute
Lovers of Oregon bounty may be familiar with Pholia Farm's aged goat cheeses. The ten-year-old off-the-grid creamery in Southern Oregon is entering their second decade by shifting focus, using their cheesemaking know-how to build a different kind of product: Cheeseorizo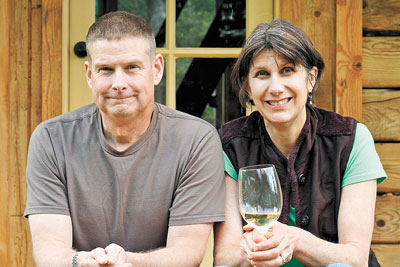 The new venture, a cheese-based meat substitute, is reinvigorating vegetarian cuisine and staking a claim in a brand new food category.
Gianaclis and Vern Caldwell produced their first batch of farmstead cheese in 2006 at their scenic farm in the Rogue River Valley. The property, part of a family homestead where Gianaclis had grown up, was not far from the high school where the couple met. The path back to this land and their vision to create a self-sufficient micro dairy using a small herd of goats was carefully considered.
After Vern's 20-year service in the Marines, the couple moved with daughters Phoebe and Amelia — for whom the creamery is named — back to the Rogue River and began construction. One of the early adopters of Nigerian Dwarf goats for farmstead cheesemaking, they were trendsetters and soon began teaching others the ins and outs of successful small-scale agriculture and production.
In addition to hosting on-site classes and workshops, Gianaclis is the author of five books, including "The Farmstead Creamery Advisor" (2010), "Mastering Artisan Cheesemaking" (2012), "The Small Scale Cheese Business" (2014), "The Small Scale Dairy" (2014), and her latest, "Mastering Basic Cheesemaking" (2016) — grab a copy if you are a budding cheesemaker.
After a memorable and busy decade of producing some of the most sought-after cheeses in the Northwest, the couple has decided to shift focus toward a new product, a sum of the many parts of the Caldwell's experience in cheese and life.
Called Cheeseorizo, the new line was inspired by a dream Gianalcis had of making sausage using cheese instead of meat. "I had worked with cheese long enough to understand why cheese melts or doesn't melt. Cheeses like Paneer are very culture-based and not too well-known here. They are very useful in cooking."
A vegetarian since the early '90s, she found most vegetarians miss having that savory, hearty, chewy element that meat adds. Her cheesemaking knowledge and penchant for working with spices — a necessity to infuse flavor into her meals — came in handy in developing the three flavor profiles: Sage, Fiesta and Italian.
The product is made at their small creamery using cow's milk from a regional supplier. Locating that perfect source of local, sustainable and high quality milk from a single source has proven to be one of the more challenging aspects of the business.
Production is energy intensive, from operating equipment to packaging and freezing the final product. The couple has carefully and successfully navigated the delicate in-between stage, transitioning from a small-scale creamery to one that can produce on a much larger scale. So far, their efforts are paying off. Now it's up to the market to catch up with the possibilities of a cheese-based meat substitute.
"There's nothing like it," Gianalcis said. "It's either a fantastic idea — a category creator — or it's a really bad idea."
When a local reporter described it in a column as "cheese that acts like meat" — Use it any place you'd use ground meat or sausage — it sold out all over the Rogue Valley.
The biggest challenge thus far has been finding the right place to merchandise the product.
"Because almost all meat substitutes are vegan — even though most vegetarians are not — the category is one of the most demanding to enter," she said.
Once people try it, they buy it, she says, but getting people to understand what it is and where to find it in the market has been an ongoing focus. When in doubt, ask the grocer.
Vern, who took over much of the cheesemaking while Gianaclis worked on her books, is now spending time off the farm, visiting retailers and co-ops now stocking Cheeseorizo. The recent move to work with a Northwest distributor of specialty food also has opened doors.
The upside for the couple is this business model allows for more flexibility in their schedule. During their farmstead cheese years, vacations together were almost unheard of as one or the other always was needed on the farm. It also allows both to focus on other efforts, like writing more books and, for Vern, service on the American Cheese Society Board.
Wheels of Pholia Farm are still available at cheese shops. I recommend grabbing one last taste if you can. It is special cheese.
Look for Cheeseorizo in the refrigerated or frozen section with other meat substitutes at your local co-op, selected Thriftway or Whole Foods.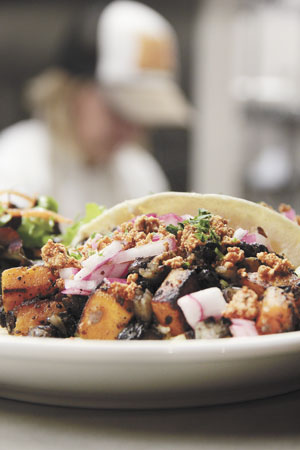 Butternut Squash and Cheesorizo Tacos with Pickled Onion and Aioli
Recipe by Chad Hahn, The Haul Café & Provisions, Grants Pass
INGREDIENTS
2 pounds butternut squash, medium dice
1 cup black beans
½ cup Fiesta Cheesorizo
1 tablespoon minced garlic
1 small red onion
1 cup of red wine vinegar
1 pound shredded cabbage
¼ cup apple cider vinegar
1 tablespoon ground cumin
1 egg yolk
1 cup (plus 1 tablespoon) oil
1 teaspoon mustard powder
* juice of one lemon
2 tablespoons minced garlic
8 small corn tortillas
* salt and pepper
METHOD
Taco Filling: Preheat oven to 375°F. Dice butternut squash; toss in oil, salt and pepper. Roast on sheet tray until tender. In pan with 1 tablespoon oil, heat together roasted squash, black beans and Cheesorizo. Then, add 1 tablespoon garlic. Sauté until fragrant. Add salt and pepper to taste.
Aioli: In food processor, blend lemon juice, mustard and egg yolk. Slowly stream in 1 cup oil until emulsified and aoili thickens. Add salt and pepper to taste. Add more lemon juice for more acidity.
Quick Pickled Red Onions: Heat red wine vinegar. Pour over small diced red onions. Add salt and pepper to taste. Cool.
Slaw: Combine shredded cabbage with apple cider vinegar, cumin, salt and pepper. Toss. Let rest at least 1 hour.
Assemble: Combine slaw, aioli, and taco filling on lightly toasted corn tortillas. Top with red onions
and Cheesorizo.
Find more recipes at www.cheesorizo.com.