Shmear Romance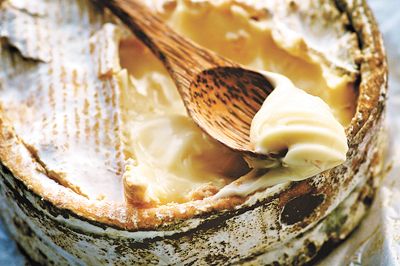 By Christine Hyatt
Spooning: a simple yet romantic gesture of warm, cozy cuddling. Couples lie back to chest, nestling into each other's nooks, like little spoons in a drawer. But outside the bedroom, spooning can take on an entirely different meaning, especially at the cheese counter.
I'm talking about "spoon-able" cheese. While some are meant for toasty bagels or good ol' chip dip, many of these soft cheeses are complex creations demanding of respect, offering their own version of an indulgent, almost-romantic experience.
Vacherin Mont d'Or, a soft, young cheese from the Jura region of the Alps, located on the border of Switzerland and France, is known around the world. Although the Swiss officially own license to its name, the cheese is made in both countries.
It isn't the creamy texture that makes this cheese so unique; it's the taste. Delicious and sweet, it is a popular snack of choice for many French children. Perhaps more interesting is the nature of the milk from which this type of cheese is made.
While most artisan cheeses are made from the milk of cows eating fresh grass during spring and summer, Vacherin is made from the milk of cows that eat the dry hay of cooler, winter months. This milk, from late in the lactation cycle and with the non-pasture diet, contains unique flavor profiles and richness.
In Europe, the cheese starts with raw milk and aging time can be as short as 30 days. Stateside, a pasteurized version of Vacherin, Edel de Cleron, can be found in specialty cheese shops, but a homegrown version has recently arrived on the scene to much-deserved fanfare.
Enter Uplands Cheese Factory in Dodgeville, Wisc.
Uplands is certainly no newcomer to the cheese scene, having earned the American Cheese Society Best of Show award for Pleasant Ridge Reserve no fewer than three times. So it's no surprise that such a talented producer has created a spoon-able hit.
Called Rush Creek Reserve, the young, soft cheese is based on the Swiss and French techniques used to make Vacherin d'Or. It is similarly soft, creamy and incredibly delicious.
Of course, Uplands' foray into soft cheeses has required more than a little bit of patience and learning on the part of cheesemaker Andy Hatch. "When you learn to make cheese in Wisconsin," Hatch says, "you learn to make cheddar, Colby, Jack, Swiss … all hard cheeses."
Hatch took his time learning the techniques to make such a cheese from winter milk he was used to selling off, as it was not appropriate for the profile of Pleasant Ridge. Utilizing this off-season milk only energized the project.
Hatch ages Rush Creek Reserve in the same ripening rooms as Pleasant Ridge, allowing its savory flavors to develop for 60 days. Adding to the authentic European taste, the soft cheese is bound with strips of spruce bark imported from France. The bark not only lends a woodsy, sweet flavor to the cheese, it also prevents the delicate soft-textured wheel from collapsing.
The result is a young, creamy cheese that is easily scooped and spread. Hatch himself prefers to eat it plain, straight from the spoon, to experience the complex taste on its own. The rich texture is a sensory and, dare we say, sensual experience that would be perfect for a romantic evening. The cheese can also be heated in the oven on low heat and then drizzled over roasted root vegetables for an alluring wintery side dish.
As for pairing, Hatch recommends a wine with enough acidity to cleanse the palate in preparation for another delightful bite. Dry Riesling, Pinot Gris, or Gewürtztraminer would all be appropriate accompaniments.
Vacherin Mont d'Or can be difficult to locate, but Rush Creek Reserve is available throughout Oregon at local specialty shops, New Seasons Market and some Whole Foods markets.