Cheese on Top
Annual ACS conference crowns new champions in Sacramento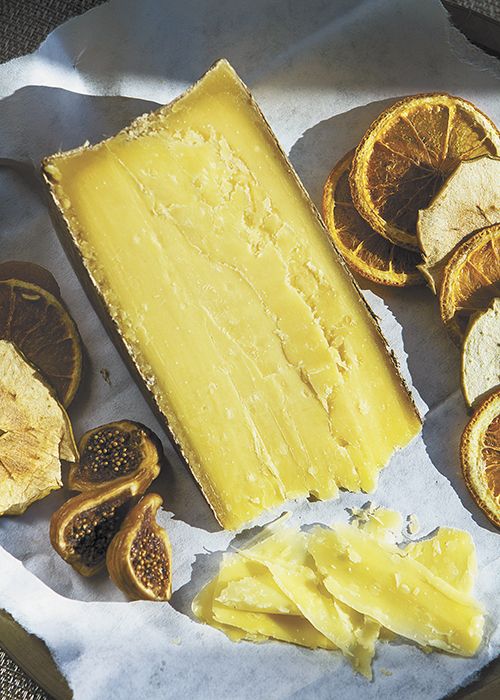 I just returned from what has been dubbed "Cheese Camp," the American Cheese Society's annual conference, held this year in Sacramento.
This is THE event for cheese education, the cheese community and a whole lot of cheesy fun.
This years' meeting started seriously with a visit from top FDA officials who joined ACS leaders and leading cheese scientists for meetings to discuss the issue of imports to the industry.
Following a rather nasty brouhaha over use of traditional wood shelving and the ensuing public uproar, it was good timing. After productive, closed-door meetings between industry and academic leaders and the seven-member FDA delegation, FDA Deputy Commissioner Mike Taylor addressed all conference attendees in a special session at the business luncheon.
Taylor clarified the FDA's position on wood boards for aging cheese — they don't have a policy banning them — and discussed other industry concerns, including the implementation of the Food Safety Modernization Act (FSMA) and its policies on raw milk cheese.
The highlight of each year is always the awards ceremony, aka the "Oscars" of cheese, and this year was no exception. In all, 248 companies submitted 1,685 cheeses judged over two days by teams of judges evaluating both technical and aesthetic quality.
Oregon 2015 American Cheese Society Winners
FIRST PLACE


Face Rock Creamery
"In Your Face" Curds
Flavored cheeses, curds, all milks
Ochoa's Queseria
Don Froylan Queson Oaxaca
Hispanic or Portuguese, fresh, unripened, all milks
Oregon State
Creamery The Peak
Italian-type cheese, mozzarella types, all milks
Rogue Creamery
Mount Mazama
Cheddar aged up to 12 months, made from goat's, sheep's, buffalo's or mixed milk
Tilllamook Co. Creamery Assn.
Unsalted Sweet Cream Butter
Unsalted butter made from cow's milk
Tilllamook Co. Creamery Assn.
Pepper Jack
Flavored cheese, Monterey Jack, all milks
SECOND PLACE
Ancient Heritage
Adelle
Soft-ripened made from sheep's or mixed milk
Briar Rose Creamery
Classic Chèvre
Goat's milk, fresh, rindless, aged up to 30 days
Rivers Edge Chevre
Beltane
Goat's milk cheeses, fresh, aged 0 to 30 days, hand-shaped, formed or molded
Willamette Valley Cheese Co.
Cumin Gouda
Flavored cheeses, farmstead
Willamette Valley Cheese Co.
Boerenkaas
Farmstead cheeses, aged 60 days or more, cow's milk, 39 percent or more moisture
THIRD PLACE
Briar Rose Creamery
Lorelei
Washed-rind cheeses, goat's milk
Ochoa's Queseria
Don Froylan Queso Botanero Cilantro & Jalapeno
Flavored cheeses, Hispanic style, all milks
Rivers Edge Chevré
True Love
Flavored cheeses, farmstead cheese
Tilllamook Co. Creamery Assn.
Sharp Cheddar
Cheddar aged up to 12 months, cow's milk
Tilllamook Co. Creamery Assn.
Natural Sour Cream
Cultured milk/cream, cremé fraîche, sour cream
This year, Best of Show was awarded to Tarentaise Reserve from the Farms for City Kids Foundation at Spring Brook Farm in Reading, Vermont. Tarentaise is made with raw milk from the farm's 42 Jersey cows. The winning wheel was from a special reserve stash, aged for two years.
The paste is a gorgeous amber color with a granular texture that looks dynamite on the plate. Named after the French valley which inspired it, the flavor is buttery and smooth with an irresistible balance of sweet, nutty and fruity notes and the characteristic crystalline crunch of a carefully matured cheese.
The cheese also has a special mission. It is produced on a thousand-acre working dairy farm, which serves as an agricultural classroom for the more than 10,000 kids who have participated in the camp experience since the farm began 20 years ago.
Through their farm stay, urban youth participate in all aspects of farming and learn about sustainable practices first hand. The winning cheese was cared for by participants in the program. In the cheese room, kids work alongside the talented cheesemaking staff, learning chemistry, microbiology and food preservation.
Proceeds from cheese sales help make the farm economically viable and fund the camp program, always at no charge to campers.
While Tarentaise Reserve is in short supply, its blue ribbon-winning younger sibling, Tarentaise, aged nine to 12 months, is in wider circulation. Available at fine cheese counters, it's a fabulous table cheese best paired with smooth red wine or fruity whites. The cheese has a particularly smooth melt, perfect for sandwiches, fondue or casseroles.
First Runner-up this year went to Bay Blue from Point Reyes Farmstead Cheese in California. Two cheeses tied for third: Aged Gouda from Oakdale Cheese & Specialties in California and Eden from Sprout Creek Farm in New York.
Oregon cheesemakers also had a strong showing, bringing home 16 ribbons.