Chateaulin Shuts Doors at 39 Years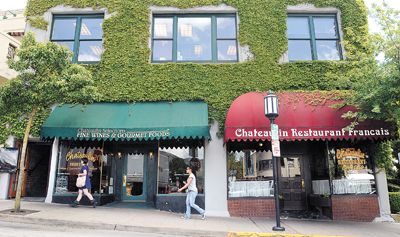 Ashland visitors have been peering into the window-fronted Chateaulin restaurant since 1973. Some of them joined locals wandering inside to taste the signature French onion soup and to pore over the wine list.
Over the past couple months, however, looking into the windows at 52 E. Main St. is all anyone can do. The most recent restaurateur shut the doors, and neither the building's owner, Michael Donovan, nor the space's lessee, David Taub, can predict who will take over.
Donovan, who also is managing director of RoxyAnn Winery in Medford and chairman of the Oregon Wine Board, said, "I'm excited about the prospects of tenants offering a new perspective."
Chateaulin was named by first owner Bernard Pradel, who came from Chateaulin, France, and served country French cuisine in the two-story Camps Building on the Plaza. Reportedly, Vladimir Nabokov wrote parts of his novel "Lolita" in the brick building, constructed from 1899 to 1900.
Pradel, who later launched Bernard Pradel Cellars, now part of Elyse Winery in Napa, Calif., sold the restaurant to Donovan and Taub, and the two shifted the slow-cooked country menu to include more regional, seasonal specialties.
Donovan bought the ground floor of the building in 1994 (the Oregon Shakespeare Festival owns the second floor), and he sold his share of the restaurant, which then included $100,000 in domestic and imported wine, to employees in 2002.
Over the years, Chateaulin expanded to include a dining room in the back and, in 1992, a wine shop that was among the first to ship Oregon Pinot Noirs.
The key to Chateulin success, Donovan said, was catering to OSF audiences and growing interests in wine.
As of Oct. 1, Donovan is negotiating with a number of potential tenants.
Story by Janet Eastman. Reprinted with persmission from Ashland Daily Tidings.