All Hale, the Mayor!
OWP chats with Charlie about his passion for wine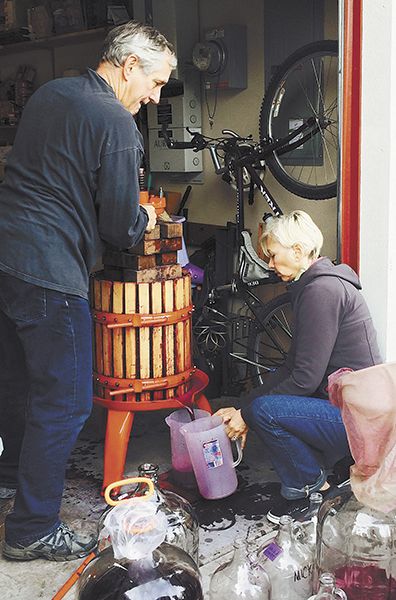 Portland's current mayor, Charlie Hales, was born in Washington, D.C., in 1956. His father, Alfred Ross Hales Jr., was a structural engineer for the U.S. Navy; his mother, Carol Hales, a homemaker. He attended public schools in Alexandria, Virginia, and graduated from Thomas Edison High School in Fairfax County. Hales graduated from the University of Virginia in 1979 with a bachelor's degree in political theory.
He was elected to the Portland City Council in 1992 at age 36. Previously, he was vice president for the Home Builders Association of Metropolitan Portland. Hales served as a Portland City Commissioner from January 1993 to May 2002, when part way through his third term, he left to take a position with HDR, Inc., an engineering firm promoting streetcar transportation throughout the U.S.
In 2011, Hales announced he would run for mayor in 2012. On Nov. 6, 2012, he defeated challenger Jefferson Smith, receiving 61 percent of the vote. He assumed office Jan. 1, 2013.
Hales is married to his second wife, Nancy. Charlie and Nancy have five children and a dog.
Help the Mayor Name His Wine!
Here's a friendly contest for your readers — call it the "Name the mayor's private label contest." Ask your readers to send us their best title and art for our wine label. We'll choose the winner by Dec. 1. The winner gets two wine bottles sporting the new label; I'll deliver!
Details: Send an electronic file of your entry — wine name, label art and any explanation of it — to CharlieHales13@gmail.com with the subject line "Wine Contest." Make sure you include your contact information. If you're the winner, we'll contact you the first week of December 2014.
Contest rules: 1) Entry must be the original artwork of the contestant, who must be 21 years old or older. Multiple entries are welcome. 2) Each entry must include the contestant's name, e-mail address and phone number. Charlie Hales will contact the winner by phone or e-mail. 3) By submitting artwork, the contestant consents to use of his or her name, artwork, and/or quote materials by Charlie Hales and Oregon Wine Press magazine. 4) Entries will not be returned. 5) There are no monetary prizes associated with winning this contest or for the use of artwork or quotes by Charlie Hales or Oregon Wine Press magazine.
How did you first become interested in wine?
I was dating my wife, Nancy (then girlfriend), and attempting to win her heart. To show my love, I gave her my cherished a bottle of 1984 Leonetti Cabernet. I came home the next weekend, and she was cooking spaghetti sauce with it. So it was either end the relationship, or learn how to bring home more affordable wine, regardless of what she does with it.
In your opinion, what is (are) the best place(s) in Portland for a glass of wine? Favorite bottle shop(s)?
Besides our kitchen? Hmm, OK: Bar Avignon (2138 SE Division St., Portland) or our winemaking guru Andy Cotugno's garage; it's a tossup. Bottle shop? Hmmm… wherever our friend and Portland Public Market leader Ron Paul tells us to go; we'll shop there. He knows more about food and wine than I'll ever know.
What is your favorite red? Favorite white? Why?
My favorite red is a South African Pinotage. It's a combination of the unique flavor of the grape and its exotic terroir. My favorite white? A really buttery white Burgundy. It's rich and light, all at once. And that gorgeous golden color — magnificent.
Even though Portland has become an Italian wine-obsessed city, why is it important for Portlanders to support Oregon wine?
Because having variety and choices makes life more interesting. We love local here, and we all like to support the amazing Portland food and beverage scene. And pssst: Oregon wine is actually better than the Italian stuff.
If you were to own a winery anywhere in the world, where would it be? What would you name it? What wine varieties would you produce?
That's easy: The Columbia River Gorge, a beautiful, dramatic landscape where the climate changes every few miles as you move east or west. The name? I'm no fool: Château Nancy. We would probably produce Shiraz and Nebbiolo.
As a hobby winemaker, what is the most challenging part of the winemaking process?
Coming up with a name and a label. Maybe you can help us!