Chardonnay All the Way
Celebration charts varietal's road to Oregon success
Many believe Pinot Noir reflects a sense of place like no other grape. But when site selection for Chardonnay in Oregon is as deliberate as for Pinot Noir, will Chardonnay sing as true?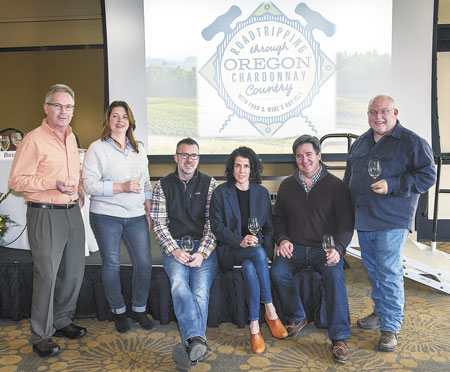 In the recent past, Oregon growers and winemakers have sought to define Oregon Chardonnay. Montinore Estate's Kristin Marchesi, president of the Oregon Chardonnay Celebration board of directors, set the tone for the 2017 event by asserting that the state's Chardonnay is now "more thesis than preamble" and how it "wants to tell you where it is from."
In addition to a grand tasting featuring more than 40 Oregon Chardonnays at The Allison Inn & Spa in Newberg, the 2017 seminar featured a panel of five winemakers, Maggie Harrison of Antica Terra, Bob Morus of Phelps Creek Vineyards, Ken Pahlow of Walter Scott, Luisa Ponzi of Ponzi Vineyards and Bryan Wilson of DANCIN Vineyards. Each guided guests through a tasting titled "Road Trippin' Through Oregon Chardonnay Wine Country." Moderator Ray Isle, executive wine editor at Food & Wine magazine, pointed out how the subtleties of regional nuances have been part of the white Burgundy story for 1000-plus years. Now, Oregon Chardonnay can be appreciated for its complexities and translation of terroir, as well.
On the Road: Columbia Gorge AVA
Raised in California, winemaker Bob Morus was apprehensive about the rain when he moved to Oregon to plant grapes. He put down roots in the Columbia Gorge, where diversity is key.
"Go 20 miles and experience a 20-inch decrease in rain," he chuckled.
Thriving grapes range from Pinot Noir to Zinfandel with each variety finding a perfect location somewhere in the beautiful terrain. Despite his misgivings about precipitation, Morus chose to plant at 1,000-foot elevation, with an average of 36 inches of rain, on the cooler western side of the Gorge with heat units similar to the Willamette Valley.
In the early 1990s, Morus discerned that Oregon Chardonnay had difficulty ripening, except at nearby Hood River and Celilo vineyards, where clonal selection and site appeared essential. Using this knowledge, Morus was able to plant the best clones for Phelps Creek Vineyards.
He also pointed out, noting the obvious shape revealed from an aerial photo of his vineyards, that "phallic-shaped vineyards produce feminine Chardonnay."
Phelps Creek Vineyards 2014 "Lynette" Columbia Gorge Chardonnay: Bright and acid-driven with aromas of vanilla cream soda, lemon pound cake, yellow apple, underripe cantaloupe and an overall minerality.
Next Stop: Chehalem Mountains AVA
In 1993, Luisa Ponzi was the first American woman to earn the Brevet Professionnel D'Oenologie et Viticulture in Beaune certificate. Upon returning from her studies in Burgundy, she inherited Ponzi's Aurora Vineyard in the Chehalem Mountains, determined to make great Oregon Chardonnay.
She credits the site, Dijon clones, and age of the vines for the quality of Aurora Chardonnay. Laurelwood soils, which consist of windblown sediment layered over basalt, dominate in the site.
"When vines are first planted in Laurelwood soil, they produce voluptuous forward wines," Ponzi explained. "Older vines, at about 10 to 15 years, begin to root deeper into the basalt soils, affecting the acidity and minerality of the wines."
Ponzi buys fruit from many sites but believes the combination of 27-year-old vines and soils at Aurora Vineyard allow her to work the wines a bit harder, instilling structure both silky in texture and freshly acidic.
Ponzi Vineyards 2014 Aurora Vineyard Chehalem Mountains Chardonnay: Orange, toast and subtle floral notes on the nose with the structure Ponzi predicted: bright acid, a bit of tannin, citrusy lemon and a lively minerality.
Exit Now: Yamhill-Carlton AVA
When Maggie Harrison decided to make Chardonnay, she was advised to avoid richness, new oak and low yields. But she wanted to make "the most beautiful thing in the moment." For her, that was Chardonnay with brown ripe seeds, skin golden from the sun, a percentage of new barrels and lees contact for 18 months.
It was Chardonnay from a place known for Pinot Noir, from a place that breeds power. It was Chardonnay from Shea Vineyard, and in the lean year of 2011, that power paid off. The ancient soils though, according to Harrison, have made the difference even in more opulent vintages. "Old soils of silt loam over compressed seabed hold acid and architectural substance in the wine," Harrison explained.
Antica Terra 2014 "Aurata: Yamhill Carlton Chardonnay. Essense of toasted banana nut bread on both the nose and palate.
Mile Marker: Eola-Amity Hills AVA
When California winemaker Craig Williams arrived in Oregon, he found X Novo Vineyards — 550 feet on thin volcanic topsoil layered over fractured basalt rock — to be a near perfect spot for Chardonnay. Fifteen different clones appear in this bottle designed to broadcast all the site has to offer.
Ken Pahlow of Walter Scott credits the soil and wind for the tension and precision found in this Chardonnay. Eola-Amity Hills is the AVA currently closest to the cooling coastal winds blowing through the Van Duzer Corridor.
"Eola-Amity Hills nights are generally 10 degrees cooler than the sub-appellations in the northern end of the [Willamette] Valley," explained Pahlow.
For those craving acid-driven wines, these cooling winds are crucial.
Walter Scott 2014 "X Novo" Eola-Amity Hills Chardonnay: Aromas of sweet vanilla bean and orange-kissed pound cake entice with a silky texture treat on the palate with flavors of orchard fruits and lime zest.
Final Destination: Southern Oregon AVA
Ancient rivers preceded the uplifting of mountains in Southern Oregon, which take their place as some of the oldest geologic formations in the state. Combined with the variations of soil and the convergence of the Cascade, Coastal Range and Klamath Mountains, Southern Oregon's landscape ensures ideal growing conditions for more than 70 winegrapes.
The area is known for its diversity, even within single vineyards. A snapshot of DANCIN Vineyards outside Jacksonville reveals a 10-degree elevation drop from the top of the vineyard to the bottom and a shadow cast by the surrounding forested hillside.
His "Melange" Chardonnay is known for its ripeness, concentration, extract, acid and purity of fruit. Winemaker Bryan Wilson calls it the "Goldilocks" of wine: just right.
DANCIN 2015 "Melange" Southern Oregon Chardonnay: With aromas of tangerine, banana taffy, limestone, candied citrus zest and honeysuckle, the wine's palate offers apple, lemon, a kiss of honey, flinty stone and hints of peach.
Visit www.oregonchardonnaycelebration.org to stay informed about future events.
Jade Helm is the primary author of Tasting Pour, a blog about wine, cocktails and food. Her expertise is evidenced by credentials from the Society of Wine Educators (Certified Specialist in Wine) and the Wine and Spirits Education Trust (Diploma in Wine and Spirits) and from the Court of Master Sommeliers (Certified Sommelier).