Chapter and Cheese
Books for the fromage lover on your list
If your gift list includes a cheese lover who's also a bibliophile, you are in luck. Two titles, both focused on composing a gorgeous and tasty cheese plate, have arrived exactly in time to inspire flavor combinations this holiday season and well beyond (see sidebar).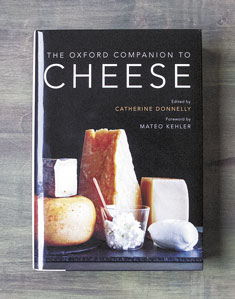 Both books are perfect for the cheese curious as well as those with a more seasoned palate. If, however, you are seeking a cheese book for the ages, one that will please gourmands, historians and the geekiest of cheese nerds, look no further than the newly released "The Oxford Companion to Cheese" (Oxford University Press, 2016).
This thick tome, groundbreaking in its scope, starts with four simple ingredients — milk, microorganisms, salt and enzymes — and dives into the history, culture, science and flavors of the world's finest cheeses. It achieves a remarkably delicate balance between academic rigor and lively prose.
The project began in 2012, shortly after the highly successful release of the "The Oxford Companion to Beer" the previous year.
"When the beer book came out, it struck me with the force of a cartoon anvil that there was such a need for an equivalent book on cheese," says Kate Arding, cheese expert and co-owner of Talbot & Arding in upstate New York.
What a happy coincidence others felt the same way. Arding soon learned plans for such a book were already underway at Oxford University Press, the largest university press in the world.
Renowned cheese scientist Dr. Catherine Donnelly soon signed on as editor and Arding joined a small cadre of experts in cheese science and culture as subject expert editors on the project. At the outset, the team assembled to brainstorm headwords, which would begin each subject entry. Curating a comprehensive reference on this multifaceted topic represented a massive undertaking, determining which topics should be included, which could be folded into another topic.
To discuss the countless nuances of cheese across a variety of disciplines, editors enlisted 325 experts, including leading cheesemakers, mongers, dairy scientists, microbiologists, anthropologists, historians and writers from around the world. It was a great honor being among such a distinguished group of colleagues and friends when I contributed two entries to this project.
"We knew the trade would buy this book, but we were keenly focused on social, cultural and anthropological aspects of cheese and conveying that in a coherent and interesting way for the general public," says Arding. "We wanted to be sure there was something in the book for everyone."
Witnessing this far-flung world cheese community unite to create this reference book for the ages feels remarkable. A mere decade or two ago, this caliber of collaboration was a dream.
As more and more cross-cultural pollination has occurred through international competitions and conferences, it is unsurprising the time was ripe for just such a project. For those looking to dive deeply into cheese, this edition is essential.
Impress holiday guests this season with a brand new cheese plate. But first, check out these two new books.
Composing the Cheese Plate: Recipes, Pairings & Platings for the Inventive Cheese Course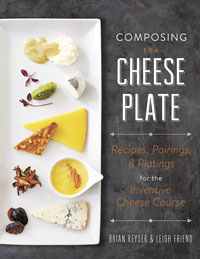 Written by fromager Brian Keyser and pastry chef Leigh Friend of Cassellula Cheese & Wine Café, a highly regarded cheese and wine venue in NYC, this volume introduces inventive pairings that go beyond the basics. Essentially a condiment cookbook, the guide offers simply styled photography, showcasing gorgeous wedges and all the fixings. "Composing the Cheese Plate" promises to stretch your imagination and palate. (Running Press, 2016)
The Art of the Cheese Plate: Pairings, Recipes, Style, Attitude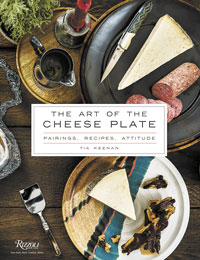 Chef/fromager/cheese expert Tia Keenan presents a veritable smorgasbord of intriguing and out-of-the-box pairings. The book contains 37 different presentations, featuring both homemade and store-bought accompaniments that will have you examining potential pairings with a whole new appreciation. A riot of color and texture in the lush photos, this book stretches the boundaries of pairing as well as cheese photography — an inspired addition to any cheese book collection. (Rizzoli New York, 2016)