2013 Wine Persons of the Year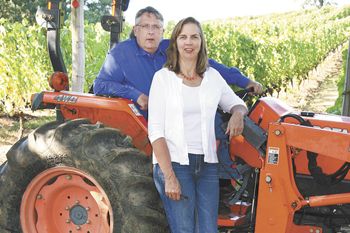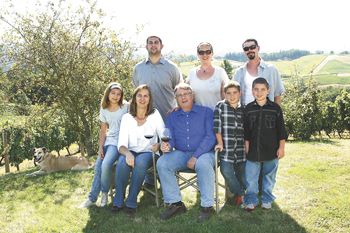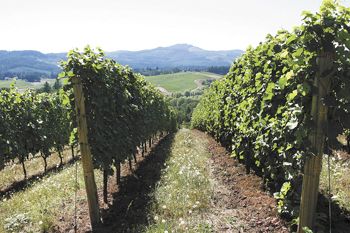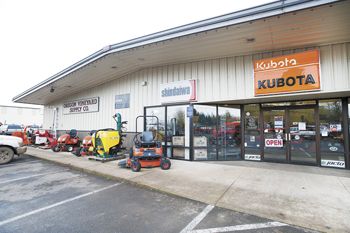 By Karl Klooster
Kevin and Carla Chambers are as deserving as anyone (or two) in the industry to be named as the Oregon Wine Press Oregon Wine Persons of the Year for 2013.
Since the publication first established this award in 2008, it has been our privilege to honor Oregon wine's most outstanding individuals and couples.
Dave and Deolinda Coelho of Coehlo Winery in 2011 and Ken and Karen Wright of Ken Wright Cellars in 2012 are couples previously honored. Ralph Stinton of Grape Escape Winery Tours in 2008, David Lett of The Eyrie Vineyards in 2009, and Dr. Greg Jones of Southern Oregon University in 2010.
The Chambers are well known within Oregon wine circles and beyond for their business acumen and subsequent achievements, as well as their contributions to both the industry and their community.
The co-founding of Oregon Vineyard Supply, the state's largest retailer of equipment and materials for winegrape growing and other agricultural crops, is their most notable success story. Intertwined with OVS is Results Partners, the state's largest vineyard development, management and consulting company, managing over 2,200 acres of vines for more than 50 clients.
Nor can we understate the couple's own grapegrowing and winemaking talents. Since purchasing a small Carlton vineyard in 1990, they have expanded their Resonance Vineyard to 20 acres and elevated its reputation for both fruit quality and wine character to one of the most highly regarded in the state. Working with Results Partners, Carla has had a personal involvement in the vineyard's management. In addition, she and Kevin have made estate wine from several vintages.
This past fall, that high regard gained the attention of famed Burgundian producer Maison Louis Jadot. A deal was struck for the purchase of Resonance Vineyard, and Jadot became only the second French wine company to invest in Oregon following Maison Joseph Drouhin.
Through the years, Kevin has played an active leadership role in the industry. Three terms as president of the Oregon Wine Board, most recently in 2007, is the most prominent. Other industry achievements have included coordinating events at the International Pinot Noir Celebration and Oregon Pinot Camp, as well as lobbying the U.S. Congress and Oregon Legislature on behalf of Oregon wine interests.
Carla's involvement in helping expand public outreach in Carlton added another dimension to the Chambers' list of civic contributions. As a co-founder and board member of Carlton Together Cares, she helped build the community's most valued children's services organization. She was also a founder of Walk in the Park, Carlton's annual wine, food, arts and music festival.
These highlights from their lengthy résumés of accomplishment are widely recognized. Not so well known, however, is the fact that Kevin Chambers and Carla Reynolds first met in sixth grade.
Kevin was already living in Eugene and attending Edgewood Elementary when Carla's father, a college administrator, secured a position at the University of Oregon. Her family moved to Eugene in 1967, and Carla wound up in Kevin's class. They attended grade school together, knowing each other, but just as friendly acquaintances.
They maintained a friendship through high school at South Eugene High but nothing more than that. "I was a real nerd in high school," Kevin said. "I got into chess in a big way and, not to brag, but I won the state championship and ended up traveling around the world to play chess."
Carla enrolled at Oregon State her freshman year while Kevin went to the University of Oregon. Their sophomore year, 1975, Carla decided to return to Eugene, and the two met up once again.
This time things turned out quite differently. They quickly became inseparable, lived together for nearly a year, then pleased their parents with a backyard wedding in 1976.
However, now being married and on their own, they had to figure out a way to pay the bills. Kevin went to work for Weyerhauser while Carla finished college. When Carla graduated in 1978, she found a job, and Kevin returned to school.
Kevin made the most of his two years. He became involved in student government and was elected student body vice president. Excelling academically, he was named the Maurice Harold Hunter Leadership Scholar in 1980.
Carla had a good job with the Lane County Transit District, but Kevin wasn't sure what he wanted to do. He had three standing offers that, though enticing, didn't seem to feel right. Then a college friend, Doug Eisle, suggested he apply at Of Grape and Grain, a Eugene wine shop that had gained quite a good reputation among local wine buffs, which Kevin was rapidly becoming.
Not incidentally, Eisle's parents owned one of the most sought-after vineyards in the Napa Valley. Other classmates included Don Patz, later of Napa Valley Winery, Patz & Hall, and Doug Canepa, whose family founded Marin County gourmet retailer, Mill Valley Market, in 1929.
When Carla went on to work for Eugene Water & Electric Board, Kevin got a job at Of Grape and Grain. It turned out he had such a good palate, he became sought-after on the so called "sip, snort and spit" wine judging circuit. He also began writing about wine, and the combination of talents in those early times led him to acting as a judge at the first American Wine Competition in New York City in 1983.
Two years later, he traveled to Portugal on a writing assignment and met famed wine writer Stephen Tanzer, who was launching his International Wine Cellar publication. Today, his bi-monthly newsletter and blog is second only to Robert Parker's Wine Advocate.
By 1990, Kevin had made his way well up the wine management ladder. He helped Fred and Mary Benoit realign their winery operation, which later was sold to Robert Pamplin Jr. — now Anne Amie Vineyards — and served as general manager for Jim Bernau's Willamette Valley Vineyards.
That year, 1990, he and Carla bought the seven-acre vineyard west of Carlton they initially named Reed & Reynolds after Carla's maiden name and Kevin's middle name.
In 1997, the Benoit's son, Mark, contacted Kevin to arrange a meeting. He told the Chambers he had terminal cancer and would like to sell them his young but promising vineyard supply company. The couple found a partner in Dean Forseth, and raised enough money to take over operation of Oregon Vineyard Supply, which was in a perfect position to benefit from the wine industry's surging upswing.
Benoit offered them generous buyout terms, and the trio launched into the building of a business they took from $3 to $30 million by 2007.
From the outset, the Chambers and Forseth had agreed that OVS would eventually be converted to an employee-owned company in the model of Bi-Mart and WinCo. In 2009, that change was put into made.
During an interview with the News-Register following the changeover, Chambers said, "I've long thought that one of the world's largest problems was the growing concentration of wealth in too few hands. The economic debacle we're currently living through has highlighted this issue. I believe that employee ownership of businesses is one of the best ways to redistribute wealth."
Carla still works at OVS and expresses pride in what they have accomplished over the past 22 years. "We have focused on being a solution provider," she said. "If a grower has concerns or their crops need improvement, we have the agronomic help they need.
"Presenting educational events and workshops, publication of annual spray programs, having product in stock when needed for the right time of the season at the best price possible. We are farmers serving farmers," she emphasized.
Kevin has relinquished the CEO position to Matt Novak, a young man he brought in to run Results Partners with the thought that he would one day run OVS.
Though the Chambers and Forseth had to steer the company over a very rough road during the worst of the recent recession, they have come through it and are experiencing one of their best years ever.
Bringing in Matt obviously worked out, and Kevin now only consults for the company he co-founded. He is currently overseeing the 80.5-acre property they recently bought atop the Eola Hills with proceeds from the Jadot sale.
"We plan to plant perhaps 30 acres of hazelnuts, 20 acres of wine grapes, perhaps 10 acres of apples and a few acres of vegies, and maybe retain a few acres of Christmas trees," he said. "But first we have 28,000 Christmas trees ready for harvesting and there's a lot more land to be cleared."
In the spirit that typifies the 2013 Oregon Wine Press Wine Persons of the Year, the Chambers donated some of those trees to a Carlton Together Cares holiday fundraiser this past December.