Challenge Accepted
Cowhorn builds first tasting room to LBC standards
Cowhorn
Details:
Address
1665 Eastside Rd., Jacksonville
Hours
Thurs.–Sun., 11 a.m. to 4 p.m.
Phone
541-899-6876
Website
www.cowhornwine.com
Cowhorn Vineyard & Garden's new tasting room is a visual manifestation of Bill and Barbara Steele's personal commitment to sustainability. Seated at the edge of the vineyard, near a rushing stream and under a bluff, the Cowhorn tasting room is an organic reflection of the landscape. Its muted colors harmonize with the setting and the building's clean, simple lines don't compete with the lush beauty of its surroundings deep in the Applegate Valley and along its river.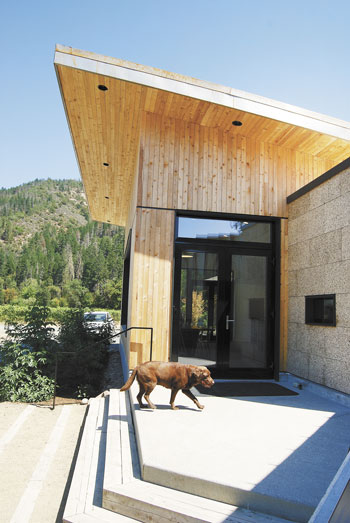 Completed in June 2016, Cowhorn's is the first tasting room in the world built to Living Building Challenge (LBC) standards from the International Living Future Institute.
The Steeles' farm and vineyard are Demeter-certified Biodynamic, so they are no strangers to rigorous standards, transparency and accountability. When they were ready to build a real tasting room, not just a space squeezed into the barn, Bill and Barbara buckled down to identify a building and design company able to execute their vision and reflect their Biodynamic philosophy. The Steeles found Green Hammer, a Portland design-build firm passionate about building green, and integrated progressive sustainable standards into their work, the Living Building Challenge among them.
"We want to create buildings that have no impact [on the land] or buildings that actually give back," said Alex Boetzel, Green Hammer chief operation officer.
The company's practice for any build is to work through an owner's sustainability expectations in conversation and design to determine which standard is most appropriate for that build. It was the Living Building Challenge that made sense to the Steeles and best suited their ambitious vision.
"Biodynamic farmers have an aspirational goal to create a closed system, so we are challenged to minimize the outside inputs we bring onto the property," Bill said. "The Living Building Challenge is to architecture and design what Biodynamics is to farming."
The Living Building Challenge standard is based on 20 imperatives organized into seven performance "petals" or areas: place, water, energy, health/happiness, materials, equity and beauty. Every directive within a petal must be met.
"If you are so inclined, you can accept anywhere from one to seven challenges," Bill explained. "Barb and I, in our wisdom, chose all seven."
Green Hammer realized the materials petal was the most challenging LBC standard to satisfy.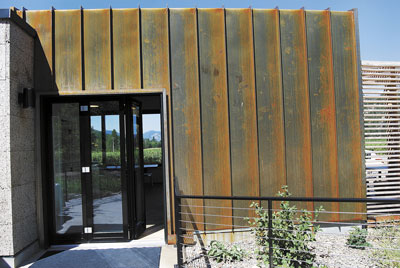 "The core of the materials requirement is that there are 20 compounds that cannot be included in any material component that finds its way into the project," Boetzel explained, specifically mentioning polyvinyl chloride, or PVC, found in many commonly used products such as hoses, valves and pipes. "Typically, manufacturers aren't inclined to share information about material components, so there's a lot of time that goes into product research and follow-up with material suppliers, vendors and subcontractors to be sure they're willing to cooperate."
Occasionally, the supplier isn't even aware of where they've sourced their materials, like gravel or water, or which additives have been used. Subcontractors had to be trained to use only materials specifically selected for the project and understand that a bolt or adhesive couldn't be casually introduced to the worksite because all materials must be vetted.
The LBC standards relate not only to construction, but also to operation and the mandates must be documented and metered for 12 months before certification is granted. For example, the water and energy petals demand the building, renovation or landscape and infrastructure be net positive; the building must collect and treat all water on site and produce more energy than it uses.
Both the Steeles and Green Hammer agree the Cowhorn tasting room will achieve full Living Building Challenge certification. "It will be a year of audits and inspections," Bill said, but by the end of the year, Cowhorn's may be the 41st building in the world that will be fully certified, the first tasting room fully certified and the first commercial building in Oregon fully certified.
Cowhorn's new tasting room is not only sustainable, it is stunning. The building is a beautiful assembly of recycled steel, cork walls that soften sound and insulates, rock culled from the fields and crushed for foundation and roads, and recycled glass. The rock, steel and cork surfaces are visually appealing and also a tactile delight, the contrast of textures evident to the eye and the hand. The white glass backing the bar reflects the vineyard, surrounding hills and forests, inviting the outside indoors.
The Steeles know first hand both agriculture and winemaking entail much work and a mix of science and art. The new Cowhorn tasting room fuses the science of sustainability and the art of design to represent their wine philosophy, their core beliefs.