Celebrando a las Mujeres
Recognizing wine country's hard-working Latinas
Thousands of Mexican-Americans perform a multitude of skilled jobs within the wine industry, from production and viticulture, to accounting and marketing. In fact, a growing number are becoming winery and vineyard owners. In California, this trend prompted the formation of an organization called the Mexican-American Vintners Association (MAVA) of Napa and Sonoma.
Other national organizations include Vino Latino USA, a company celebrating Latino vintners and winemakers within this country via direct-to-consumer sales, in-home wine tastings called "Vino With Amigos," wine tours and a wine club.
But there still lies a journey ahead.
Despite their productivity and contributions to a rapidly growing industry, many Latinas often remain in the background. Yet, these women work tirelessly, not to mention raising children and communicating effectively in a second language.
They make it look easy, when it is clearly not. Such is the case for the following women here in the Willamette Valley.
The Señoras
For the last 17 years, multitasking and managing Argyle's bottling line has been a standard part of the job for the bottling crew comprised of employees Martha Aceveda, Carmela Reyes and Maria Quiroz. The three women, all from Colima, Mexico, prefer the nickname "The Señoras" and know how to get their work done in record time.
"They literally touch every bottle three to four times in each vintage," said Tara Ambrose, Argyle's cellar master who works with head winemaker Nate Klostermann on the production team. "They keep everything in order to keep the flow going."
The Senoras perform a myriad of cellar duties in their daily routine, from disgorging, bottling and labeling, to wine club packing and more. Yet their work has shifted slightly over the years as technology has improved. In the beginning, they hand-riddled about 1,500 bottles twice a day; now, a gyro machine allows them to riddle 7,500 a day.
"These women taught me a lot about the nature of quality," said Rollin Soles, Argyle's founding winemaker and ROCO's winemaking owner. "It's been a blessing to know them and share such a long, rewarding career with them."
Soles hired the three women and has worked with them throughout many vintages and as the winery grew to its now famed reputation.
Aurora Coria-Day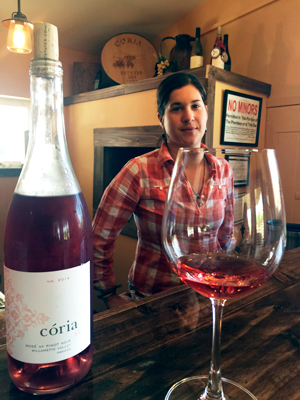 Salem winemaker Aurora Coria-Day is truly a rising star like her name suggests. Her only local Willamette Valley male counterpart is Jesus Guillen, the Mexican-American head winemaker at White Rose and Guillen Family Wines in Dayton.
She makes wines from her family's winery, Coria Estates in Salem. What started as a small 9-acre parcel purchased in 1988 is now a mature 94-acre vineyard owned by the bi-cultural Coria family, including Aurora's father, Louis, who was born in Mexico, and her mother, Janice, who manages the vineyard and administrative side of the business. Her sister, Elizabeth, works in the tasting room.
Coria-Day studied winemaking at Chemeketa Community College's Northwest Wine Studies Center in Salem. Her husband, Brandon Day, manages the public relations and marketing operations. Following an internship at Eola Hills Wine Cellars, she took over the winemaking duties at her family's winery and has produced three vintages since 2014.
Martha Hernandez
Originally from Michoacan, Mexico, Martha Hernandez, owner of Martha's Tacos in Lafayette, arrived to the Willamette Valley via Los Angeles.
In 1997, she started in a small trailer in the McMinnville business parking lot. A year later, she became so popular, she moved to the current location.
Today, she is a catering veteran of countless harvest dinners and winery events. Her restaurant is an iconic industry favorite, where she prepares everything from scratch and knows no strangers. Hernandez learned to cook with her mom in California, who she says taught her everything except carnitas — that she learned from her dad.
Every fall, the tasty but unlikely pairing of Pinot Noir and tacos reigns supreme for hungry harvest crews — OK, so maybe some cerveza is involved, too. Hernandez also annually caters harvest dinners for Matt Pihl and 80 employees of his company, Pihl Excavating.
Gary Mortenson, currently the president at Stoller Family Estate, was the first person to hire her to cater an event when he was the vice president at Sokol-Blosser. He is still one of her biggest fans and the reason she created Gary's Salsa, a spicy chile pepper blend indigenous to her native Michoacan region.
"She's simply a great person and incredible cook," said Mortenson.
Vivian Webber
First-generation industry veteran Vivian Webber planted her Dundee Hills vineyard with husband Arthur Webber in 1972. She was born in Peru to American-Cuban parents and raised globally before joining Oregon's early commercial winegrowing community. She is proud of her heritage and has a master's degree in Spanish literature.
These days, not only does Vivian continue with her growing legacy, she is also a tireless mentor to countless winemakers, vineyard owners and others, including budding vineyard owners Ximena Orrego, co-owner of Atticus Winery, and Sophia Torres, co-owner of Cramoisi Vineyards — Orrego is from Peru and Torres is from Mexico City.
With the talents of all these women and the promise of many more, the Willamette Valley and Oregon's other wine regions will continue to excel with diversity as its foundation.