Cascade Foothills
Winegrowers promote wine, history and family-run estates
Small, independent, family-run wineries, 15 in all, nestled off rural roads on the eastern tier of the Willamette Valley welcome visitors to sample their handcrafted selections in intimate, relaxing tasting rooms. These are the Cascade Foothills Winegrowers, a cooperative group, closely connected to one another through family farming history and agricultural roots.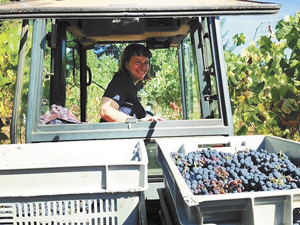 Although they share the shadow of the Cascade Range, they are geographically diverse, spanning 45 miles from the northernmost Villa Catalana Cellars in Oregon City to the southernmost Piluso Vineyard & Winery near Aumsville. Because of the soil type diversity, among other differences, the group is not an AVA but a nonprofit marketing organization.
Several owners gathered recently at Hanson Vineyards in Woodburn to discuss what makes their group so unique.
"We're all farmers and we grow our own grapes, which differentiates us from others," said Jason Hanson, the winemaker on a fourth-generation family farm. The winery's average annual production measures between 1,000 and 2,000 cases — St. Josef's Vineyards & Winery in nearby Canby represents the largest producer in the group, around 5,000 cases.
Hanson, like the majority of Cascade Foothills winery owners, is a self-taught winemaker. "I have a very non-interventionist winemaking policy," he said.
At Whiskey Hill Winery and Postlewait's Vineyards, Chris Helbling, whose wife's family owns the vineyard, has taken on the winemaking responsibilities. "I rely on the help and advice of my neighbor winemakers," he said.
The two most southern wineries in the group, Piluso Vineyard & Winery and Silver Falls Vineyards, have trained winemakers. Sandee Piluso was the first woman to graduate from Chemeketa's Wine Studies program. Jess Defrees, the son of Duane and Gail at Silver Falls, also learned his winemaking skills at the same school.
Of course, Pinot Noir grapes remain a favorite, but they are joined by a wide variety of reds and whites, about 35 to 40 different varieties of grapes among all members. In addition to Chardonnay, Pinot Gris, Riesling and Gewürztraminer, growers have planted red hybrids like Marechal Foch and Léon Millot. Forest Edge Vineyard, owned by Jan Wallinder and Ron Webb, features six acres of grapes on a 45-acre farm in Beavercreek; the couple harvests their apples and pears for hard cider.
On Hanson's 70-acre family farm, with 13 acres planted to vines, one of the more unusual grapes grown is Golubok, a Ukranian cool-climate red he acquired from a Washington nursery. "In this area, we have a large number of Russian immigrants. I grew up with many Russian kids," he explained. "I thought it was a nice nod to this area's history. Also, we have a lot of Russian folk who visit the winery."
The vines at St. Josef's, one of Oregon's pioneer wineries, were planted in 1978 and 1979, including the first Syrah in the Willamette Valley — planted in 1993. It was bonded as a winery in 1983. Celebrating all its accomplishments over the years, the winery will commemorate its 40th anniversary with a grand event, April 7 and 8, at the estate.
Owner Josef Fleischmann, a baker by trade, is a winemaker at heart. Originally from a winemaking family in Hungary — his family moved to Germany when the winery was taken over by the Communists — he moved to Chicago as a young man. In the Windy City, he met his wife, Lilli, who had also grown up in Germany; they headed west after falling in love with Portland during a visit.
He put in a blind bid on a 64-acre farm and felt surprised when it was accepted. They moved in October 1970. He opened a chain of bakeries and was making artisan breads long before their current popularity.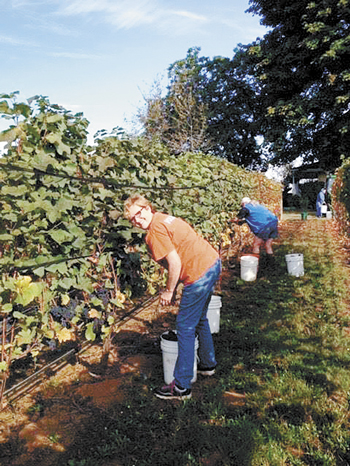 "They were surrounded by big family farms and at first planted vegetables, like corn and cauliflower. His first grape planting was on a picturesque hillside. He started with 20 acres and now has 40," said Tara McKnight, his daughter.
Josef started experimenting with winemaking long before he officially opened the winery. "Back then, the Oregon State Fair was the who's who of wineries," said McKnight. "His early Pinots and Cabs won national awards, golds mostly."
About 15 years ago, Tara and her husband, Carl McKnight, returned to the area, becoming involved in the family business while establishing their own winery label in Aurora, Pheasant Run. They purchased the historic 1905 Aurora State Bank Building for their unique vault tasting room.
The couple purchases grapes from Walla Walla for their bold, red wines; while St. Josef uses estate-grown fruit, except for Cabernet and Merlot grapes from Layne Vineyards in Grants Pass. Carl has taken on most of the day-to-day winemaking responsibilities, but Josef remains the final winemaking authority.
At Alexeli Vineyard & Winery in Molalla, owned by Phil and Heidi Kramer, grapegrowing and winemaking are Phil's passion. They moved 11 years ago to the Portland area to begin the restoration of a dilapidated vineyard and property with the hope to create a sustainable method of viticulture and lifestyle. The couple owns 18 acres of LIVE-certified grapes. He explains, "My first love is growing grapes. I do much of the vineyard work and enjoy the winemaking process from beginning to end."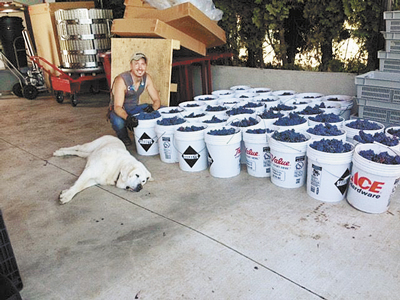 From the beginning, the Kramers have been focused on sustainability, installing 10kW of electrical panels, using lighter glass, composting all of their waste on site, among other practices, as well as creating a small keg program with the hope to reduce waste even more.
Four years ago, he became one of the major partners in Coopers Hall, an 8,000-square-foot urban winery, restaurant and event space in downtown Portland. Kramer is the head winemaker, providing much of the kegged wines. "A challenge is inventory, making sure we have enough wine and that it's released at the right time. Usually, we have a tap list of around 35 wines, and 13 or more are mine. Sommelier Joel Gunderson sources excellent regional wines," said Kramer.
Alexeli's bottled wines are only available in the tasting room and by direct distribution.
With its proximity to the larger metropolitan Portland area, many of the Cascade Foothills' wineries are popular event destinations, particularly for summer weddings. But, the major business and focus for most are the grapes and the wine.
"We still encounter people who don't realize there are grapes here," Hanson said. "We have several large growers in our footprint area, around 2,000 acres of grapes in all."
April 28, noon to 5 p.m, the Cascade Foothills Winegrowers will host a special event to kick off Oregon Wine Month at the Mt. Angel Community Festhalle with "Taste. Learn. Celebrate!" On site will be a giant grape harvester, corkers, bottling lines, presses, crushers and more. Guests can cork a bottle and put a label on it, as well as participate in barrel tasting and blending. The festivities include small plates for purchase, drawings for gift baskets, music, a slide show and a central location to purchase wine.
The event, in its third year and growing, is primarily meant as an introduction to the Cascade Foothills Winegrowers and their passport, which offers wine tasting for two at all 15 wineries, May 1–June 30, with special deals included at each tasting room. The proceeds from the passport sales along with yearly dues fund the volunteer organization, which meets six to eight times a year for business and pleasure.
Tickets for "Taste. Learn. Celebrate!" are available at the door for $15 and include tasting with all 15 wineries and 60 wines. Passports are accessible online at www.cascadefoothillswines.com.