Cabal of Wine
Venerable growers' group still going strong
To the casual observer, the Willamette Valley Growers' Group looks like a recruiting campaign for the leisure and success that awaits anyone with dreams of growing grapes and making wine here. At the group's annual summer potluck, held Aug. 3 at BeckenRidge Vineyard in Dallas, members assembled on the veranda, making light conversation while swapping stories about business.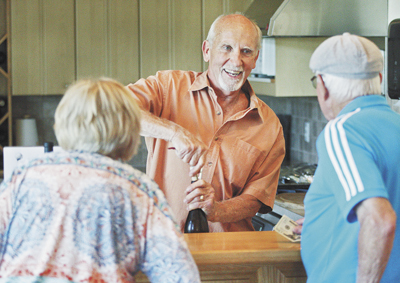 Ray Straughan is one of the members, and a fine example of the caliber of winemaker belonging to the club. Relaxing with a glass of Pinot, the retired CPA jokes with Charlene and Steve Dunn of Redgate Vineyard. Straughan, who began 30 years ago with a stand of 30 vines in his Corvallis backyard, sold his 60-acre Helmick Hill Vineyard two years ago. Asked about the nature of the growers' group, he makes light of its almost nonexistent structure.
"I'm emeritus now," he said. As for his new vocation?
"I'm becoming a golf pro," he answered.
Since 1978, this de facto secret society of Willamette Valley winemakers — an almost viticultural version of the Bilderberg Group — has met on the first Tuesday of each month. Typically, they meet at McNary Golf Course in Keizer, where some will get in a round before the meeting in the clubhouse, at which the group hosts a speaker and enjoys networking as well as trading techniques and equipment.
More importantly, the group is not competitive.
"It's a great group for new people in the industry," said Carolyn Byard, a member since day one. Her husband, Don, co-founder of Hidden Springs Winery, formed the group, but she explains with a smile that he's not present tonight because he's fishing in Wrangell, Alaska. Once again, the leisure component of the group cannot be overstated.
"We get together and tell stories and drink wine," said Carolyn. "It's one of those collegial groups that are hard to come by. We have no bylaws, no dues, no officers."
And at the annual summer picnic, there's no guest speaker. They simply gather and enjoy the evening.
On another level, the group is a social club for people who found professional success before deciding they might like to make wine. Jack La Rue sold aircraft on the international market for more than 30 years before buying Holmes Gap Vineyard in Rickreall. He describes his 165-acre vineyard, where he and his wife, Cheri, produce Pinot Noir and Pinot Gris, like it's a relaxing hobby. Like all the other members, they're having fun with their newfound direction.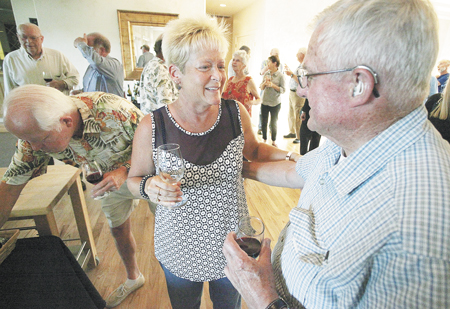 "We have boulders from the Missoula Flood on our land!" says Cheri, holding up an iPhone photo of their dog standing on a giant rock. Boulders that traveled from what is now Montana more than 10,000 years ago in a massive flood that created the Willamette Valley are certainly something to be excited about.
While members mingle and enjoy a spread of potluck fare, looking very relaxed, host Ken Jacroux slices pork loin for the guests.
"If you don't like garlic, then you won't like this one," he warns with a smile. "A vampire would never get near this pork loin."
Jacroux is another valley winemaker with that magic light around him. It's almost as though he woke up one day and decided to materialize a wine business from scratch. He'd flown for the Navy before working as an engineer designing control towers for airports. But one day in 1999, he decided to buy a vineyard.
"That was back when everyone was having weddings out in the country," he said. "So we didn't have this building here (referring to the reception hall and veranda where this potluck is happening) but we started booking weddings on our back patio."
It didn't hurt that a rolling and lush vineyard surrounded the property. Eventually, he built the venue, specifically to host such events, and hasn't looked back. Designing a wedding site, Jacroux admits, was a bit less technical than control towers, but he's enjoying the ride.
Others in the group relate having been romanced by wine decades ago. Betty O'Brien and her husband, Dick, planted Elton Vineyards in 1983, a decade after they bought the land just six miles from where she grew up in the Eola Hills. She said her inspiration struck in 1980, when she and her husband were floating down the Rhine River in Germany.
"We noticed all the romantic vineyards along the bank," she said.
Dick was a teacher in Salem, while Betty worked in public relations; suddenly, they leaped into the world of winemaking.
For all members of the group, it seems the choice to change careers to wine was born from an interest in a leisure industry, and for all of them, it worked. And again, for any up-and-coming vineyard aspirationists, joining the Growers' Group could very well be all the encouragement needed for success.
"It's unlike anything else I've ever been a part of," said Betty.
Of course, as we've mentioned, there's a hint of secret society that cloaks the group, so joining is not as simple as getting a gym membership, but it's likely a lot more fun — plus, there is a newsletter. Membership is purely born from word-of-mouth, and anyone interested in growing grapes can belong.
That means anyone, including someone like this reporter, who right now has nine hopeful vines growing from cuttings in his backyard.
So whether you're a comfortable and established retiree with the resources to launch a vineyard, or just a backyard viticulturist with dreams of someday sipping wine on a veranda, having sold 60 acres, this cabal could be for you. The golf is optional.
In the years before Neil Zawicki landed in the Willamette Valley, he spent his time as a reporter in Alaska, and a sailor with an address in a California marina. In his spare time, he's a student of history, a painter and a guitar player.