Burning Issue
What did the flames and smoke reveal?
Good riddance to lousy films, like "A Walk in the Clouds." The handsome stranger saves the vineyard for another release while proving his manhood to the crusty owner and romancing the owner's beautiful daughter. The movie's sepia-saturated colors lend it a squishy chick-flick ambience, and the fires in the vineyard look worse than 1906 San Francisco. This is, of course, Hollywood. Nothing is real except a valedictory star turn by Anthony Quinn, reprising Zorba as a Californio.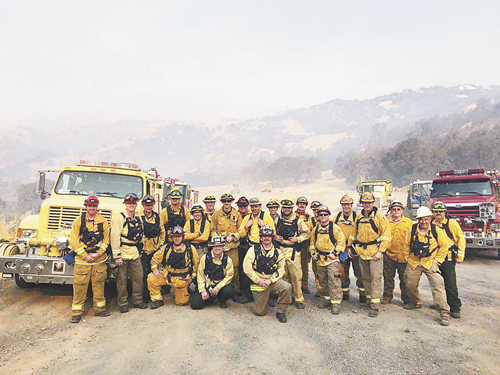 Vines don't ignite like kindling; in fact, vineyard plantings inhibit rapid conflagrations, as we will see below. Call this fact this the first general lesson of our fire primer.
The goal of any armchair commentator is to draw the general impressions of such a catastrophic event without the salacious appeals of the other media. Existential threats raise general observations whereas the immediate emergency poses other ones. My goal is to examine the former in order to understand how those most affected act when all hell breaks loose.
The second general lesson is to take television news with plenty of salt. I know; I was in the business. The close-ups and aerial shots rarely depict the actual terror or confusion of such events. Being on the story does not assure really knowing the whole story.
Early media coverage, as usual, offered schadenfreude info-tainment with little connection to reality. As Gladys Horiuchi of the California Wine Institute noted, "The world beyond the wine country in other states or abroad got the impression the whole place burned down."
As if to reinforce these points, Sally Murdoch, head of communications at the Oregon Wine Board, described her first days on the job as a figurative baptism of fire at Eagle Creek, threatening the producers in the Columbia Gorge. Her crucible occurred some weeks prior to California's fires, but the impulse felt similar: Let winemakers and growers handle the emergency rather than fan flames by imprudent speculation until the impact could be assessed. This attitude is diametrically opposed to the broadcast outlets where urgency trumps all perspective in an imaginary footrace for a scoop.
For example, many news reports about the 40-plus mile closure of I-84 passing through the Gorge really just counted only the days closed rather than provide any relevant information about how people were getting along or how goods were transported to and from the affected areas. Instead, the media focused on the firestarter, a 15-year-old, and whether he would be charged as an adult.
At Phelps Creek above Hood River, owner and winemaker Bob Morus explained he lacked sufficient bottles to release some 2016 wines because normal transport could not make the delivery. No drama means no coverage, as such an interruption is not a photo-op.
The biggest lesson of all teaches that the unthinkable can happen, again. The damage stats will accumulate, and the Phoenix will rise once more. The real solutions, however, are being created among winemakers and growers who did not "walk in the clouds."
Growers and winemakers are preparing for the next untoward event, notwithstanding broadcast media's penchant to exaggerate these very destructive conditions for rating points — see The Oregonian, Jan. 28, 2018, on Napa and Sonoma industry recovery.
We start with vines. Given enough heat, a vine can burn. Unlike many conifers and deciduous trees, however, the arrangement of vines tends to produce a plot not easily combusted. This is not to suggest immunity; chosen groundcovers between the rows can ignite unless managed with care.
Phelps Creek's Morus recounts how for two weeks after Eagle Creek began, the prevailing winds in the Gorge actually kept flames from spreading. This enabled the vintner to bathe threatened areas with water. In addition, the team made impromptu improvements to perimeters, removing fuel-potential vegetation. To these efforts, the winery kept close tabs on weather conditions, with even greater assiduity than usual.
"The fire was out there 13 miles away until the winds reversed direction," Morus recalled, "but jumped to within four miles before it was controlled." We need to remember how microclimates, so characteristic of what makes Oregon's wine so appealing, become a liability when wind patterns whirl around as if auditioning for "Dirty Dancing."
We know where there's fire, there's smoke, too. Readers may remember the Syrah released by Troon Vineyard of Jacksonville, that showed much of what we would usually associate with beef jerky. Oddly, what signalled a minor debacle turned out to be adored by consumers. Go figure.
When not harassed by flames and sparks, the greater threats become ash and smoke.
A pall hovered over the Rose City as Eagle Creek incinerated itself. The nature of winemaking is, to no small degree, grape skins. They absorb as they protect; but as ash settles, they starve by excess of the fire's obnoxious by-products. Worse, the skins absorb the detritus, demanding winegrowers to assess the damage through lab testing.
Varietals intended for red wines are even more at risk given the necessities of skins in their production. "We don't want wine to taste like a wet campfire," said one vintner, adding how this summer of smoke really started in Canada's western provinces much earlier.
The good news in controlling the flames at last is shadowed by the clinical results suggesting the smoke will permeate fruit and cause organic changes long after the fires cease. This occurred at Troon a few years ago.
To this hazard, Bill Steele of Cowhorn Vineyard, a Biodynamic farm and vineyard in Southern Oregon, ran a 24-hour marathon for his white wine grapes, picking them, stemming, crushing, tanking and racking the grapes that power his portfolio, such as Viognier and his Spiral blend. "We irrigated the surroundings and moved quickly," he said.
Boutique wineries such as Cowhorn and Phelps Creek cannot afford to trash an entire harvest anymore than they can risk releasing wine tainted by smoke — as welcome to the release as ants to a picnic lunch. The obvious net damage threatens the bottom line; the kind of write-off nobody likes.
"A larger producer with many fruit sources going into more value winemaking can rule out fruit suspected of taint, even if there's little apparent evidence of smoke damage," Steele said.
Wineries appeared to benefit from discussions spurred by the unfortunate fire season. One needs to get expert opinion from oenologists coming out of laboratories, trade groups and university wine programs. With collaboration so characteristic of Oregon's wine industry, it should not surprise anyone that as wineries took care of their own, they also helped the guys over the yonder rise.
Combined efforts paralleled practical self-interest. What impresses remains the resilience of proprietors, workers and neighbors.
One absolute certainty: Like Roger Maris' 61-home run season record, Oregon's 2017 vintage will sport an asterisk, as well.