Building Legacy
Eola Hills' estate vineyard a true showpiece
At 4 p.m. on a summer afternoon, a stage is prepared beside lush, manicured grass and a small lake for a concert scheduled to start in three hours. Acres of Pinot Noir provide a visual backdrop, extending above and beyond the amphitheater at Eola Hills Wine Cellars' Legacy Estate Vineyard.
More than 700 concertgoers fill this outdoor amphitheater by showtime, waiting to hear Nashville-based duo Cloverdayle. Parked cars overflow available space more than 100 hundred yards down the gravel lane to Oak Grove Road. Before the night is finished, music lovers buy in excess of 650 bottles of Eola Hills wine.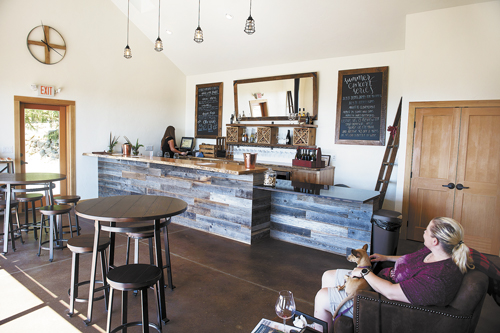 Legacy Estate Vineyard, along with the company's Wolf Hill and original Oak Grove vineyards, stretch along the eponymous road as it runs north of Highway 22 in West Salem. New facilities on the 162-acre Legacy Estate property, located in the Eola-Amity Hills AVA, opened this Memorial Day Weekend after nearly a decade of development, adding another venue for the Rickreall winery known for hosting a variety of special events.
"We do all kinds of stuff that don't have anything to do with wine, but they bring people together," Eola Hills Wine Cellars principal owner Tom Huggins says of the organization's sports bus trips, European wine tours and wine country bike rides. "You figure out ways to bring people together and we've tied it to wine. You're building a customer base."
With Legacy Estate Vineyard, Eola Hills has expanded into concert promotion, wedding planning, even camping.
"This is my happy place," special events coordinator Rachel Schroeder says, looking across the Legacy Lake amphitheater as she preps for the Cloverdayle show. "I believe most people will feel the same way when they come out. It's absolutely breathtaking here at the lake. This venue can be used for many events … weddings, fundraisers. It's got a lot of potential."
Wine Tasting Experience
The Legacy Estate tasting room, open daily, is a small wood-paneled building, one of the first structures visitors find driving up the gravel lane. A large, glass garage-style door frames panoramic views to the southwest across more than three acres of Marechal Foch vines to the Coast Range. "That's what makes this place," Huggins says.
A stone patio wraps around the building. Tables, chairs and benches allow visitors to enjoy the afternoon breeze with their wine. Three gas-fed firepits sit on wine barrels to help on colder days.
Legacy Lake, with its sprawling lawn and vineyard views, is a short walk beyond the tasting room. Looking uphill from there, it's difficult to imagine this was once a forest with a steep canyon slicing through. Huggins explains how a timber company harvested the trees and then sold the land to Eola Hills 10 years ago, leaving the winery with a hillside of stumps.
"We put all the stumps in the ravine, took the dirt from digging the lake out and we buried the stumps with 10 feet of dirt," he says. "Otherwise, we wouldn't have been able to plant here."
Eola Hills also takes advantage of two springs originating at the top of the property. Pipe extending from one source was buried with the stumps, so the water could flow to a small, manmade waterfall and cascade into the lake.
Smaller blocks of Marechal Foch, white Riesling, Cabernet Sauvignon, Chardonnay and Pinot Gris are planted alongside 56 acres of Pinot Noir. "This hillside (with its southwest exposure) gets really warm. That's why we planted Cab here," Huggins says. "A lot of people don't think you can grow Cab here, but we've gotten it ripe every year."
The estate's topography is as unique as the Eola-Amity Hills AVA. Prehistoric volcanic eruptions covered the area with basalt. Nekia and Jory soils cover the basalt at higher elevations, topping out at 427 feet. Fossil-rich soils from ancient marine sediments are evident elsewhere. Countless basalt boulders, red from iron oxidation, were pulled from the hillside and incorporated into landscaping walls throughout the property. Fledgling olive trees are being planted atop the walls and along the site's winding lanes.
Planning Future Growth
While the tasting room and Legacy Lake attract the most attention, Huggins and his team also created The Sanctuary and Cathedral as more secluded, private spaces shaded under white oaks for smaller weddings, events or simply camping. The Grove, a level parcel of land among the vines, offers a shady spot for farm-to-table events, Schroeder says.
The plan also calls for a sparkling facility low on the hillside and a boutique inn on a small knoll at the top. Land zoning permits a five-unit bed and breakfast, Huggins says. "It will be like an inn and spa. That's what I'd like to do."
Legacy Estate Vineyard fits Eola Hills' mission to blend wine and entertainment.
"I think there's a lot of potential," Schroeder says. "It's very comfortable out here. You get to log off or turn off. You can come out here and camp, or simply enjoy this beautiful lake and the incredible view."