Building Björnson
Eola-Amity Hills winery opens tasting room
Björnson Vineyard
Details:
TASTING ROOM
3635 Bethel Heights Road N.W., Salem
HOURS
Thurs.–Mon., 11 a.m. to 5 p.m.
PHONE
503-877-8189
WEB
www.bjornsonwine.com
In the heart of the Eola-Amity Hills, between Salem and McMinnville, a new tasting room has opened on Bethel Heights Road, a welcome addition to the popular Polk County neighborhood.
Opening July 1, the Björnson Vineyards tasting room is a dream realized for owners Mark and Pattie Björnson. Having met in college, the couple discovered they shared a desire to live in the country, plant an orchard and raise a big family. After a month-long bike trip through Europe that included stops at many small wineries, the plans for their land changed into establishing a vineyard, building a winery and, now, a tasting room.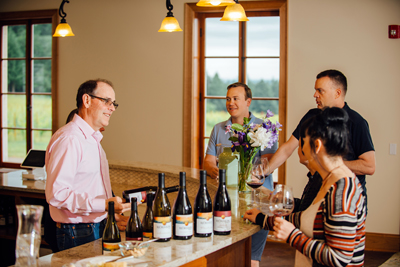 Inspired by the European style, the new space is modeled after a French country farmhouse, featuring limestone, copper gutters and a tile roof. The light, airy and spacious tasting room is elegant without being ostentatious, and charming without airs — much like the Björnsons themselves. As Thor, the goofy and extremely friendly Labradoodle, exuberantly greets guests, any perceived pretention vanishes before even entering the doors.
The tasting room features a large stone fireplace suggesting warmth and coziness in winter months, and a spacious deck for soaking up views — on a clear day, both Mount Hood and Mount Jefferson are on prominent display. Along the bar, visitors tend to gather, tasting the estate wines and chatting with winemaker Pattie Björnson.
When the Björnsons purchased the property in 2006, the 107-acre site was a Douglas fir timber farm. The couple planted the first block of vines in 2006, two more in 2009 and the last in 2012. The estate's 28 acres are currently planted to Pinot Noir, Chardonnay, Auxerrois and Gamay Noir.
King Creek runs through the land, and a magnificent 20-foot cascading waterfall divides the Björnson property from adjacent Seven Springs Vineyard. Ultimately, the Björnsons plan to create groomed walking trails to the waterfall area with places to picnic, but that is still a future vision.
Having recently purchased another 85-acre parcel southwest of their estate in the Van Duzer Corridor, the Björnsons intend to plant 15 to 20 different grape varieties, including Trousseau Noir, Melon de Bourgogne, Chenin Blanc, Aligote, Gouais Blanc, an ancient white grape planted in Medieval times and seldom grown today, and Mondeuse Noire, an obscure red variety grown primarily in the Savoy region of eastern France.
"We intend to have lots of small plots of weird grapes, but, ultimately, we need to learn the site and what will ripen there," Mark commented.
Construction on the winery, which sits underneath the new tasting room, started in 2013. Mindful of the environment, the Björnsons constructed the building using Insulated Concrete Forms (ICF). The walls are very thick with a concrete core sandwiched between two thick layers of insulation.
"It takes very little energy to heat and cool the winery," Pattie explained. "In addition, we generate electricity for the building with a 10kW photovoltaic solar array, and generate hot water for the building using two solar thermal collector panels.
In 2014, they took occupancy of the production facility, merely five days before harvest began. The facility now allows the Björnsons to lease production and storage space to clients, such as Helioterra Wines and Grochau Cellars; Harper Voit and Elemental Cellars will join this coming harvest.
While 2009 was the Björnsons' first commercial vintage, you may already be familiar with the Björnson Vineyard name as it has appeared on a number of Oregon wine labels, such as Helioterra, Grochau, Haden Fig, Aberant Cellars, Elevee, Division Wine Co., Vincent Wine Co, Welsh Family Wines, Ore Winery, Evening Land, Fullerton Wines and Failla Wines.
If you visit Björnson, makes plans to taste at nearby wineries, such as Bryn Mawr, Bethel Heights, Cristom, Walter Scott Wines, Witness Tree and St. Innocent.
Tamara Belgard is a freelance writer who explores the Oregon wine scene from her home in S.W. Portland.