Budding Interests
Oregon AVAs offer growing variety of Vitis vinifera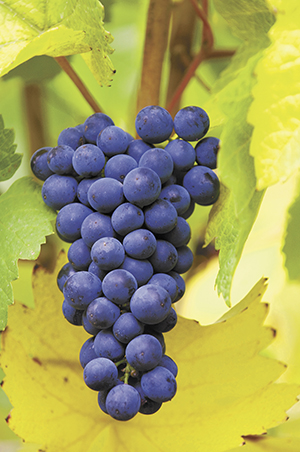 WILLAMETTE VALLEY
Main: Pinot Noir, Pinot Gris, Chardonnay
More: Auxerrois, Cabernet Sauvignon, Chardonnay, Chasselas, Dolcetto, Friuliano, Gamay Noir, Gewürztraminer, Grüner Veltliner, Maréchal Foch, Melon, Müller-Thurgau, Muscat, Muscat Ottonel, Nebbiolo, Pinot Blanc, Pinot Meunier, Riesling, Sauvignon Blanc, Sémillon, Sylvaner, Syrah, Tempranillo
CHEHALEM MOUNTAINS
Main: Pinot Noir, Pinot Gris, Chardonnay
More: Gamay Noir, Gewürztraminer, Maréchal Foch, Pinot Blanc, Riesling, Syrah
RIBBON RIDGE
Main: Pinot Noir, Pinot Gris, Chardonnay
More: Cabernet Sauvignon, Gamay Noir, Gewürztraminer, Riesling, Sauvignon Blanc
DUNDEE HILLS
Main: Pinot Noir, Pinot Gris, Chardonnay
More: Friuliano, Melon de Bourgogne, Müller-Thurgau, Muscat Ottonel, Nebbiolo, Pinot Blanc, Pinot Meunier, Riesling, Trousseau Noir
YAMHILL-CARLTON
Main: Pinot Noir, Pinot Gris, Chardonnay
More: Dolcetto, Gamay Noir, Gewürztraminer, Melon de Bourgogne, Muscat, Muscat Ottonel, Pinot Blanc, Pinot Meunier, Riesling, Syrah
EOLA-AMITY HILLS
Main: Pinot Noir, Chardonnay, Pinot Gris
More: Auxerrois, Gamay Noir, Grüner Veltliner, Gewürztraminer, Pinot Blanc, Riesling, Sauvignon Blanc, Syrah, Tempranillo, Viognier
McMINNVILLE
Main: Pinot Noir, Pinot Gris, Pinot Blanc
More: Chardonnay, Gewürztraminer, Müller-Thurgau, Riesling, Syrah
SOUTHERN OREGON
Main: Pinot Noir, Merlot, Cabernet Sauvignon, Pinot Gris, Syrah, Chardonnay, Cabernet Franc, Riesling, Tempranillo, Gewürztraminer, Viognier
More: Albariño, Baco Noir, Canelli, Carménère, Chenin Blanc, Dolcetto, Graciano, Grenache, Malbec, Marsanne, Montepulciano, Mourvèdre, Müller-Thurgau, Muscat, Nebbiolo, Petit Verdot, Petite Sirah, Pinot Blanc, Pinotage, Primitivo, Roussanne, Sangiovese, Sauvignon Blanc, Sémillon, Tannat, Touriga Nacional, Vermentino, Zinfandel
UMPQUA VALLEY
Main: Pinot Noir, Pinot Gris, Riesling, Syrah, Tempranillo
More: Albariño, Baco Noir, Cabernet Franc, Cabernet Sauvignon, Chardonnay, Dolcetto, Gewürztraminer, Graciano, Grenache, Malbec, Merlot, Muscat Canelli, Pinot Blanc, Sauvignon Blanc, Sémillon, Zinfandel
RED HILL DOUGLAS COUNTY
Main: Pinot Noir, Chardonnay, Riesling
ELKTON OREGON
Main: Pinot Noir, Pinot Gris, Gewürztraminer, Baco Noir, Riesling
ROGUE VALLEY
Main: Syrah, Merlot, Cabernet Sauvignon, Pinot Noir, Chardonnay
More: Cabernet Franc, Carménère, Chenin Blanc, Dolcetto, Gewürztraminer, Grenache, Malbec, Marsanne, Montepulciano, Mourvèdre, Müller-Thurgau, Muscat, Nebbiolo, Petit Verdot, Petite Sirah, Pinot Blanc, Pinot Gris, Pinotage, Primitivo, Riesling, Roussanne, Sangiovese, Sauvignon Blanc, Sémillon, Tannat, Tempranillo, Touriga Nacional, Vermentino, Viognier, Zinfandel
APPLEGATE VALLEY
Main: Merlot, Cabernet Sauvignon, Syrah, Chardonnay
More: Cabernet Franc, Marsanne, Petite Sirah, Primitivo, Riesling, Roussanne, Sangiovese, Tempranillo, Vermentino, Viognier, Zinfandel.
COLUMBIA GORGE
Main: Pinot Noir, Syrah, Pinot Gris, Riesling
More: Albariño, Aglianico, Barbera, Cabernet Franc, Cabernet Sauvignon, Chardonnay, Dolcetto, Gamay Noir, Gewürztraminer, Grenache, Grüner Vertliner, Lemberger, Malbec, Marsanne, Merlot, Mourvèdre, Muscat, Nebbiolo, Pinot Blanc, Primitivo, Roussanne, Sangiovese, Sauvignon Blanc, Tempranillo, Viognier, Zinfandel
COLUMBIA VALLEY
Main: Merlot, Cabernet Sauvignon, Chardonnay, Sauvignon Blanc, Riesling, Gewürztraminer, Sémillon, Pinot Gris, Chenin Blanc, Syrah
More: Barbera, Black Muscat, Cabernet Franc, Carménère, Counoise, Gamay Beaujolais, Gamay Noir, Grenache, Lemberger, Malbec, Marsanne, Morio Muskat, Mourvèdre, Muscadelle, Muscat Canelli, Nebbiolo, Orange Muscat, Petit Verdot, Petite Sirah, Pinot Blanc, Pinot Meunier, Pinot Noir, Roussanne, Royalty, Sangiovese, Siegerrebe, Viognier, Zinfandel
WALLA WALLA VALLEY
Main: Cabernet Sauvignon, Merlot, Syrah
More: Barbera, Cabernet Franc, Carménère, Chardonnay, Cinsault, Counoise, Dolcetto, Gewürztraminer, Malbec, Nebbiolo, Petit Verdot, Pinot Noir, Sangiovese, Sémillon, Viognier.
THE ROCKS DISTRICT OF MILTON-FREEWATER
Main: Syrah, Viognier
More: Cabernet Franc, Cinsault, Tempranillo
SNAKE RIVER VALLEY
Main: Cabernet Franc, Cabernet Sauvignon, Carmenére, Grenache, Chardonnay, Chenin Blanc, Gewürztraminer
More: Canadice, Cinsault, Lemberger, Malbec, Merlot, Mourvèdre, Riesling, Syrah
There's a sort of alchemy involved in creating a proper bottle of wine: soil conditions, drainage, climate variations, topography and even global position all need to line up perfectly for a skilled winemaker to not only cultivate the grapes but produce the wine.
These specific elements come together in distinct areas, where vintners establish waypoints on a map of American Viticultural Areas. There are more than 200 such areas nationwide; 18 are in Oregon. For a wine to be affiliated with any given AVA, 85 percent of its grapes must be grown there.
Because climate and geological conditions are key to successful winemaking, it is pertinent that a massive climate-related event altered the geology of Oregon's largest AVA, which became the cradle of winemaking here. The Willamette Valley was formed a little over 10,000 years ago when a glacial dam in what is now Montana burst, sending millions of gallons of ice-age water roaring west. Once the Missoula Floods reached what is now Oregon, the torrent rushed through the Columbia Gorge and into the area where Portland now stands.
The flood would have reached to within 10 feet of the top of the tallest building in that city, where it hooked a left and went rolling south, carving the land we now know as the Willamette Valley, leaving boulders that had tumbled 600 miles, encased in ice, bobbing on the waves of the cataclysm. Had that glacial dam not burst, the conditions for vineyards in the Willamette Valley would likely not have formed, and the groundwork for AVAs here might not have materialized.
Today, thanks to pioneers who recognized an opportunity to grow winegrapes in Oregon, and in most cases did so despite a chorus of naysayers, we enjoy the work of vintners from all of Oregon's AVAs. To some, these recognized areas may be simply designated territories. To others, location is elemental to the specific personality of any glass of wine. The French call this "terroir." In Oregon, we call it a "sense of place."
Some 54 years ago, one such pioneer, Richard Sommer, recognized this sense of place in the Umpqua Valley and planted a variety of winegrapes at his HillCrest Vineyard, including Oregon's most celebrated, Pinot Noir. In 1965, David Lett followed suit, planting the first Pinot in the Willamette Valley — near Corvallis on a test site — and then onto the Dundee Hills, where David and his wife, Diana, established their vineyard. Ten years later, The Eyrie Vineyards produces its South Block Reserve Pinot Noir, which trumped French competition at a Paris wine tasting in 1979.
Oregon Pinot Noir was officially on the map.
Adventurous entrepreneurs joined the Letts in those early years — Charles and Shirley Coury, Dick Erath, Dick and Nancy Ponzi, David and Ginny Adelsheim, Susan Sokol Blosser and Bill Blosser, Joe and Pat Campbell, Myron Redford and others — and all made Pinot Noir a priority, building a solid foundation for Oregon wine's success.
While Pinot Noir dwarfs all other varietals in overall production, the state is more than simply one variety. Oregon grows and produces an array of wines. In fact, while Sommer is known for Pinot Noir, he also planted Riesling, Gewürztraminer, Chardonnay, Sémillon, Sauvignon Blanc, Cabernet Sauvignon and Zinfandel at HillCrest.
So what other varieties could Oregon champion? Of course, Pinot Gris and Chardonnay are established in the Willamette, as well as Tempranillo in the Umpqua, and other varieties elsewhere — see sidebars. To start the conversation — it will take years to finish this story — OWP asked winegrowers across the state's 18 AVAs: Which not-so-known varietal do you see most potential in growing and marketing?
Starting with the Willamette Valley, more specifically, the McMinnville AVA, Scott Neal of Coeur de Terre Vineyards says Syrah.
"Coeur de Terre, as well as Brittan Vineyards, has planted Syrah, and so far, I am very impressed with the wines coming from our AVA," Neal notes. "Even though we will always be primarily known for Pinots, Syrah for our area has a vibrancy and life in it that I have rarely seen. I am very excited to see how this varietal develops."
Neal also spoke of the AVA's most unusual varietal with major potential: Grüner Veltliner.
"We have some Grüner planted, which we will see our first harvest from in 2015. My hope is for vibrancy and acidity."
John Paul of Cameron Winery in the Dundee Hills AVA gives a nod to Nebbiolo or Friuliano, which to his knowledge, are the two most unusual varietals grown in Oregon's famous Red Hills.
"I grow both since I have a fascination with things on the edge," Paul says. "The Friuliano is a main constituent of my Giuliano blend and always gives wonderful things to that wine — grapefruit rind, floral components, mouthfeel. The Nebbiolo is a challenge since it is so different from any other red that I have ever dealt with. But, that being said, it is capable of producing complex wines reminiscent of Piedmontese wines from the same variety."
Tom Fitzpatrick, winemaker and general manager of Alloro Vineyard, in the Chehalem Mountains AVA, says while Pinot Noir and Chardonnay are kings of their hill, it is their little-known Riesling that could join in their nobility.
"There are particular sites in the Willamette Valley with the proper meso-climate that provide the conditions for Riesling to ripen very slowly, but allow for a late enough harvest to allow this variety to build beautiful and complex flavor and aroma."
In the Eola-Amity Hills, Janie Brooks Heuck of Brooks Wines also loves Germany's famed white.
"To make a great Riesling, you must have acid," Brooks Heuck explains. "The Van Duzer Corridor provides strong winds in the afternoons and evenings that cool down the vineyards in the Eola-Amity Hills. This, combined with many higher elevation vineyard sites in the Eola-Amity Hills, allows for great acid retention in the grapes. A great environment to grow Riesling."
To the north and east, Brian Roy of Watermill Winery in the brand-new Rocks District of Milton-Freewater AVA — located in the Walla Walla Valley — believes Cabernet Franc and Tempranillo demonstrate the most potential.
"These are massive reds that show terroir and varietal characteristics," Roy says. "It's a small production varietal that could be large someday."
In Southern Oregon's Applegate Valley, Herb Quady, owner/winemaker of Quady North Wines, has his eye on Grenache Blanc.
"We've made this for a few years now, and we are really excited with the results. It seems like there is always room for another fresh, bright, food-friendly white as alternative to Pinot Gris or Riesling."
Quady's also keen on another white: Vermentino.
"In the same vein as Grenache Blanc in that it's a naturally low alcohol white with good acidity that ripens moderately late in the season. I made this when I was at Troon and it received a lot of acclaim.
Back north to the Willamette Valley and the vineyard that put Pinot on top, David Lett's son, Jason, looks back at 50 years of his family's quest of perfecting Pinot Noir, as well as Pinot Gris — Eyrie planted the first in the U.S. — but Jason also looks forward, continuing his father's spirit of experimentation with a variety most of you have never heard: Trousseau Noir.
Like father, like son. If Trousseau becomes as well-regarded as Pinot Noir, it will be another one for the record books.