Bubbling Brew
Sparkling bewitches Oregon industry
Sparkling wine demands time, toil and treasure. It's also seductive as hell. Just ask Oregon winemakers. Already renowned for premium Pinot Noir, the state now threatens to outshine other wine regions in bubbles. Many ascribe this burgeoning fizz fame to a far-flung band of passionate winemakers as diverse as their respective terroirs and as complex as the sparkling they craft.
Trailblazers
Willamette Valley winemakers represent a history of leading, not following. If you've tasted a bottle of this gnarly region's bubbles, chances are one of two men had a hand in it: Rollin Soles or Andrew Davis. Many credit Soles of ROCO Winery for getting the ball rolling and Andrew Davis of The Radiant Sparkling Wine Company for advancing it down the field. Together, their respective legacies account for a major touchdown in Oregon méthode Champenoise or méthode traditionelle, the Old World method developed in Champagne.
Soles founded Argyle Winery in 1987 in Dundee with a specific intent: to produce world-class sparkling wine in the Willamette Valley. A pragmatic, handle-bar-mustachioed Texas Aggie, Soles blames luck for his eventual foray into bubbles.
"Setting oneself up to receive luck is important," says Soles. "My luck was that my biochemistry professor [at Texas A&M] set me up to work in Switzerland one college summer vacation for his cousin, Hans Uli Kesslering, who grew Pinot Noir and was a pioneer in sustainable agriculture in the mid-'70s." Soles credits this experience as the impetus to his future in wine. A side note: "Can't get any tougher than ripening Pinot Noir in northern Switzerland," he confirms.
Soles' guiding hand propelled Argyle, and Oregon, to the forefront of sparkling wine internationally, garnering an unprecedented trifecta on Wine Spectator's list of "Top 100 Wines of the World" in red, white and sparkling categories. "It's humbling how very small changes in sparkling winemaking actually show up in the wine," notes Soles. "From picking decisions to pressing the fruit, to fermentation vessels and yeast choices, to blending, to best timing on yeast in the bottle and dosage, sparkling winemaking has made me a better white and red wine winemaker."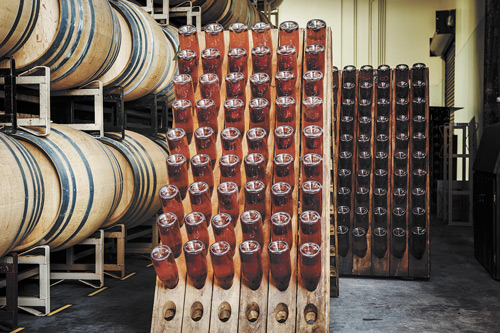 In 2001, Soles and his wife, Corby, planted vines on land they purchased in 1987 within the Chehalem Mountains AVA. From that vineyard, Wits' End, Soles produced his own "Private Stash" Pinot Noir, a cult wine later served at the White House. Such success paved the way in 2009 for Soles to establish ROCO Winery — the name derives from the first two letters in Rollin and Corby — and build a tasting room in 2012.
In 2013, Soles turned over the Argyle reins to winemaker Nate Klosterman to concentrate on ROCO. Klosterman has since added Ksenija Kostic House as Argyle's assistant winemaker — Soles still maintains a healthy mentoring relationship with Argyle.
"The timing [to leave Argyle and start ROCO] was perfect," says Soles. "I'm inspired every month by the manner that ROCO was set in motion by my wife, Corby. She did the 'hard yards' of making ROCO happen, has an amazing palate and is the most creative person I know. How could that not inspire this old winemaker?''
Six Degrees of Andrew Davis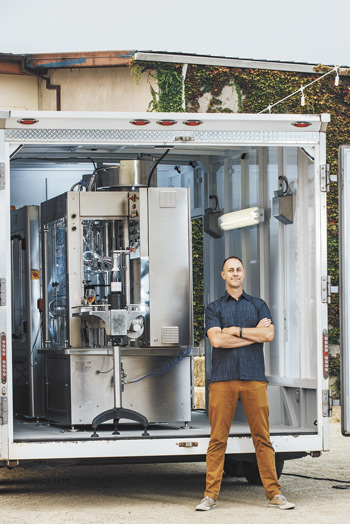 While Soles laid the foundation, many people point to Andrew Davis, founder of The Radiant Sparkling Wine Company, for Oregon's dominance in sparkling today.
At 6 feet 5 inches tall, the Argyle alum literally towers above his fellow winemakers. Davis learned sparkling winemaking from Soles at Argyle directly after completing a master's program in New Zealand. "It was my first stop," he says. "I knew I wanted to be making bubbles."
Davis recounts his time working under Soles, "He was a wonderful mentor to me. Spectacular. And [he] had the confidence in my abilities to slowly give me more and more of the reins, until I took on the winemaker role."
As Argyle grew, Davis realized he wanted to take on a personal project of a much smaller scale. That day arrived in 2013. Sensing a latent desire from area winemakers for assistance starting their own sparkling projects, Davis founded Radiant — partially funded by Rollin and Corby Soles.
Investing in a state-of-the-art mobile bottling unit, coupled with a no-frills warehouse operation replete with a gyropalette for riddling and an assembly unit for disgorging, topping, corking, caging and labeling, Radiant provides Oregon winemakers the sparkling infrastructure without the costly capital outlay.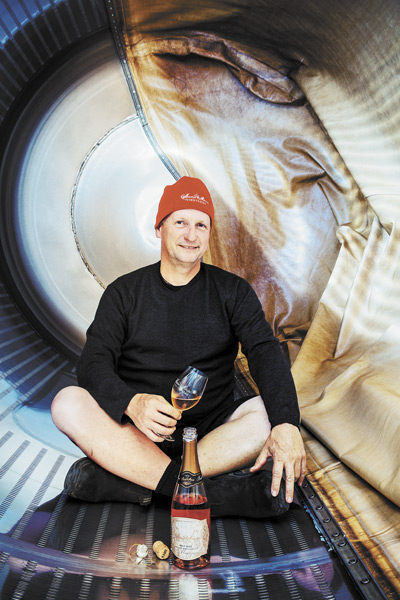 "This is coming up on year six of the Radiant Sparkling Wine Project," says Davis. "I started with a number of people thrown together very quickly in 2013. That doubled the next year, and then doubled again." He reveals he's somewhat surpassed his goal regarding clientele, with future success measured in other ways.
"I see smaller, more natural, organic growth, as my clients feel comfortable about their own production and their own sales," Davis explains. "Eventually, someone's going to grow to a point where commercially it makes sense for them to buy their own equipment, and I'll mark that day as a sign of my success."
Not wanting to give up his winemaker's hat, Davis, in 2013, also participated in a collaboration called Lytle-Barnett with Andy Lytle, Antony Beck and consulting winemaker Pieter "Bubbles" Ferreira of Graham Beck. Davis found the fruit, made the base wine, and bottled the blanc de noirs, brut and brut rosé, all pending release.
Making bubbles is not for the weary. "You have to be passionate about it [sparkling wine] because it is more work and a longer pay-off," Davis says. "It's more nerve-racking than still wine, so you have to be dedicated from the get-go to do this. You also have to be on top of your game. You can't short-cut it. You can't cut corners. You can't be lackadaisical about it, or else, it won't turn out."
Radiant impacts a number of Oregon sparkling wine projects, including Chemeketa Community College Wine Studies Program. The Willamette Valley college first integrated sparkling wine production into their curriculum two years ago.
"This ranges all the way from discussions of partial pressures in wine chemistry to all parts of the production process in our wine production series," explains Scott Dwyer, program chair and winemaking instructor. "Sparkling wine interest and sales are increasing daily, and our job is to create educated and skilled members of the wine industry."
Dwyer acknowledges the local wine industry, former winemaking instructor Barney Watson and Davis for contributing valuable resources, time and expertise to the program. "When I came on board here, there were bottles on tirage still from 2009, 2010 and 2011," says Dwyer. "This gave us the ability to start teaching all the components of the process immediately and helped show students that sparkling production isn't necessarily limited to larger wineries with massive equipment budgets."
The college recently gained international recognition when it hosted the 2018 Sparkling Symposium at their Northwest Wine Studies Center, featuring keynote speaker Peter Liem, author of "Champagne." The biannual event allowed students to showcase a clonal variation experiment in base wine to participants. "Oregon sparkling is both challenging and exciting to me," concedes Dwyer, "because of the unseen potential. It's exciting to be a part of it all and to see when it will all tip."
Terroirists
For some, méthode Champenoise constitutes a means of self — and site — expression.
Anne Amie Vineyards winemaker Thomas Houseman always wanted to make sparkling wine but held back due to associated costs and logistical hurdles. However, he believed that Anne Amie's 12 Oaks Estate on Chehalem Mountain, a cool vineyard with great acidity, presented the perfect site for bubbles.
"I prepared a file with all the details in case the subject ever came up, but kept my mouth shut," says Houseman. "In 2011, Dr. Pamplin [Anne Amie's proprietor] came to me and asked me if I'd like to make sparkling wine. I said, "Of course," and showed him my folder with all the details hammered out. The rest is history."
Since 2015, Anne Amie has hosted Bubbles Fest, a two-day consumer event held every February centered on Oregon sparkling wine. In 2018, the winery added a technical symposium for sparkling producers. "The idea is to do for sparkling wine what the Steamboat Pinot Noir Conference did for Pinot Noir, giving us a forum to share our trials, our successes and our failures," explains Houseman.
Houseman believes community drives the success of Oregon sparkling wine, as it did Pinot Noir. "Our strength lies in our ability to help one another," he says. "Eight years into making sparkling wine, I can attest to that. We were helped by those who came before us, and I am there to help those who want to follow in our footsteps."
For Shane Moore of Gran Moraine in Yamhill-Carlton AVA, "sparkling production is a bit of an ideological twist for me. In still wine production, I generally try to throw numbers out the window and follow wherever the vineyard is leading me."
Moore also employs Radiant for bottling. Of the four vintages completed so far in Oregon, Moore considers 2017 his favorite. "I think it's because we got to hang the fruit out there a bit later," Moore says, "and the wines have a lot more electricity, as well as depth."
Ribbon Ridge proprietor and winemaker James Frey of Trisaetum developed a natural appreciation for site-specific grower Champagne from his own production of single-vineyard Pinot Noir and Riesling. "When Andrew Davis started Radiant Sparkling Wine Company, and provided the logistical support for many of us to really explore what sites, soils and clones can produce amazing sparkling wines here in Oregon, I jumped in with both feet in 2014."
Frey produces four different sparkling wines under the Pashey label, an homage to his maternal grandmother, a striking, dark-haired British 'traveler,' or gypsy, whose image graces the muselet atop every bottle.
"Oregon has always attracted entrepreneurial winemakers who want to push themselves, and others, to find what wines are truly best suited to this climate and these soils," says Frey. "The collegial spirit among winemakers here in the Willamette Valley is clearly speeding up the learning process with sparkling winemaking. It's an exciting time to be making wine here."
Sokol Blosser co-president and winemaker Alex Sokol Blosser of Dayton admits family feeds his foray into sparkling wine. "Growing up, we had bubbles for special occasions, and felt there was always something mysterious and fanciful about Champagne," shares Sokol Blosser. "When my sister, Alison, and I took the reins from our parents, we knew we wanted to put a stake in the ground as an outstanding house of sparkling wine in Willamette Valley."
"Our favorite site for our bubbles program is Blossom Ridge Vineyard in the Eola-Amity Hills," says Robin Hawley, Sokol Blosser's laid-back, lead sparkling winemaker. "It sits in a nice little bowl that the Van Duzer Corridor effect helps keep cool and the fruit clean."
Sokol Blosser contends sparkling production has improved all aspects of their winemaking. "Carbonation exposes everything about the wine, and makes the fruit pop more, as well as any sweetness — but on the bad side, it showcases any wine imperfections," he confesses. "You see everything — for better or worse. This has forced us to bring more precision to our winemaking to ensure we get the flavors we want in the bottle."
Mavericks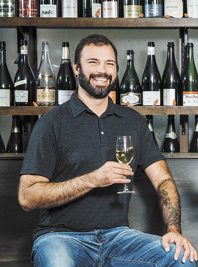 The sparkling wine industry favors those flirting beyond the traditional fizz framework, too. While growing in popularity, Oregon Pét Nat producers like Dan Rinke of Johan Vineyards in Rickreall and Kate Norris of Division Wine Company in Portland, still remain a select tribe.
"I made a traditional method sparkling wine in 2010, and I was looking for a way to make a sparkling wine the same way that I farm, which is using Biodynamic methods," says Rinke. "That means minimal additions to the wine. No cultured yeast, no fining, no filtration, no yeast nutrients, no sugar and no sulfur. A true 'natural wine.'"
Since Rinke's first vintage working with Pét-Nat in 2014, he's expanded this program to include Pinot Noir, Melon de Bourgogne and even plans to do a Grüner Veltliner Pét-Nat in 2018. "Pét Nats are tricky because what we are looking for at Johan are some ripe flavors but lower alcohol and high acid, whereas with conventional sparkling wine, you're looking for acidity and low alcohol with some flavor."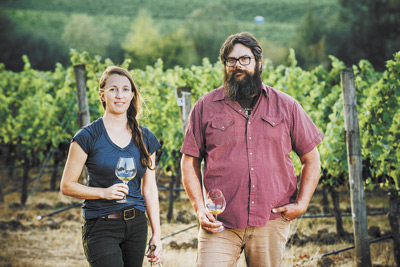 Champagne importers Terry Theise and Vintage '59 introduced Bobby Rowett of Mellen Meyer to the world's finest bottles of boutique Champagne while he worked for them. Obsessed by Champagne's nuances and variety, Rowett wondered, "Why weren't wineries making sparkling wine in that style in the United States?" This question led him to conclude, "Willamette Valley is the place to make our contribution to the world of premium sparkling wine."
Rowett sources Biodynamic fruit for his sparkling, in part, from grower and producer Johan Vineyards. "While we are inspired by Champagne and other great sparkling wine regions in the world," Rowett says, "I think it's essential we focus on making these wines in our own way. This is our unique corner of the wine world."
Outliers
Sometimes confused with its famous concert-going cousin, The Gorge in eastern Washington, Oregon's Columbia Gorge AVA scrims both sides of the Columbia River with wind-swept, hard-scrabble, moody drama. Scoured, uplifted and layered by epoch-old geologic events, it turns out this vertiginous fulcrum between the Willamette and Columbia valleys proves an ideal crucible for making some of Oregon's most compelling bubbles.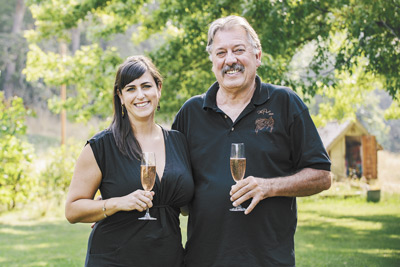 Part of this region's success rests on the unassuming shoulders of vineyard manager and winery owner Lonnie Wright, and his dynamic daughter Sierra Wright of The Pines 1852 in The Dalles.
Lonnie Wright moved to the Columbia Gorge in 1981 after marrying a local girl. Fresh from a three-year stint planting vines for Columbia Crest in Patterson, Washington, Wright immediately found work helping restore what proved to be one of Oregon's oldest vineyards, The Pines, a site planted in the 1890s to old-vine Zinfandel. Over time, he developed a successful vineyard management company while leasing, expanding and, eventually, purchasing The Pines.
"In the late 1990s, we started seeing wineries come here," says Wright. "For years and years, I had sold fruit to wineries out of this area, so that was probably the biggest thing when we started to see wineries show up in this area because the winery is what's going to give the area its reputation."
Convinced of the region's potential, as well as the quality of their fruit, the Wrights established The Pines 1852 winery in 2001. In 2005, the Columbia Gorge AVA was approved. That same year, Sierra returned from college to assist, and The Pines 1852 built the first tasting room in downtown Hood River. Finally, in 2009, after much prodding, Sierra convinced her father to venture into sparkling wine. A pragmatic man, the decision wasn't easy.
"Everything in sparkling is more expensive. Everything," Lonnie Wright says with a shake of the head. "The bottle. The cork. The cage. The label. Also, if you have someone that's doing some contract winemaking."
Wright initially contracted with Chris Berg of Roots Wine Company for their 2009 and 2010 vintages but logistical issues with the bottler led them to Radiant Sparkling Wine Company in 2012; the mobile bottler also completed their 2016 vintage. The 2016 is still on tirage.
Infrastructure and aging account for only part of the total cost. "The taxes that you have to pay on [sparkling wine] are a lot more expensive than you have to pay for other wine," he explains. "It's considered a federal luxury tax that you have to pay."
For Sierra Wright, despite the expense, Columbia Gorge AVA sparkling wine offers a chance for area winemakers to highlight their unique styles while offering consumers greater diversity. "We grow so many different kinds of grapes, and we have so many different styles of winemaking. With sparkling, that's no exception. So you can't just say 'Oh, yeah, the Gorge sparkling is like this,' because we're all very different."
Ultimately, sparkling wine chooses the winemaker. Analemma Wines winemaker Steven Thompson and partner Kris Fade moved to Mosier from Walla Walla, Washington, in 2010. Veterans of tending Bordeaux varietals and Syrah from The Rocks District of Milton Freewater within the context of "normal" growing cycles, their first vintage in the Columbia Gorge proved anything but usual.
"When the vines hadn't even flowered by the second week of July, I was like 'Oh, wow!' says Thompson. "There's no way we're going to make it to harvest, to maturity."
Instead of panicking, the two listened patiently, and learned. They discovered Atavus Vineyard, the 50-year-old site they leased and managed above White Salmon, Washington, contained the Mariafeld clone from Switzerland, a Pinot Noir suited to cold climates. They also realized making sparkling wine was the original vision of the vineyard's founder, Charles Henderson.
"We thought, 'OK, we're hands-off here. This is what we're doing.'" recounts Thompson. "I believe this element of listening, and respecting the variables we walked into, helped create the Atavus Blanc de Noirs into what it is today."
The slight, soft-spoken Thompson imbues a meditative approach to each aspect of sparkling wine production, save riddling and disgorgement, which he entrusts to The Radiant Sparkling Wine Company.
"Because that's what it's about, right?" Thompson affirms. "It's about giving your attention. We are contemplative and very intentional in our practices. And, ultimately, our goal is to provide a Zen-like experience for the consumer. When they share the wine with friends or family, it stops people in their revelry just for a minute to go, 'Wow, this is something special.'"
ROCO Winery 2015 RMS (Rollin Michael Soles) Brut, Willamette Valley
Translucent golden hue with persistent perling and rich, cashmere-like mousse that unlocks subtle, intoxicating aromas of marzipan, brioche and almond blossom. Well-poised acidity, incisive minerality,and complex layers of citrus, yellow apple and red fruit unfurl seamlessly upon the palate, culminating in a luxurious, effortless finish.
$65 (120 cases disgorged 2018; available in tasting room only)
Argyle 2014 Artisan Series Vintage Brut Rosé, Willamette Valley
Vibrantly beaded salmon robe reveals refined aromas of rose petal, red apple and wild strawberry. Tight acids amplify plush pomegranate, raspberry and savory notes that pulse to a fleshy finish.
$50 (2,500 cases)
Argyle 2014 Artisan Series Spirit Hills Vineyard Blanc de Blancs, Eola-Amity Hills
An effervescent, light-bodied beauty with lingering minerality. This pale straw-colored cuvée with scintillating beads and rich, rounded mousse offers abundant aromas of brioche, almond paste and lemon zest.
$50 (1,900 cases)
Argyle 2014 Vintage Brut, Willamette Valley
Shimmery, petite perling and profuse mousse enliven clean citrus and rich biscuit aromas, carrying through on the palate to subtle notes of lemon curd, golden apple and fleurs blanches that echo in the finish.
$28 (23,000 cases)
Argyle 2014 Artisan Series Knudsen Vineyard Brut, Dundee Hills
Soft, straw-robed sparkler awash with dark fruit and sultry spice box aromas that break into a densely textured delight. Bright acids and luscious notes of red plum and citrus serve up a seamless finish.
$50 (1,450 cases)
Lytle-Barnett 2013 Brut Rosé, Eola-Amity Hills
Soft rose petal hue punctuated by pinpointed perling and discrete aromas of salmonberry, roses and brioche. Flavors of gooseberry, red raspberry, green apple and citrus lilt to an ethereal finish. Impeccably structured and well-balanced.
$80 (180 cases)
Lytle-Barnett 2014 Brut, Willamette Valley
Channeling Côte de Blancs. Pale straw robe, precise perling and diaphanous mousse. Heady aromas of brioche, butterscotch, marzipan and lemon flower. On the palate, a graceful composition of chalky, chiseled brilliance with hints of lemon zest and brief herbal back note, punctuated by a taut minerality and crisp finish.
$80 (315 cases)
Lytle-Barnett 2013 Blanc de Noirs, Eola-Amity Hills
Elegant pale gold robe, vibrant beading and ethereal mousse with keffir lime, almond blossom and Meyer lemon aromas. Well-structured, angular, lean on the palate with flavors of grapefruit and green apple, and a remarkable finesse that carries through start to finish.
$80 (150 cases)
Chemeketa Cellars 2009 Chemeketa Vineyard Blanc de Noir, Eola-Amity Hills
(100-percent Syrah) Light copper robe alight with dispersed, prolific beading and voluptuous mousse. Elegant acids and aromas of pear, toasted bread and red fruit follow through to an enticing finish.
$35 (22 cases; available to club members and at tasting room only)
Sokol-Blosser 2016 Bluebird Cuvée Brut
A fun, flirty wine with pale straw robe, dispersed beading and hints of toast, golden apple and lychee on the nose. Broad, sunny flavors of Meyer lemon, grapefruit and Comice pear on the palate with a luminous finish.
$25 (1,000 cases)
Producer Note: "The Bluebird Cuvée Sparkling is the first national release to bear Sokol Blosser's new packaging. The Bluebird Cuvée label showcases Sokol Blosser's long-time support of the Prescott Western Bluebird Recovery Project, with a pen-and-ink style image created by artist Jared Tuttle. For more than 20 years, Sokol Blosser has offered needed shelter and support to preserve a breeding habitat for Western Bluebirds, with 15 bird houses on its organically-farmed property."
Sokol-Blosser 2014 Blossom Ridge Sparkling Rosé of Pinot Noir, Eola-Amity Hills
Bluebird Cuvée's sophisticated, elegant older sister. Myriad trigger points release a plethora of tiny bubbles throughout a burnished copper-rose robe cresting to a creamy mousse. Seductive aromas of rose, toast and red fruit carry through on the palate to red cherry, tart apple, pink grapefruit flavors, followed by a faint umami note on the beguiling finish.
$65 (590 cases)
Anne Amie Vineyards 2012 Brut Cuvée Marilyn, Chehalem Mountains
A single column of tightly coiled bubbles bursts to the pale lemon surface in a glittery swirl, releasing aromas of warm toast, citrus and almond flower. On the palate, firm acids and delicate flavors of quince, grapefruit and brioche flirt to an elegant finish.
$65 (292 cases)
Trisaetum 2014 Pashey Ribbon Ridge Blanc de Blancs
Clear gold robe, diffuse mousse, pinpoint perling coupled with opulent brioche, toast, butterscotch, faint almond paste aromas. A cornucopia of posh quince, ripe pear and lemon flavors spill forth with lusty abandon to an earthy, herbaceous finish.
$65 (125 cases)
Trisaetum 2014 Pashey Estates Cuvée
Soul-sender. Sheer gold robe, centralized beading, creamy mousse and toasty, nutty aromas. Exotic flavors of marzipan, lemon curd and ambered butterscotch tether to keen acids for a brilliant finish.
$65 (130 cases)
Trisaetum 2014 Pashey Brut Rosé
Dazzling strawberry robe illuminated by a riot of elusive bubbles explodes with toast, fresh strawberry and Royal Anne cherry aromas. On the palate, tart red cherry, lemon zest and stony minerality complement a firm minerality, pronounced acids and meticulous finish.
$65 (120 cases)
Gran Moraine N/V Brut Rosé
Dusty copper robe fizzes with high intensity beads charged with raspberry, brioche and stone fruit aromas. Exotic flavors of fleshy orange fruits, Fuji apple and sour cherry juxtapose against restrained acids to a chalky, mineral finish.
$50 (210 cases)
Johan Vineyard 2017 Biodynamic Pétillant Natural Melon de Bourgogne
Melon de Bourgogne in the house! Burled gold robe, frothy mousse and potent baked apple, cider, yeast aromas. Well-balanced, light-bodied with flavors of Gala apple, Bosc pear and lemon curd on the palate.
$20 (36 cases)
Johan Vineyards 2017 Biodynamic Pétillant Naturel Pinot Noir
Glorious apricot robe, pinhead perling, generous mousse and aromas of zwieback, marmalade and Melba toast. On the palate, flavors of Mandarin orange, tart raspberry, and pamplemousse pair with even-keeled acids for a straightforward finish.
$23 (334 cases)
Mellen Meyer N/V Johan Vineyard Biodynamic Blanc de Blanc
Young spirit. Old soul. Plentiful trigger points infuse the pale, gold robe with infinitesimal bubbles radiant with aromas of rusk, brioche and fleurs blanches. Snappy acids tease out flavors of Bartlett pear, kaffir lime, lemon and ambrosia apple, fading to a subtle finish.
$55 (150 cases)
Mellen Meyer N/V Brut, Willamette Valley
Venetian gold robe, ultra-fine beading, lustrous mousse, lavish viennoiseries aromas, light body, vivid acids, with notes of Jonagold apple, Eureka lemon on the palate and a fresh finish.
$30 (315 cases; disgorged upon demand)
The Pines 1852 2012 Brut Rosé, Columbia Gorge
Dusky copper robe, energizing shafts of small bubbles, with appealing aromas of sage, rose and chocolate croissant. Wind-tossed wild raspberry, Rainier cherry, Meyer lemon flavors on the palate, with a satisfying, slightly savory finish.
$40 (297 cases)
Analemma 2013 Atavus Vineyard Blanc de Noirs, Columbia Gorge
A kinetic, coral-copper robe pulsing with minute beading, embellished by a gossamer mousse. Alluring aromas of citrus, stone fruit and brioche on the nose, followed by a soupçon of woodland strawberry, Royal Anne cherry and Granny Smith apple flavors on the palate. Flawless structure, pristine acids, impeccable finish.
$59 (250 cases)