Breaking into China
Oregon exporter/importer starts small in big market
The people of China have a powerful appetite for fine wine, and after the rise and fall of Bordeauxs — recounted in the documentary "Red Obsession" — their focus appears to have widened to a more global perspective.
With so many beautiful expressions of wine to choose from in the Northwest, this area is prime for quenching a bit of Asia's growing thirst. Unfortunately, not all export companies are created equally and some have gone so far as to taint the excitement of, at least, a handful of winemakers' dreams.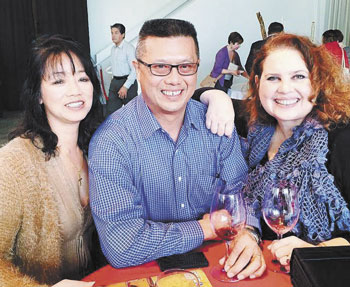 Enter Royal Comfort Distributors, a Portland-based, locally owned company whose secret weapon is the unfailing drive of its president, Mei Wong, and vice-president, Trish Nolan. Along with other seasoned partners, they're successfully exporting Northwest wines as no other company has done thus far.
With Nolan's background in international business development, Mei's first-hand knowledge of the language and culture, and the importance they place on being transparent with each client, they favor quality before quantity, and the people of China — as well as local winemakers — are responding in kind.
Royal Comfort began in February 2015, immediately forging relationships throughout Oregon and Washington. From top producers to boutique vineyards, they're not specifically intending to represent big numbers.
"We want each winery to have enough [production], first and foremost, for the local market and enough to offer to the Chinese market. We can court smaller wineries on a case-by-case basis," Mei said.
The culmination of their preparation and research was the China International Wine & Spirits Exhibition (Interwine), a tradeshow held twice a year since 2005 that attracts 32,000 visitors. On November 10, 2015, Nolan and Mei descended on the autumn exhibition accompanied by their C.O.O, Mark Wong, and some winery support: Steve Anderson, winemaker for Eola Hills Winery; Carol Girard, owner of Benton-Lane Winery; and Kylie Huggins-Shaeffer, also of Eola Hills, made the substantial trek to introduce, educate and sell Northwest wine to the largely untapped market — Harper Voit, the third winery in Royal Comfort's portfolio, was unable to attend.
What they found was an audience eager to learn. Holding the first wine class of the 2015 conference, Royal Comfort spoke to a standing-room-only crowd — those turned away visited the company's booth later in the morning.
"They know Burgundy, but they don't know Pinot Noir," Mei said. "People were so interested and excited. They were thrilled with the quality of wines we brought. They came to our booth and brought friends to taste the wines."
Taking advantage of as much potential promotion at an event attended by importers, restaurateurs, hoteliers and corporate event organizers, Benton-Lane sponsored a sommelier challenge offered to students who'd completed their studies and were earning certifications that day — each participant received a bottle the winery's estate Pinot Noir. Benton-Lane is now the sole American winery promoted in more than 40 Chinese cities throughout 2016 as part of a "road show" program.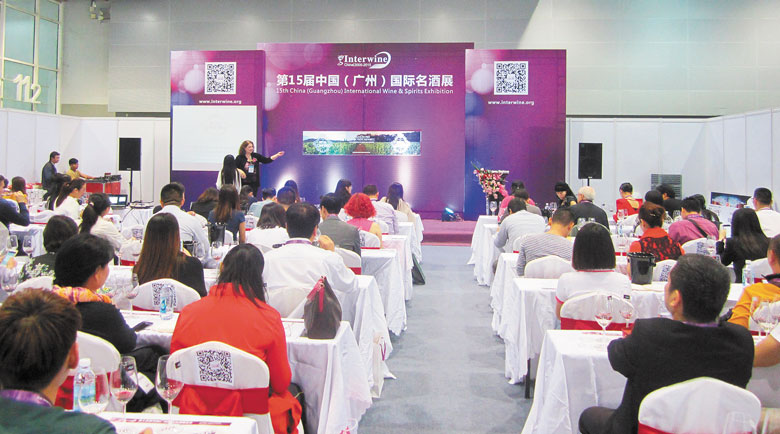 To help tell the wineries' stories, Royal Comfort organized a winemakers' dinner for local media, writers and bloggers wherein Benton-Lane, Eola Hills and Harper Voit wines were paired with an extensive six-course meal. Mei emphasized the producers' dedication to sustainable farming which is highly regarded by the Chinese population.
After meticulously translating all the wine labels, racking up air miles, clearing customs and holding firm to a standard of unwavering integrity for their clients and a wine region they are all genuinely passionate about, how'd they do? One month after returning from Guangzhou, Royal Comfort received its first order. One pallet — 56 cases — consisting of a combination of all three wineries was shipped to a single customer who owns a technology company in China.
With the success of their first trade show and contacts made during their visit, Royal Comfort has already laid the foundation for Interwine 2016. A booth that is quadruple the size of their 2015 space has been negotiated; it will be located at the entrance to the exhibition hall. There'll be three separate pouring stations each staffed with its own interpreter. An education class will be sponsored and a second one is being considered.
Southern Oregon's Abacela and South Willamette's Iris Vineyards have been added to Royal Comfort's roster, and they're in talks with a handful of others. To be able to offer personalized service and attention to each client, representation will be limited to 10 wineries.
Aside from being an exporter of Northwest wines, there was an initial goal to be an importer, as well. A couple private tastings have produced positive feedback for Chateau Rongzi — a Chinese winery with vintages overseen by Jean-Claude Berrouet of Petrous fame — and Italian varietals crafted by Terre dei Castellaz. Soon these wines will be available for purchase through Royal Comfort.
Looking ahead, the group wants to establish distribution routes throughout China and add a former Oregonian to their China-based distribution team.
"We want to build a good relationship with the Chinese people, help support their marketing and bring wines over here for marketing," Mei said. "Our goal, really, is to have fun and share good wine from all over the world."
Viki Eierdam is the wine columnist for The Columbian and a freelance writer. She lives in Battle Ground, Washington.