Breaking Down Walls
Mexican-Americans build up community with mentorship
What grows in the vineyards of Oregon? Grapes, naturally. But like those whose labor is essential to the success of the vines and who have been largely unnoticed, there are less obvious yields of fundamental importance to the industry and the community. The following three members of the Oregon wine industry — two of whom are native Mexicans; one, a first-generation American of Mexican descent — are eager to draw attention to the vineyard workers, the majority of whom are Hispanic desiring a chance to advance. Jesús Guillén, Sofía Torres McKay and Miguel Lopez are forming an organization to increase appreciation of these skilled laborers, helping them overcome challenges to realize their ambitions. As part of this effort, each offered an inspirational personal story and vision for the future.
Jesús Guillén
White Rose Estate winemaker
Guillén Family Wines owner/winemaker
Since becoming one of the first Mexican-born head winemakers in Oregon in 2008, Jesús Guillén has received plenty of press coverage from publications like The Oregonian, Portland Monthly and others. Now, he's interested in sharing the limelight with those not as celebrated while serving as an example of what can be achieved when starting among the vines.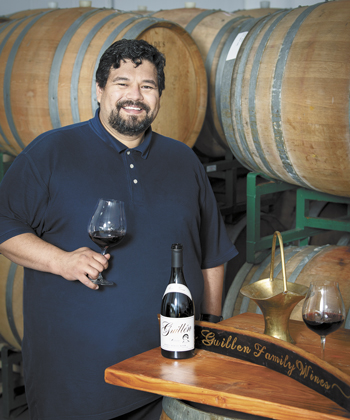 Jesús moved to the U.S. in 2002 to learn English after earning a degree in computer systems engineering in Chihuahua, Mexico. At first, he knew nothing about wine, but working in the vineyards with his father, Jesús Guillén Sr., who was and remains vineyard manager for White Rose Estate, and tasting some extraordinary Pinot Noirs led to an insight that ultimately resulted in a dramatic shift in his career plans. Jesús explains, "When I came to Oregon is when I saw the connection, not to the wine itself because I did not even know how to appreciate it, but to the vine grape, and we all know where the wine comes from … If you nurture the vine correctly, it will give you the best fruit it can, and you will have a great wine."
Among Jesús' influencers and mentors, Greg Sanders, owner of White Rose, merits considerable praise: "I was very lucky myself to have met Greg; he gave me the opportunity to become a winemaker and hold the title, which very few Hispanics hold. He also taught me how to evaluate a wine with my senses and allowed me to refine my palate by tasting some of the best wines in the world made in Burgundy."
Jesús also salutes Mark Vlossak, owner and winemaker of St. Innocent, who taught him the fundamentals of winemaking, as well as the late Gary Andrus, who educated him on the basics of whole-cluster fermentation: "A technique I have honed to my liking," Jesús says.
Reflecting his intense connection to his family, he credits his grandfather and father for his understanding of agriculture and his wife, Yuliana, for her support as he strives to establish his own brand: Guillén Family Wines.
In 2007, Jesús' released his first wine under the Dreamcatcher label. Not yet owning his own vineyard, he acquires grapes from a number of sources, including Vista Hills, Meredith Mitchell and Domingo, a vineyard owned by Sanders and named for Jesús' grandfather. He is now producing about 1,000 cases a year under the Guillén Family label. Beginning this year, he'll be crafting his wine at the Dundee Hills Wine Library in Newberg, where tastings are conducted by appointment.
Winemaking matters to Jesús on several levels: "It makes you think about the place it was made from, the year it was made and all the people who made it possible. It is also fascinating because for me, it satisfies my persistence to achieve something great, something bigger than myself, [it utilizes] my analytical background and, because I am Mexican, wine fulfills my need for challenges. I love to make wine, and I love to drink it."
Now, his son, Adrián, expresses interest in the wine business and already helps his father with a variety of tasks, including marketing. The 10-year-old suggested the following tagline: "Made in beautiful Oregon … por manos Mexicanas (by Mexican hands)." Jesús hopes his son will eventually take over the brand. He says, "It's one of the motivators I have to pursue this business, to basically create something better for him than it was for me."
Despite juggling his full-time job and his own label, Jesús finds time to mentor others. "I am trying to pay it forward by making myself accessible," he explains. "I speak Spanish and I speak the language of wine. Whoever wants to learn about this, I am here."
Jesús' advice always sets realistic expectations: "Know that you will not make a lot of money from this, so the reward you get from working in the wine business is the passion for growing, making, selling and drinking a beautiful thing. You gotta have passion and love for wine to pursue a career within [this] business. You gotta work hard, learn English if you do not speak it, and learn the language of wine."
Jesús wants to change the narrative about who is important in wine. "We always speak about the winemaker as the most important person to make the wine, but without fruit, there is no wine to make. It doesn't just take great people to make great wine; it takes great people to grow great fruit."
Sofía Torres McKay
Cramoisi Vineyard owner/winegrower
When Eugene native Ryan McKay met Sofía Torres in San Francisco in 2001, he shared his passion for Oregon Pinot Noir. She fell in love with both. The Mexico City native and lover of big reds became curious about the region and the wine. So much so, the couple, married in 2005, eventually traveled to Oregon wine country, and searched for the perfect site to call their own.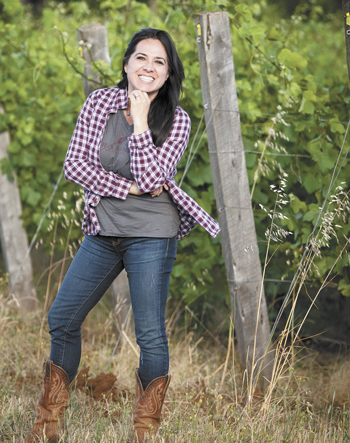 In 2011, they bought 10 acres on Worden Hill Road in the Dundee Hills, after selling a house in British Columbia — in a favorable market. In 2012, they began planting at an elevation of 500 to 600 feet. Five acres are planted to Pinot Noir, including the rare clone 122 from Vosne-Romanée, a Grand Cru vineyard in Burgundy; and one acre to Chardonnay. Inspired by the crimson clover covering the property in spring, the couple named the vineyard, Cramoisi, which translates to "crimson" in French.
While Ryan continues working his day job and helps when possible, Sofía left her IT sales career in 2017 to devote all her efforts to the venture — and raising two sons. She is one of the few Hispanic vineyard owners in the Willamette Valley. Since the business is very small, she performs numerous roles, including vineyard management, marketing and sales, event planning, relationship building and management, and administration.
Jessica Cortell, owner of Vitis Terra Vineyard Services, and her crew tend the vineyard, with help from Sofia; she says "the energy of the place" is important to her, taking pains to ensure the vineyard's atmosphere is positive. Sofia communicates with the workers in Spanish and has developed an easy, informal relationship — as well as an empathy — with them. The workers call her Sofía or "la chilanga," referring to her Mexico City origins. They joke around. She encourages them to think about their careers and what they'd like to do. "That's something I want to teach and motivate the people in the vineyard — not that you have to be an owner but you can perform on the job." Though they are not her employees, her bond with them remains strong. "I'm part of them, and they're part of me," she proudly notes.
Encouraged by Donna Morris, co-owner of Winderlea Vineyard, to become part of the ¡Salud! program, which provides health services to winery and vineyard workers, Sofia now leverages her former profession as the sole Latina on its marketing committee. She's also active with the Dundee Hills Winegrowers Association. Initially, she and her husband had faced skepticism about their commitment in pursuing winegrowing, but Sofia warmly affirms: "I feel really, really embraced in this community."
Cramoisi Vineyard is farmed Biodynamically, though not yet certified. In 2014, it produced enough to make one barrel (25 cases) of wine. The following year, 2015, the first formal vintage, also yielded 25 cases. Production increased to 300 cases in 2016 and 600 in 2017. Drew Voit makes the wine with eager disciple Sofia looking over his shoulder.
Sofia began self-distributing her wine in May 2017 to a limited number of local restaurants and shops. Because of her heritage and gender, prospects frequently ask her about her origins. Some express surprise that she, a Mexican woman, owns a vineyard rather than simply working in one. Initially, she found this assumption exasperating, but when she realized many were interested solely in her uncommon story, she decided to make her background a virtue. She asserts, "I have to make it positive and [use] this to my advantage because there are not that many in my position… [I use] myself as a channel to help others and work together as a community."
Even with the demands of the vineyard, the business and her family, Sofia is paying it forward by mentoring her workers and forming the group with Jesús Guillén and Miguel Lopez. To those wishing to enter the wine business, she advises: "It is not easy, but it is freaking great. It is a lifestyle but hard work. Love, passion and patience are key. Be curious. Learn Spanish or learn English. Be respectful with the land. Be part of the community and work together to make it better."
Taste Cramoisi Vineyard by appointment at the vineyard. Plans call for a small vineyard tasting room.
Miguel Lopez
Domaine Roy et Fils winemaking production manager
Miguel Lopez's interest in wine as the focus of his career developed gradually: "I have always been curious and wondered what happened to the grapes we spent a year growing, then picking and strapping to a flat bed and hauled away. For me, it was never really about a one-bottle epiphany but more of a 'what's next?'"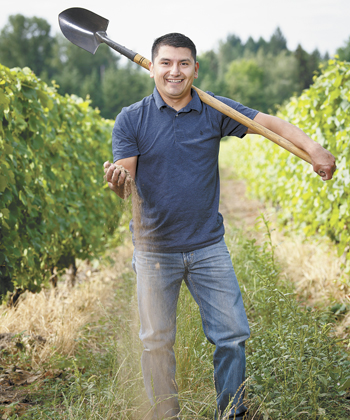 Miguel was born in 1984 — a year best forgotten by Oregon winemakers — to immigrants from Oaxaca, Mexico. His father had been the first vineyard manager at Beaux Frères. "He and Michael [Etzel] did all the labor in the early days together and, as a result, as a child, you get dragged along, so I got to see a lot of the Beaux Frères property, and also hang out and work with the family." he recalls.
While at McMinnville High School, Miguel helped his father, who had moved to another company, doing odd jobs during summers. Since vineyards were being planted all over the Valley, they were active in all the AVAs (American Viticultural Areas). During the school year, Miguel walked across the street to help at Walnut City WineWorks, which was getting started. After he graduated in 2003, he considered joining the Marines as situations worsened in the Middle East, but felt ambivalent. He approached Zac Spencer, former owner and winemaker at Walnut City, who responded positively when Miguel asked to help with harvest. This led to his first full-time job in the industry along with financial assistance to attend the Chemeketa Eola Northwest Viticulture Center. Miguel obtained an associate's degree in winemaking in 2010 and moved on to positions at Domaine Serene, Soter Vineyards and Ransom Wine & Spirits over the next two years. He worked in wine sales and marketing during a stint at Vertical Wine & Beer Distribution before joining Domaine Roy et Fils in 2013, at the inception of the Dundee Hills winery.
Miguel acknowledges as mentors the two founders of Walnut City, John Davidson and John Gilpin, as well as Zac Spencer, who showed him "that it's hard but also to have fun while doing it." Other major influences include: John Zelko, owner and winemaker of Z'IVO Wines, who helped him through school; Tony Soter, owner and grower of Soter Vineyards; Jason Lett of The Eyrie Vineyards, and Tony Gaine and Earl Cramer-Brown of Vertical Wine.
In 2017, Miguel and his sister, Eva Lopez, formed Red Dirt Vineyard Labor "that takes solid skill-set vineyard workers and pays them a wage that is above that of a run-of-the-mill farm labor contractor." The starting pay of the workers is where other contractors top off. Wages of the teams are reevaluated regularly and adjusted accordingly. "It keeps the teams together and shows them that we care about their financial well-being," he says. "We're not a vineyard management company," he insists; instead, Red Dirt operates with a different business model. The highly skilled team takes direction from a vineyard manager or consultant and follows his or her practices. The business keeps a low profile with no web presence, relying on word of mouth for attracting both engagements and team members.
Starting Red Dirt resensitized Miguel to the challenges facing vineyard workers and motivated him to lead the formation of the group with Jesús Guillén and Sofia Torres McKay. With numerous issues to address and paths to consider, plans remain inchoate. "There are a lot of things up in the air right now. The way I see it going is baby steps," he admits. He credits Sofia with "rounding them up when they slack off." All three hope telling their stories marks the beginning of a continuing process of drawing media attention, not just to the most visible Hispanics in the industry, but to those who labor behind the scenes.
Miguel cited the National Farm Workers Association, which later became the United Farm Workers, co-founded by César Chávez, as the only practical model for the yet unnamed organization. He acknowledged the environment these days is much easier than what Chávez dealt with. He says, "I think we're in a really unique situation where we can do a lot in a really small amount of time. [In five years], I see ourselves having developed a really core group of people [who] believe in what we are trying to accomplish and want to be involved. I can see it becoming woven into the fabric of what our industry is."
Beyond the raw material that becomes wine, Oregon vineyards represent fertile sites for strengthening family ties, gaining skills, building self-confidence, nurturing careers and advancing the dreams of those who work in them. Jesús, Sofia and Miguel envisage their new organization stimulating these other essential yields to bring long overdue changes to the perception of vineyard workers and create opportunities to realize their aspirations.
Sofia suggests, "Next time you open a bottle of wine, recognize not only the owner or fabulous winemakers but also the amazing work our vineyard stewards do in the valley for us to grow phenomenal wines; wave at them and say ¡Gracias!"