Branching Out
Winemaker grows brand in Columbia Gorge
Brendan Simpers always felt he had a creative bent, but it took a lot of "dating" before he experienced something like love at first sight.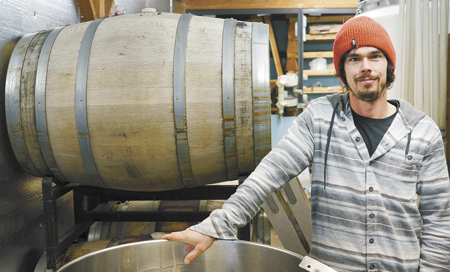 "I had an artistic side that wanted to come out," he recalls of his days at Virginia Tech. "I wanted to draw or paint. But I sucked at it. I wanted to play guitar, but I practiced and learned that unless I devoted 20 hours a week to it, I didn't have the gift."
Then he attended a one-credit wine evaluation class. Sparks started going off. "I got to drink, and I got credit for it," says the founder and winemaker at Willow Wine Cellars. "It was a really interesting class. I thought, 'Wine is cool.'"
He appreciated the variety and the mystery of wine and figured it was something not everyone could do, but if he applied himself, he might be good at it. Then his mom, during a college break, asked if he wanted to visit a local winery for some tasting. That sealed the deal.
"We're driving up this mile-long gravel road, and there were vines on all sides, and I thought, this is really gorgeous," Simpers recalls. "I asked the server if they were hiring, and they were. I got hired, and I thought, 'I can't believe I'm getting paid for this.' It doesn't feel like work. It's so fun."
Lodged firmly in his consciousness, wine became his lodestar. After securing a degree in business management, and hospitality and tourism, Simpers felt a powerful tug to drive cross-country and reconnect with friends who had settled in Napa. His journey led to a tour and tasting room gig at Berringer, and further education about the greater wine scene.
A side job at a bakery in St. Helena introduced him to his future wife, Tarnna, and a path leading them both back to the Columbia River Gorge, where she had grown up.
"We were young; we had dogs, and there wasn't much water down there. We were bored with the hot and dry weather," he recalls. "All there was to do was drink wine, and we were looking for something different."
While he and Tarnna tried to decide what next, Simpers was taking night classes in basic oenology and viticulture at Napa Community College. Before moving, he left Berringer for a season of harvest and crush with Bill Harlan's Napa Valley Reserve.
"It was really nice; they had very good sanitation practices, and I learned some really good wine-making practices there," Simpers says. "Everything was starting to make sense, the process, how to use the filters, to make sure it didn't oxidize, to taste it, to evaluate it."
Although he considered it great on-the-job training, the Napa scene left him feeling a bit out of his element.
"Working in the cellar, being all dirty, and then to see celebrities come through and drop thousands on wine: It was like living in a bubble."
He and his wife were ready for change, which the Gorge offered. After relocating in January 2011, Simpers found himself living the maxim that "it's not what you know but who you know." Through another tasting room job with The Pines 1852, Simpers became close with noted Gorge viticulturist Lonnie Wright and his daughter, Sierra.
One day, in walks Alexis Pouillon, founder and winemaker at Domaine Pouillon near Lyle, Wash. Simpers mentioned he was looking for cellar work. Pouillon hired him for the 2011 crush. The next year, Simpers landed a harvest job with James Mantone at Syncline Winery and that led to an offer of full-time work in 2012.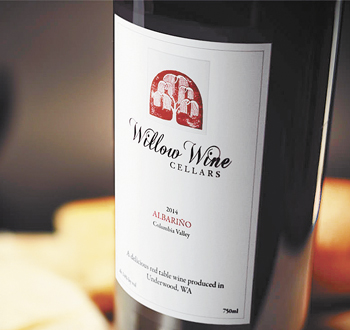 When Mantone offered use of his equipment, Simpers knew he was ready to launch his own label. He bought a ton of Cabernet grapes from Wright, hired Rich and Pete Cushman to custom crush them, and with that wine in the barrel, Simpers went looking for a white the next year.
Unexpectedly, the owners of Inland Desert Nursery in Benton City called and offered Albariño grapes from a mother block providing starts to growers. "The wine turned out good," Simpers recalls. "People liked it."
He secured some placements with Gorge restaurants, but found himself burning money trying to tap the Seattle market. Eventually, he decided to focus on local sales and building a club. Doug and Donna Ness of White Salmon, Wash., were his first members.
"They're good, young people with a vision of doing something other than just going to work every day," Doug Ness says. "I like it when people try to make something for themselves.
"I know what I like when I taste it, and he's very consistent, and all of his wines are good. He knows all the notes and flavors about them. Some people just have that palate."
With Tarnna teaching in White Salmon schools and two young children at home, Simpers is following a slow-growth path. He still works at Syncline — "It's my safety blanket" — but has leased his own small production space for aging and bottling in Underwood.
He has added Merlot, Cab Franc and rosé to the lineup, bottled 400 cases in 2017 and counts about 50 club members.
In other words, he's still having fun, happy and exactly where he wants to be — for now.