Bottling UP
Joe Dobbes recently announced a new venture, Dundee Mobile Bottling.
Joe Dobbes of Wine by Joe and Dobbes Family Estates recently announced a new venture, Dundee Mobile Bottling.
Dobbes says the idea for the new project began in 1986 when he was new to the industry. Thirty years later, Dobbes feels he has the required expertise, and Oregon's growing wine production definitely has the need, to make this dream a reality.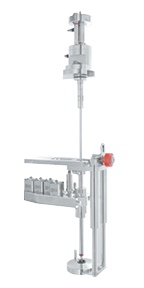 Enter new cutting-edge technology from Italian-based mobile bottling equipment manufacturer GAI, and Dobbes knew the timing was right.
Many winemakers are familiar with GAI products as an industry standard for bottling equipment. Until recently, GAI only offered mobile bottling units with mechanically operated filling valves, and their mobile equipment was only capable of bottling still wines. Times have changed.
At the 2016 Oregon Wine Symposium trade show, Dobbes was introduced to GAI's electro-pneumatic filling valves, which offer a new technology capable of decreasing the dissolved oxygen (DO2) accumulated during bottling — measurements go from parts per million to parts per billion. Wines with higher amounts of DO2 at bottling experience an increased risk of bottle shock, diminished freshness and shorter shelf life.
Dobbes explained that bottling for his wine brands and custom winemaking clients has grown precipitously since the inception of Wine by Joe in 2003. It was time to "go big or go home" in regard to bottling equipment.
Well, Dobbes "went big" and made the purchase. To his knowledge no other mobile bottling service in North America provides this new technology offered by GAI.
"When my bank asked me why other mobile bottlers do not offer electro-pneumatic bottling equipment, the answer was easy: They are not winemakers."
The team at Wine by Joe has long understood the importance of minimizing DO2 in finished wines. Dundee Mobile Bottlers' custom designed system will include two GAI labelers, a Padovan carbonating unit, electric generator, and OMB Champagne corker and hooder. Counter pressure filling technology will accommodate Charmat, or tank method sparkling production. This is a welcome addition to the growth of sparkling wine production in Oregon spurred by the Radiant Sparkling Wine Company's traditional method production and bottling services.
The system is expected to increase speed and automation, decreasing labor costs. In the near future, Dundee Mobile Bottlers plans to offer extended and weekend bottling hours to minimize the total number of bottling days. Wineries using Dundee Mobile Bottlers' services will not need to supply any of their own staff for bottling. JoBe Alloway has been hired as the lead bottling technician and will oversee an assistant plus two to three experienced employees. Alloway comes with ample experience, including four years as the winery bottling line operations manager for a large California winery, plus technical skills building and repairing bottling units.
In addition to wine, Dundee Mobile Bottlers machinery is capable of bottling almost any still or carbonated beverage, including cider, beer, water, sodas, teas, coffee and infused products. Services will be available beginning February 2017.
A percentage of the net annual proceeds of Dundee Mobile Bottlers will be donated to ¡Salud!, as well Family Building Blocks in Salem.