A Bit About Blanc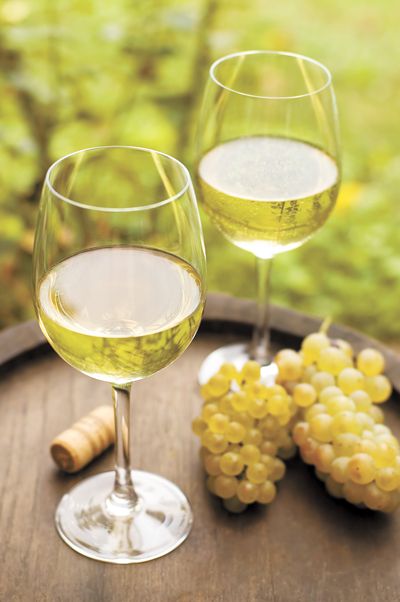 By Aaron Kirschnick
It took only ten minutes of online research and a few phone calls to come up with a rough number, likely not exact: As of October 2012, there are 37 different wine varietals planted in Oregon. Many of them, like Melon de Bourgogne and Arneis, are planted in such small quantities that only one or two wineries receive any of the resulting fruit. Grapes like those have produced promising wines but by no means defined what vintners have accomplished in this state.
I get to talk with winemakers regularly in my work as a retail wine buyer, and as far back as I can remember, there have been excited murmurings about little-known varietals planted in tiny quantities. This information can make the most excitable winemakers flush with anticipation. "Imagine what Pineau d'Aunis could do in the Dundee Hills!" they exclaim, their brows beaded with sweat.
I admit to having my own wish list: Chenin Blanc, Godello and Fie Gris, among others. But of the existing lesser-known white grapes in Oregon, I believe that Pinot Blanc holds the most promise. This is a grape planted to just shy of 200 acres over several of the state's viticultural areas — for reference, Pinot Gris and Pinot Noir are planted to several thousand each. The disparate terroir where Pinot Blanc is planted and the varying winemaking styles are just now giving us some insight into what we can expect from this grape in Oregon.
The first fact worth knowing about Pinot Blanc is how it came to be as the result of a spontaneous mutation in a French vineyard sometime late in the nineteenth century. Mutations like these occur frequently around the world, though rarely resulting in changes definitive enough to create a 'new' grape. In the case of Pinot Blanc, the molecule anthocyanin, which regulates color, spontaneously turned off. Pinot Gris also was created through this type of spontaneous mutation. Biologically speaking, these mutated grapes remain otherwise identical to their progenitor.
The first Oregon Pinot Blanc was first planted by David Lett in 1967. His son, Jason, who now runs the estate and produces the wines, is proud of Eyrie's Pinot Blanc. This wine has been in production since 1971 at roughly a couple hundred cases a year.
Correction: From Jason Lett of The Eyrie Vineyards: "We had all good intentions. Dad [David Lett] brought plants labeled 'Pinot Blanc' from the Davis collections in 1965. In fact, he sold a few to nearby vineyards such as Stewart (now DePonte). However, he knew by the early 1970s that the so-called Pinot Blanc he planted was actually something else, so he stopped selling 'Pinot Blanc' cuttings. The leaf was very similar to Chardonnay, so for many years we considered it Chardonnay.
"Later, Ken Wright (who bought the fruit from the Stewarts) led the effort to have it genetically typed; he's the one who drilled down to find that what Davis originally told us was Pinot Blanc was actually Melon de Bourgogne.
"Dick Erath and David Adelsheim obtained true Alsace clones of Pinot Blanc in the late 1980s, and we purchased our planting stock from Erath."
Outside Oregon, Pinot Blanc is planted widely in Alsace and northern Italy, as well as smaller amounts in pockets of Burgundy and Eastern Europe. Germany also has committed a considerable number of hectares to the grape, calling it Weissburgunder. California has a history with the grape as well. In the 1980s, it was revealed through genetic testing that what the wine vintners there had been labeling as Pinot Blanc was, in fact, Melon de Bourgogne, the grape of France's Muscadet appellation. A backlash ensued, which resulted in large amounts of 'Pinot Blanc' being torn out and replaced by grapes with reliable histories such as Chardonnay. A relatively small amount remains planted in California today, and sadly, it is often treated like Chardonnay and plied with heavy oak.
Following in David Lett's footsteps, a number of Oregon wineries planted Pinot Blanc in the 1970s and '80s, including Ponzi, WillaKenzie, St. Innocent and Bethel Heights. The best among them reveal a spicy nuance that reminds me of orange peel. Often produced in an Alsatian style, many of them rely on frequent lees stirring to produce richly textured wines. Hallmark high acidities result in wines that also convey a beguiling freshness, even amid their substantial textures.
To understand exactly how site conditions and winemaker styles influence Oregon Pinot Blanc, I embarked on a tasting tour. Sadly, I had time to taste only five versions, which truthfully, hardly touch on what is available. I encourage you to hunt these down from the list I've provided; these wines are all worth discovering.
Ayres 2011 Pinot Blanc, Willamette Valley $22 (98 cases)
The lightest but also one of the most precise of the bunch, Brad Ayres' version shows spicy pear and melon at its center, supported by a generous slice of acidity. It has fantastic purity and length with intriguing mineral notes at a tangy finish. This one is produced in such small quantities that they sell it all through his tasting room … a great excuse to visit this outstanding estate outside Newberg.
Bethel Heights 2011 Estate Pinot Blanc, Eola-Amity Hills $18 (332 cases)
The Bethel Heights Pinot Blanc starts the show with some of the most assertive spiciness of the group: a flood of cured lemon, bergamot and orange peel. It is very focused on the palate with a lightness that reminded me of the Ayres. The tangy core has a wound-up feel to it and after ten minutes in the glass, a whole new wine emerges, with the ripe pear and apple fruit finally in place. The dominant citrus theme reappears at the finish, leaving a very refreshing and energetic impression.
The Eyrie Vineyards 2010 Estate Pinot Blanc, Dundee Hills $17 (500 cases)
Even if Jason Lett's rendering wasn't sourced from the oldest Pinot Blanc vines in the state, my intuition tells me it would still be outstanding. It opens, as Ayres' does, with a piercing range of bright and stony white fruits, backed by a spicy array of minerality and citrus. It offers a mid-range richness that helps give the impression of near-perfect balance. The finish is as long as any local white I've had in months with notes of citron and baked apple, making slow turns. You may also need to visit the winery to buy this one.
St. Innocent 2010 Freedom Hill Pinot Blanc $20 (680 cases)
Mark Vlossak's Pinot Blanc is 67 percent aged in stainless steel tanks, with the remainder in large oak foudres. This one earns its place in the Alsatian-style bottle with its creamy texture and generously ripe pear aromas. In the mouth, notes of baking spice flank rich pear, melon and apple elements. After turning lightly spicy, a delicate floral tone annotates the finish.
Walter Scott 2011 Crannell Pinot Blanc, Eola-Amity Hills $18 (170 cases)
Walter Scott is Ken Pahlow and Erica Landon's project, and their Pinot Blanc is the new kid in the group, having been produced for only three vintages. However, what it lacks in seniority, it makes up for in character and sheer expression. The opening spice notes are subtle — delicate even — leaving room for the lemon to build over the pear and melon core. It expands slowly, giving a lovely three dimensional aspect to the wine. The palate is lightly creamy and lifted in an almost ballet-like manner by its acidity. Only at the finish does a saline note work to clean up the lingering spiciness, leaving an overall fresh impression.
Aaron Kirschnick has a colorful culinary background as a chef, wine rep and now wine buyer for Market of Choice. He blogs about all of it and more on www.winestead.com. He resides in Portland.