Biodynamic Basics
Wineries explore principles, methods at Montinore
You might expect a Biodynamic seminar in Oregon wine country to involve moonlit dancing virgins. This would be a misconception proved at a recent educational event hosted at Montinore Estate. In attendance were approximately 50 winegrowers and farmers. Okay, although impossible to know if any were virgins, definitely no one danced.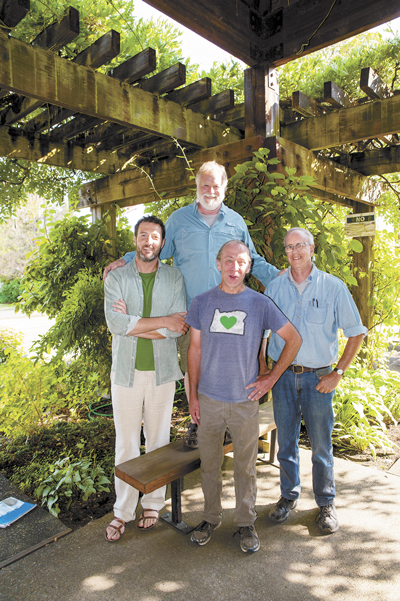 Biodynamic can conjure certain odd images and even experts in this field are willing to laugh at themselves. They refer to some of the more "mystical" elements as "woo-woo." After all, part of the practice involves smooshing manure into a cow horn and burying it. The seminar explained and showed evidence of how doing so improves the health of the farm.
The Pfeiffer Center, a New York organization that practices, teaches and promotes Biodynamics, describes it as "an approach to plant and land care that combined novel techniques of building up healthy soil with a renewed awareness of all the forces at work in the farm organism: among and between the soil, plants, animals and humans, as well as the cosmos itself."
Rudy Marchesi, president and chief viticulturist of Montinore, organized the seminar for several reasons, including "[the continuation] of Biodynamic education; improving and enhancing grape growing and winemaking; sharing information with those using or interested in Biodynamic agriculture; and strengthening the Biodynamic community in the Willamette Valley." Speakers included Mac Mead, director of The Pfeiffer Center; Jim Fullmer, co-director of Demeter USA, the governing body for Biodynamic practices and certifications in the states; and keynote speaker Adriano Zago, a European Biodynamic consultant from Italy.
William Sweat of Winderlea found the seminar "incredibly valuable" and left with six pages of notes. "I enjoyed having the opportunity to connect with other Biodynamic growers I don't usually see," he said. "I'm already looking forward to Adriano's next visit to Oregon."
Wineries in attendance were A to Z Wineworks, Bergström, King Estate, Domaine Divio, Winderlea, Lingua Franca, Anne Amie, Brooks, Cochran Vineyard, Erath, Johan Vineyards, Cramoisi Vineyard, Brick House, as well as Wilridge Winery from Yakima.
The first half of the day felt nostalgic and communal. Fullmer, who is based in Oregon, recounted the history of Biodynamics wine in the U.S. He highlighted some of the local winegrowers, the late Jimi Brooks of Brooks Winery, the Steeles of Cowhorn and the Momtazi family of Maysara. Today a small but dedicated and growing number of Oregon vineyards and wineries are practicing Biodynamic agriculture. Certifications can be granted for the vineyard, winery or both. Biodynamic winery certification does not allow any manipulations in the cellar, somewhat relatable to the "natural" wine movement.
Other types of farms and byproducts are certified Biodynamic but wine has an important role to play because of its profile in the marketplace. According to Fullmer, the wine industry serves as an ambassador and has awakened U.S. consumers to Biodynamic.
With all of the references to nature and lunar cycles, Biodynamic philosophies sound ancient. Yet, it was not until the age of industrialism that people needed instruction in sustainability. The practice of Biodynamic is considered "modern." We had to poison the land before we needed a practice to heal it.
According to The Pfeiffer Center website, "the Biodynamic method was first indicated by Rudolf Steiner (1861–1925) in his Agriculture Lectures of 1924 in response to farmers who were concerned about the declining health and vitality of their crops, plants and animals."
Fullmer further explained how Biodynamic agriculture focuses on the farm as a living organism generating its own natural resources. The human terms the speakers applied to the farm were intriguing. Soil was reputed to have a soul and could be made more intelligent. The language was rather strange but comforting — like discovering the grown-up humor in a fairy tale while still believing the magic.
After lunch, the vibe shifted from sensitivity to science with the presentation from Zago. He began with tongue-in-cheek answers to an FAQ about Biodynamic winegrowing. "How many horses do I need?" and "Do I have to be vegan?" He replied, "Zero" really and "no." Zago proceeded to show visual proof of the difference Biodynamic agriculture makes in the vineyard.
Marchesi related concrete examples of the impact of Biodynamic methods in the finished wine. In one, sprays of a Biodynamic preparation the month before harvest allowed control of herbal notes resulting in wine richer in ripe fruit character. In 2010, ripening was delayed due to a cool year. The same schedule of late treatments caused accelerated color and ripening. The year was one of his "favorite recent vintages."
Zago shared more results and tips for using preparations, including the "spray" you make with natural inputs from the farm such as "cured" manure from previously buried cow horns. Most techniques make both scientific and common sense, like applying certain preparations in big drops close to the ground and others in light sprays to be absorbed by leaves. There is an artistry resulting from experience and practice, and attendees left eager to us some of Zago's suggestions.
Zago stressed the importance of collaboration among Oregon Biodynamic winegrowers. He also charged the state's Biodynamic wine community with increasing vineyard biodiversity with companion plants, vegetable gardens and helpful animals, from earthworms to cows.
Speaking of cows, Mead shared a heartwarming testimonial about a quest for a cow. It began with vegetable farmers desperate for a cow to source their own fertilizer. Pure excitement heralded the arrival of their first calf — generously donated. Everyone watched as she began eating dirt and ignoring the delicious grass. Mead despaired, "Oh, no, we got a bad cow." He then realized she was building the farm biology into her gut to prepare her stomachs for digesting the grass from that site. Mead saw one of Steiner's philosophies first hand. "The animal world has the genius of transforming what it takes in, into what is needed for the place it lives."
For more information on Biodynamic principles, visit www.pfeiffercenter.org or www.demeter-usa.org.
Jade Helm is the primary author of Tasting Pour, a blog about wine, cocktails and food. Her expertise is evidenced by credentials from the Society of Wine Educators (Certified Specialist in Wine) and the Wine and Spirits Education Trust (Diploma in Wine and Spirits) and from the Court of Master Sommeliers (Certified Sommelier).