Beyond Child's Play
Tony Rynders creates whimsical brand honoring daughters
Second labels remain, arguably, the best kept secret in the wine world. Inside the bottle is still high quality wine but typically at a more approachable price point.
Designated the "playful younger sister" to Tendril Wines, Child's Play delivers high quality for a great price and is made to the exacting standards of winemaker Tony Rynders, yet the vibrant artwork draws initial attention.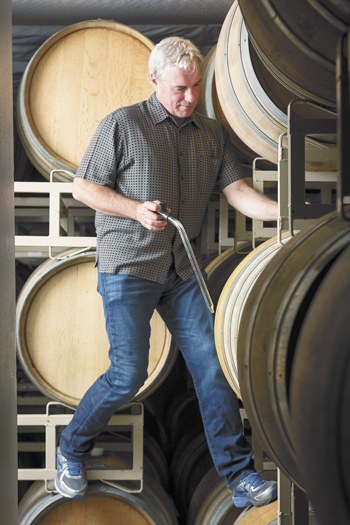 Vivid colors in broad strokes evoke an Impressionist familiarity, but the light-hearted artists responsible for each label appear nothing like the brooding intellectuals of the late 1800s. They are, in fact, the two young daughters of Rynders and his wife, Diane Simpson.
Tony Rynders is a respected name in the world of wine. The U.C. Davis alumnus has a pedigree that includes working harvest in acclaimed winegrowing regions both nationally and internationally and holding winemaking positions at Argyle Winery and Domaine Serene, among others. In 2008, Rynders struck out on his own with Tendril Wine Cellars.
Madeline (Maddie) and Audrey Rynders began their foray into the creative realm at the tender ages of 4 and 5, respectively. An original work by Audrey graced the 2014 Pinot Noir and an equally inspired piece by Maddie was displayed on their limited-production rosé of Pinot Noir.
Rynders considers Child's Play complementing — as opposed to competing — with Tendril. After the former spends six to 12 months in the winery, the wines are ready for immediate release and enjoyment; whereas Tendril wines spend a minimum of 16 months in barrel and 6 to 18 months in bottle before release. The price point is a quaffable $28 per bottle, while the Tendril lineup reflects their refinement and lengthier aging potential at the $48 to $100 range.
Choosing the art for each Child's Play label depended on the color scheme Rynders believed would best balance the wine it was showcasing, particularly for the rosé and Pinot Chardonnay, both contained in clear glass. For example, the Pinot Noir label represents the range of flavors inside the bottle — the white connotes citrus and floral; red symbolizes cherry or berry; and green suggests herb and mint.
"We also wanted each label to be distinctly different in the line-up," Tony added. "It was a way for Diane and me to preserve a tiny piece of this special time in our children's lives."
But wait… Pinot Chardonnay? Correct. Rynders has crafted a unique still wine blend from Pinot Noir and Chardonnay. So special, in fact, it stands alone in America; the only other Rynders tasted — after the fact — was from South Africa. Inspiration for this marriage struck him more than a dozen years ago when he began making white Pinot Noir. Associating the premier expression of Pinot Noir and Chardonnay with Champagne, his Pinot Chardonnay is an elegant still wine with a rich mouthfeel. The wine is reminiscent of a riper version of Champagne without the fizz.
As for what the artists, now 13 and 7, think of being such an integral part of Child's Play, Rynders said, "They think it is cool, and they are proud of their labels."
Future releases of Child's Play will continue to include the Pinot Chardonnay, Rosé of Pinot Noir (releasing the 2017 vintage in March) and Pinot Noir. Zinfandel, sourced from the Red Heaven Vineyard on the south side of Red Mountain, will be replaced by a Malbec from the 2017 vintage. Also sourced from Washington, this variety is an exciting one for Rynders — he's a huge fan — and a bit of a disappointment for Simpson, who maintains her own love affair with Zin grape. Rumor has it that most of the 2014 vintage made its way to her secret stash.
As esteemed as Rynders' winemaking background, Child's Play shows his fun-loving, sentimental side. He views the playfulness as a way to appeal to a wider audience of young people; the wine is also a great introduction to the wines from Rynders, with some customers trying Tendril Wines as well.
"Child's Play is exactly as the name promises: fun, playful colorful," Rynders said. "It's all about family, with me making the creative line-up of wines, while my daughters create the artwork."