Grazing the High Desert
Bend's restaurant scene sizzles with hot talent, creative cuisine
Bend is a stereotypical western town in all the right ways. Framed by towering mountains and sliced in half by the Deschutes River, this outpost-turned-city of roughly 80,000 is adventurers' mecca. Its high desert setting means sunburned Ponderosa pines, wild expanses and the lingering smell of sagebrush. Some of Oregon's most iconic terrain is only a short hike away from the city limits.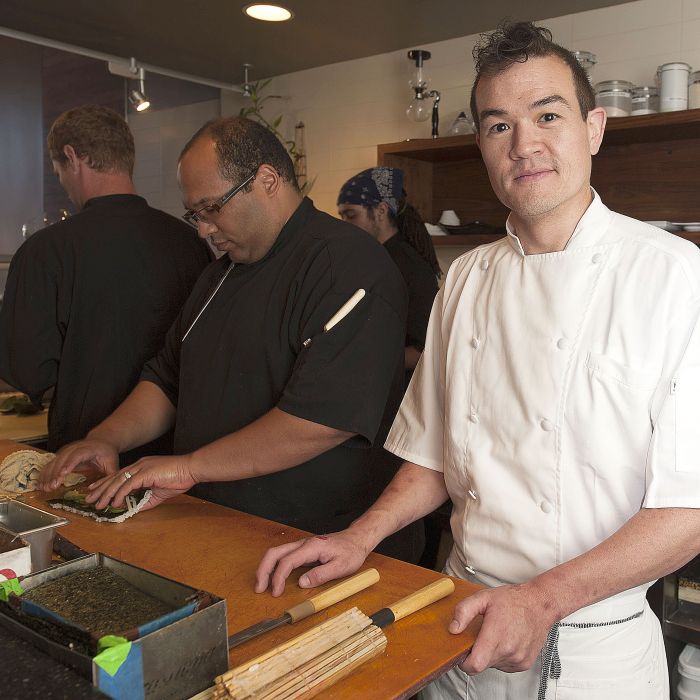 Bend's natural beauty is what makes critiquing the food all the more difficult. A steak tastes a little different when Mount Bachelor is winking at you from afar. So, too, does sushi when the sun is setting behind the Three Sisters. Yet, beyond the distractions — rising river trout, the perfect arc of Pilot Butte, circling ospreys — there are good meals to be had in Oregon's central capital. And a number of them would taste just as good even if removed entirely from Bend's jaw-dropping surroundings.
The restaurant 5 Fusion represents the influx of new ideas that accompany growth. Bend was one of the fastest growing cities in the country just before the economy tanked, especially among snow bunnies and vacation home buyers. Many neighborhoods are under a decade old, squeaky clean and demonstrating that lodge-like build now synonymous with the suburban high desert. Like most cities, Bend took a hit around 2008, but the attention it received from the rest of the nation at least partly encouraged artists, chefs and other thinkers to use it as a springboard for their ideas.
High Desert Details



5 Fusion

Style: Asian/New-American
Executive Chef: Joe Kim Jr.
Address: 821 N.W. Wall Street
Phone: 541-323-2328
Lunch: Tues.–Fri., 11:30 a.m. to 2 p.m.
Dinner: Daily, 4 p.m. to close
Happy Hour: Mon.–Fri., 4 to 6 p.m.
Corkage:$15 per bottle
Website: www.5fusion.com
900 Wall
Style: Bistro
Executive Chef: Cliff Eslinger
Address: 900 N.W. Wall Street
Phone:541-323-6295
Hours: Daily, 3 p.m. to close
Corkage: $10 per bottle
Website: www.900wall.com
BrickHouse
Style: Steakhouse
Owners: Jeff and Jodi Porad
Address: 5 N.W. Minnesota Avenue
Phone: 541-728-0334
Hours: Daily, 4 p.m. to close
Happy Hour: Daily, 4 to 6 p.m.
Corkage: $18 per bottle
Website: www.brickhousesteakhouse.com
Chow
Style: Classic breakfast and lunch
Executive Chef/Owner: David Touvell
Address: 1100 N.W. Newport Avenue
Phone: 541-728-0256
Hours: Daily, Breakfast/Lunch: 7 a.m. to close
Corkage:NA
Website: www.chowbend.com
Jackson's Corner
Style: American-Italian Inspired Deli
Owners: Jay Junkin and Aaron Christenson
Address: 845 N.W. Delaware Avenue
Phone: 541-647-2198
Hours: Mon.–Sun., 7 a.m. to 9 p.m.
Corkage: No
Website: www.jacksonscornerbend.com
Spork
Style: Global street food
Chef/Co-owner: Jeff Hunt
Address: 937 N.W. Newport Avenue
Phone: 541-390-0946
Hours: Sun.–Wed., 11 a.m. to 9 p.m.; Thurs.–Sat., 11 a.m. to 10 p.m.
Happy Hour: Daily, 3–5 p.m.
Corkage: Focus on the cocktails
Website: www.sporkbend.com
It may be in an historic part of town, but 5 Fusion could not be more contemporary. Sushi here is handled with the care normally reserved for cleaning up broken glass. Four years under its belt, it is arguably the best eatery in Bend. The chef, Joe Kim Jr., previously toiled at esteemed restaurants like French Laundry in California and Alinea in Chicago. He was hired on a whim, as owner Lillian Chu describes it, but there was no doubting his chops. Earlier this year, Kim, 32, was the only Oregon chef outside Portland to be nominated for a James Beard Award.
Kim studied business at Oregon State University but did not last long with a briefcase. The kitchen is where he felt most comfortable, and in 2011, he was hired by 5 Fusion. His immense talent caught Chu's attention, and it wasn't long before he was both executive chef and part owner. That kind of pluck is evident in 5 Fusion's dishes, which are unapologetically bold and leave lasting impressions.
The tasting menu is a must, a memorable mix of unexpected flavors and meticulous plating. On an early August evening, the six courses ranged from bison tartare served with roe to foie gras atop a waffle with kiwi, a quail egg and syrup served with a Gewürztraminer. Standouts included the escolar, a buttery fish found in deep tropical oceans. It arrived with bits of peach in a glass orb filled with dry ice and paired nicely with a fruity Sauvignon Blanc. Also impressive was the pork belly with mild mushroom salad and a 62-degree egg. The belly was steamed six to seven hours, making for ideal consistency and a homey flavor that played nicely with the 2011 Cristom Mt. Jefferson Vineyard Pinot Noir.
Presentation points should be awarded to the seared scallop with edamame purée and bacon. The dish was presented on river stone within a glass orb filled with dry ice. Overkill, maybe, but the chilly steam only added to the fiercely far-outness of the meal. Two courses of dessert were served, the latter a deconstructed take on classic s'mores fit with a small "campfire" on the edge of the plate for added roasting. All in all, 5 Fusion's tasting menu was an extended affair that showcased the restaurant's strong suits: Artistry, flavor-mashing and a definite confidence, however daring, about every dish.
Other dinner options await such as 900 Wall, also downtown (and of the eponymous street address). The restaurant resides in a near-century-old brick building with ample outdoor seating and an appetizing bar. The menu is bistro in nature, with French and Italian accents. Typically, a handful of wine flights are offered, along with an admirable glass pour list and roughly 200 wines by the bottle. A glass of wine and happy hour snacks are the route to take here, especially on weekend evenings when people watching is at its best.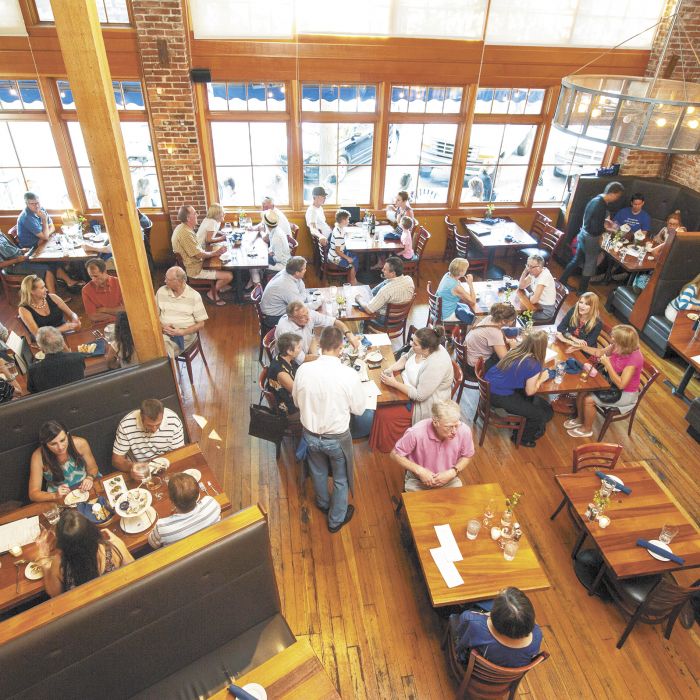 BrickHouse is of a similar ilk, a steak house located just across from the newly established and quite chic Oxford Hotel. Portland residents might relate this small slice of town to the Pearl District, with its glassy new architecture and ground level boutiques. The restaurant draws the five-o-clock martini crowd, who, between sips, can stare at an impressive wooden wine cellar with a sliding ladder. The list is offered via iPad, which on a given August afternoon included two sparkling wines, eight whites, seven reds and seven dessert wines by the glass.
BrickHouse's classic feel is accentuated by floor-to-ceiling windows and the timeless browns and blacks of wood and leather. The bottle list, while a bit showy with names like Leonetti, Quilceta Creek and Opus One, is quite large, with a special attention to Bordeaux. Sitting at the bar, it's easy to imagine the single corner television doesn't exist and the group next to you is discussing the merits of FDR's New Deal economics.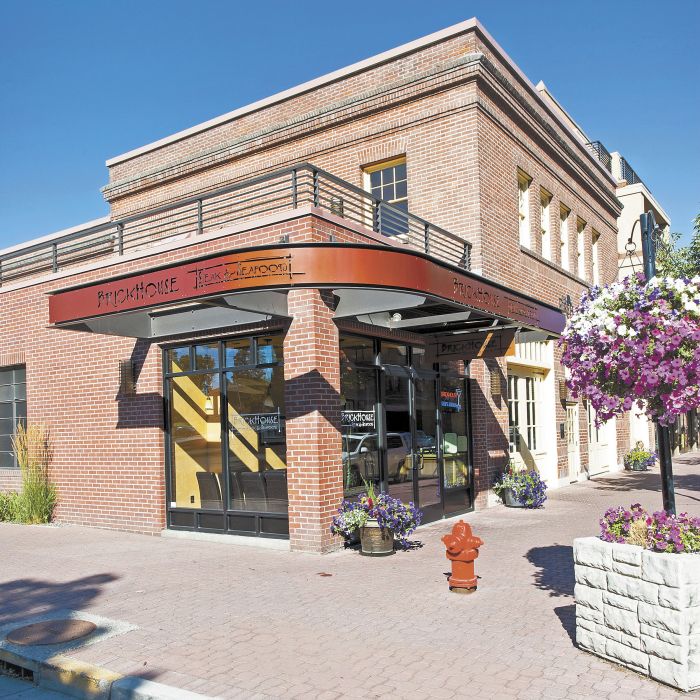 The best facade belongs to Jackson's Corner. Once a "market and ice plant," this building is home to Bend's oldest grocery store. Fittingly, it's located within the town's most charming neighborhood, a winding family of craftsmen homes and old-growth trees just outside the Old Mill District on the inner-westside. With outdoor picnic tables, a wood-fire oven and counter service, Jackson's Corner defines pastoral deli fare.
Fresh salads, pizza and craft sandwiches round out the menu. A refrigerated wall of beverages, from milk to beer to chilled wine, reminds that this is a storefront, too. Of particular note on my visit was the gazpacho and shrimp soup with cilantro, onion and avocado. The fennel salami sandwich, served with tomato and cherry-pepper spread on a Sparrow roll was simple and satisfying.
There's a coffee shop in Jackson's Corner, too, making it an honest one-stop neighborhood spot. A mini mall of old, this place is an honest-to-earth marketplace where you're just as likely to find a quart of milk as you are a Portobello sandwich or Bolognese pasta. For the post-hike crowd especially, this one is for you — casual in demeanor without cutting corners on quality.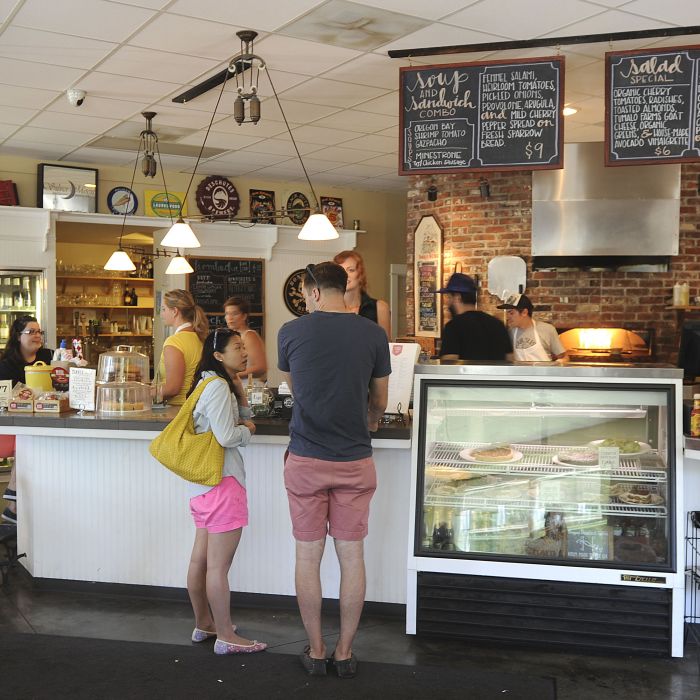 Breakfast in Bend is the specialty at Chow. The welcoming house-turned-eatery on charming Newport Street has ample outdoor seating and a down-home feel. A two-piece folk act strummed in the front yard while a long line of locals sipped mimosas and bourbon ginger ales with fresh blueberries, waiting for their tables. Here, the eggs are poached exquisitely, and anything on the menu that includes one is probably a safe bet.
The Caesar — two eggs with corn cake, avocado, roasted green chili sauce, hollandaise and queso fresco — was fresh and fluffy. The accompanying tomatoes with cornmeal added a summery injection of acid that only fresh garden tomatoes can achieve. Brunch at Chow doesn't come without a wait, at least not during the peak season, but the wait seems shorter on the restaurant's inviting grounds.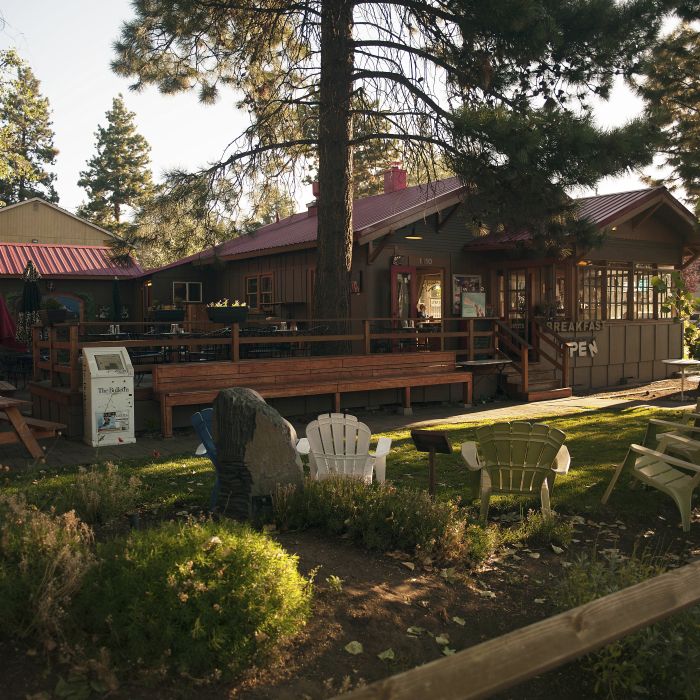 Across the street is Spork, a one-time food cart that went brick and mortar in 2013. Here, Latin American cuisine butts heads with Asian fare. The interior reflects that unlikely mashup, a mix of tropical colors, polished wooden tables and a bar that could almost pass as tiki. The restaurant describes itself as "global street food," a fitting title.
The Thai green salad was big on flavor, slightly minty with a sweet and sour kick courtesy of either vinegar or fish sauce (or both). The catfish taco was equally flavorful, and the kimchi, often overly spicy or dumbed down, was just right. Better still, the cocktails reflect Spork's adventurous spirit. The Maui Z, cactus-green in color made with pepper-infused vodka, rum, lime, cilantro, mint and pineapple juice is a good example. So, too, is the Jasmint Julep, a twist on an old standby made from bourbon, jasmine-spearmint green tea and mint syrup. The prices at Spork are more than reasonable, the flavors are on the large side and, there are even a few choice wines to boot.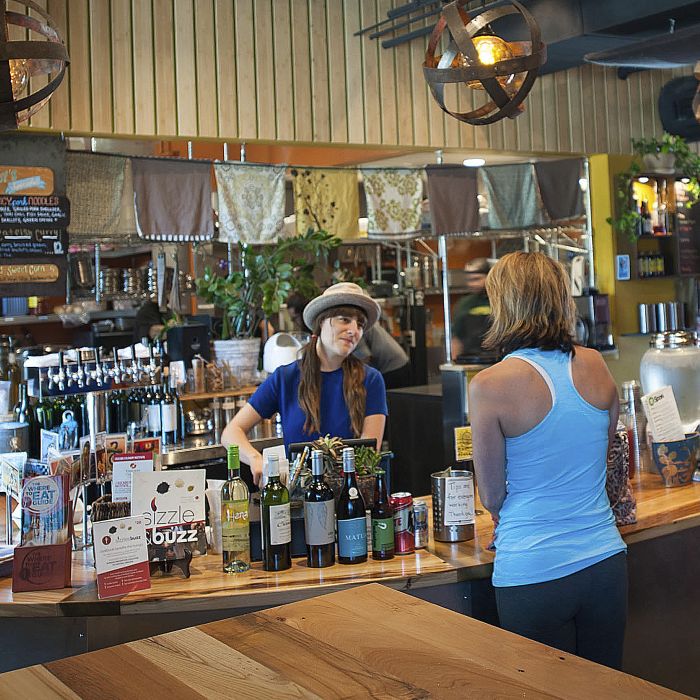 This is to say nothing of Bend's remarkable brewery scene. Crux, in particular, is worth a stop, offering the same steadfastness and attention to details most winemakers rely upon. Local wine, while hard to come by, is on the rise. There are a handful of tasting rooms and bottle shops in town, including Maragas Winery, a favorite day trip among locals located a half hour outside of town with views of Smith Rock. And there is a lesser-known band of grapegrowers in the area loosely affiliated as the Winegrowers Association of Central Oregon.
It would be too easy to shortchange the many tourists who visit Bend with lesser food. Some do, but many Bend establishments are too focused on their dishes for that. Smaller cities across the country — Charleston, South Carolina, and Aspen, Colorado, for example — know what it means to punch well above their weight. Bend is aiming high and faring quite well, even away from the vice-grip of beautiful scenery that encompasses it.
Mark Stock is a freelance writer and works at Vista Hills Winery.