Bells Up on Bell Road
New boutique winery makes some noise in Newberg
How many times have you been on vacation only to fantasize what it would be like to live there? And, then, you go home. Not David and Sara Specter, owners of the newly opened boutique winery, Bells Up. After an inspiring Oregon vacation spent at Chehalem Ridge Bed & Breakfast in Newberg in 2008, they returned to Cincinnati, packed their bags — well, eventually — and headed west.
Previously a corporate tax attorney, David left his legal career in 2009 to evolve his hobby into a second career. He subsequently held an assistant winemaker position at an urban winery in Cincinnati for three years.
"I wasn't meant to spend the rest of my career in law," explains David. "There is a soulfulness and fulfillment in the tangible result of growing grapes and making wine."
In Ohio, he won a couple national amateur winemaking competitions and finished a distance learning enology certification through Washington State University. In the summer of 2012, the family finally moved to Oregon.
"We knew when we were ready that Newberg was the place for us. I even knew I wanted to be on Bell Road," recalls Sara.
All the pieces fell into place, and now the Specters have a home and winery in the Chehalem Mountains with the view that captivated them in 2008; except, now, it includes their own vineyard planted to Pinot Noir and Seyval Blanc, a French hybrid winegrape that can be made in a variety of styles.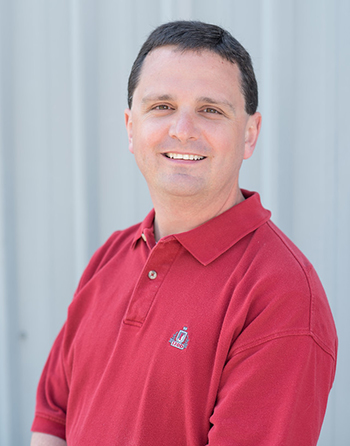 "I worked with it extensively when we lived in Ohio, and had a lot of success with it there," says David. "I wanted to plant something that honored our story, as well as bring something new to the Willamette Valley."
The Specters have received much support from those who dreamed before them. David gained experience with Pinot Noir interning with Bryan Weil, winemaker at Alexana Winery in the nearby Dundee Hills.
"Working with Bryan helped me understand the influence of different clones, and he is still offering guidance," David says.
As a viticulture student at Chemeketa's Northwest Wine Studies Program, David studied with instructor Jessica Cortell. David was Cortell's student in 2013, and he appreciated the opportunity to learn from her during a challenging harvest year.
Mark and Tina Hammond of Privé Vineyard have served as mentors.
"We want to be just like them when we grow up," laughs Sara. Both winemaking families were thrilled when the Specters found vineyard land near enough to call the Hammonds not only friends, but neighbors.
David also received guidance from Myron Redford, founder of Amity Vineyards, prior to the Oregon move. "I learned enough to fill a book during the three hours I spoke with Myron."
They are starting modestly and plan to remain small enough to visit and get to know customers and wine club members. "We want people to feel like they have made new friends when they come to taste," says David.
Since opening in March, they have received a warm welcome in their appointment-only tasting room. A former pole barn, it has floor-to-ceiling windows with a southern exposure and view of Newberg and far beyond. A future deck will help guests enjoy the scenery. "Several guests have commented that we have the prettiest view they have seen that day," notes Sara.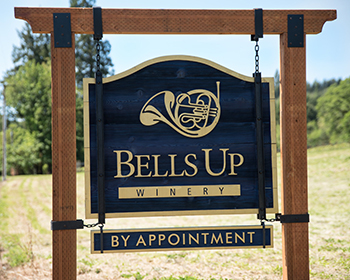 From the winery's sign to their wine labels, it is apparent that wine is not David's sole passion; music also inspires David, a French horn player who once entertained professional aspirations. Although his focus is now wine, he still pays tribute to his love of music.
Each of Bells Up Winery's five wines has a musically-inspired name. Rhapsody Pinot Blanc is named after George Gershwin's "Rhapsody in Blue." Prelude Pinot Noir Rosé pays tribute to Franz Liszt's "Symphonic Poem No.3: Les Preludes." Firebird Syrah refers to Igor Stravinsky's magical "Firebird Suite." And their reserve Pinot Noir, Villanelle, is named for a difficult-to-execute form that David explains "if attempted will reveal just how good of a player you are."
The 2013 Pinot Noir is called "Titan" in honor of Gustav Mahler's "Symphony No. 1 in D Major." David's favorite composer, Mahler uses French horn and brass instruments bringing them to the forefront early and often. "He makes stars of these instruments," he explained.
In regard to Pinot Noir, the Specters will plant seven different clones on 8.5 acres, to create "majestic wines with complexity similar to a symphony."
"Bells Up" also has musical meaning. The bell of the French horn is the part of the instrument that rests on the musician's leg. "Bells up" is when the horns are positioned so they will play more loudly and project their sound with maximum intensity.
The Specters consider the following of their dreams on the land they so dearly love as their very own "bells up" moment.